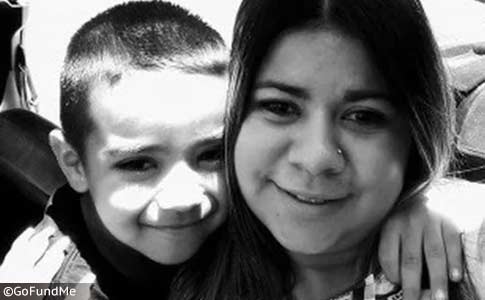 Karen Rosa-Madrid, 26-years old, was killed by four dogs in her East Valinda home's backyard.
Dogs Kill Woman
Valinda, CA - On December 28, Karen Rosa-Madrid, 26, was fatally attacked by her family's four dogs while trying to get into a backyard window of her East Valinda home, according to police. Her 6-year old son suffered minor bite injuries. Rosa-Madrid, who resided at the home with her sister-in-law, had forgotten her key that day. No one was at the home in the 18000 block of Elizondo Street when she attempted to access the backyard window, sheriff's Lt. David Petrocelli said.
"The dogs were familiar with the child, but not with the mother," Petrocelli said. The breeds of dogs involved were not disclosed. The attack occurred around 5:30 pm Tuesday. Audio dispatch log files from Los Angeles County Fire stated, "We gotta patient with multiple dogs standing around her. She's in bad shape, and the dogs are still loose." Fire also indicated they "had no access" to the victim, apparently due to the loose dogs, according to the audio feed on Broadcastify.com.
Firefighters eventually used their hoses to get the dogs away from Rosa-Madrid. She suffered major injuries to her head and arm. She was transported to Pomona Valley Hospital Medical Center, where she died. Los Angeles County Animal Care and Control seized the dogs. "The dogs are under quarantine at one of our animal-care centers," spokesperson Don Belton said. "This is an ongoing investigation and we are not able to provide additional information at this time."
Young Adult Victims
Of the 568 Americans killed by canines in the 16-year period of 2005 through 2020, only 20 victims, 4%, were ages 20 to 29. Pit bulls were involved in 18 of these deaths, 90%. At least one rottweiler, one Dogo argentino and two presa canarios were involved in 3 of these deaths. Thus, the age of Rosa-Madrid, 26, heavily indicates that pit bulls or mastiff-type dogs or both were involved in her mauling death, despite this being a pack attack involving at least 4 dogs.
In July, a 66-year old man was killed by a family pit bull when he climbed through a window to enter a relative's home. In June, a 3-year old boy was killed by his family's pit bulls after he fell out of a rear second-story window of his home in New Jersey. In the Valinda case, authorities found Rosa-Madrid's 6-year old son at a neighbor's house after the attack. It's unclear why Petrocelli would say the dogs were only familiar with the boy, given that his mother also lived at the home.
Records Show Breeds
On January 24, we received a response to our breed identification records request from Los Angeles County Animal Care & Control. The dogs involved in the fatal mauling of Rosa-Madrid were two male and two female cane corsos between the ages of 6 and 2-years old. Though offspring information was not released, the older male and female pair were 6 and 5-years old and the younger pair were 3 and 2-years old. Sterilization status information also was not released.
Due to the victim's age of 26-years old, we had predicted that pit bulls or mastiff-type dogs were involved. Our prediction was correct. One media outlet, American Post, reportedly talked to Rosa-Madrid's mother, Gloria Madrid, but the article contains many language errors that are indicative of a poor language translation. Indeed, the source article is from La Opinión on January 18. There was also a follow up by the same author at La Opinión, Araceli Martinez Ortega, on January 20.
Related articles:
07/19/21: 2021 Dog Bite Fatality: Man Killed by Relative's Pit Bull After Climbing Through...
06/10/21: 2021 Dog Bite Fatality: Child Dies After Falling from Window, Mauled by Pit Bulls...
---
Baseline reporting requirements:
Law enforcement departments across the United States should release consistent "baseline" information to the media and the public after each fatal dog mauling,
including these items
.