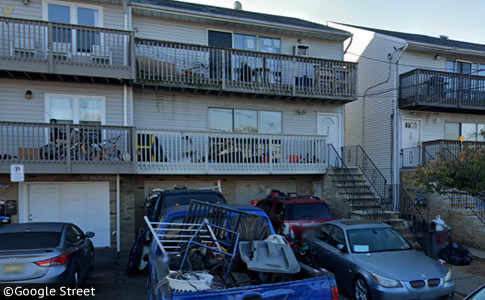 A 3-year old boy is dead after falling from a window and being mauled by pit bulls.
Joint News Release
Elizabeth, NJ - On June 10, acting Union County Prosecutor Lyndsay Ruotolo, Elizabeth Police Chief Giacomo Sacca and Police Director Earl Graves issued a joint announcement about the death of a young child. Authorities are investigating the circumstances behind an incident where a 3-year old child fell from a rear window on the second story of a home and was subsequently attacked by dogs belonging to the child's family in the fenced-in backyard of the family's home.
Elizabeth police officers were dispatched to a multi-family home in the 400 block of South 5th Street shortly after 5:25 pm Wednesday. They discovered the 3-year old child had sustained serious injuries. The child was transported to Trinitas Regional Medical Center, where he was pronounced dead just after 6:30 pm. A local animal control organization responded to the scene and secured the dogs, described as two pit bulls. The dogs are being held in quarantine.
RLS Media spoke to residents in the neighborhood. According to a preliminary investigation, the child fell 15 feet from the back window of a two-story home, where he sustained a neck injury. While on the ground, residents told RLS Media that two aggressive pit bulls began to tear at several parts of the boy's body, including his lower extremities. Police secured the scene and tried to save the boy before he was rushed to Trinitas Hospital, where he died shortly thereafter.
Earlier this year, a 3-year old boy and his mother were attacked by two roaming pit bulls in Carteret. The boy suffered "total evisceration" injuries. He was airlifted to a trauma center, where he later died. The mother was taken to a hospital in critical condition. Arriving police officers shot and killed both dogs. The dogs had escaped their home on Birch Street, one street over. Relatives said the dogs "dug their way" into the backyard of the child's home. No charges were ever filed.
In 2019, in Louisville, Kentucky, a 3-year old boy climbed out of a rear window of his home during the overnight hours and was mauled to death by his family's two rottweilers. Similar cases have occurred over the years, typically involving pit bulls and rottweilers and young male children. Some cases result in criminal charges, such as after the death of 2-year old Samuel Zamudio in 2013, and other cases do not. As of Thursday, no charges have been filed in the Elizabeth case.
WABC reports that neighbors say the canines were known to be vicious and the yard where the mauling happened is "full of feces, motorcycles and debris." Neighbor Maria Rocha said she witnessed the mother trying to pull the dogs off the child. "I didn't sleep all night," Rocha said. "My heart is broken." Rocha is also horrified the boy suffered an agonizing death. "I just hope that he didn't suffer, you know what I mean?" Rocha said. "I hope he didn't suffer, that it was quick."
Related articles:
03/03/21: 2021 Dog Bite Fatality: Boy Killed, Mother Injured in Violent Pit Bull Attack in Carteret
10/03/19: 2019 Dog Bite Fatality: 3-Year Old Boy Killed by Two Family Rottweilers in Louisville
09/25/14: 2013 Dog Bite Fatality: 2-Year Old Boy Killed by Relative's Pit Bulls in Colton
---
Baseline reporting requirements:
Law enforcement departments across the United States should release consistent "baseline" information to the media and the public after each fatal dog mauling,
including these items
.