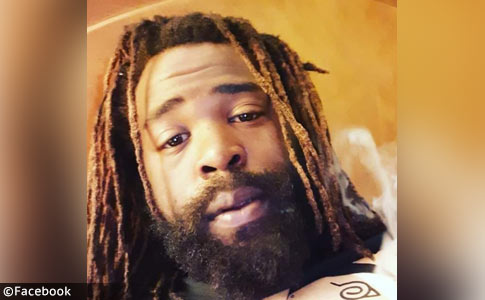 Javon Stokes, 26-years old, was fatally bitten in the neck while suffering a grand mal seizure.
Pit Bull Kills Man
Toledo, OH – On the heels of 31-year old Emily Kahl being killed by a pet pit bull in Toledo in July, a 26-year old man suffered the same fate Thursday. Javon Stokes was killed by a pit bull while suffering a grand mal seizure, according to the coroner -- a rare coroner ruling. Typically pit bull owners, as in the case of Emily Kahl last month, do not witness the event, but speculate "the victim must have had a seizure," which caused the pit bull to violently attack and kill the person.
Stokes seizure was not witnessed by anyone either, a condition for which he was supposed to be taking medication, reports The Toledo Blade.
Police were dispatched to a home in the 500 block of Potter Street at 9:45 am on Thursday, reports the Toledo Blade, a newspaper that has long been sympathetic to "pit bulls."1 Lucas County Coroner Dr. Diane Scala-Barnett said Stokes was visiting friends with his wife and two children when he suffered a grand mal seizure and the dog attacked his neck, killing him. Stokes was transported to Mercy Health St. Vincent Medical Center, where he was pronounced dead.
The owner of the pit bull, Austin Dotson, surrendered the dog to Lucas County Canine Care and Control. Kelly Sears, the director of the shelter, said the pit bull named "Jackson" will likely be euthanized. Sears, who has no medical expertise and did not witness the event, "speculated" that the pit bull interpreted Stokes unwitnessed seizure as a threat and responded to it by attacking him. Is this why there are seizure alert service dogs, so they can attack and kill their owner?
Jackson also had a bite history, according to Lucas County shelter records. As recently as August 2, 2021, the dog bolted from the front porch of the Potter Street home and bit a neighbor on the hand, causing a puncture wound to his thumb. Amanda Knezevich, who co-owns the pit bull with Dotson, believes the dog was "trying to help Stokes and wake him up." She also claimed the dog was Stokes' "best friend" and that he even "slept with him," totally ignoring the bite to the neck.
To add insult to injury, Knezevich barely even knew the dog. Knezevich told canine officers on August 2 the dog had only been in the couple's home for two weeks after he was acquired from a family member. At that time, Knezevich was cited for a dog running at large and was "warned" for failure to vaccinate the dog for rabies and failure to license the new dog. The county shelter had planned to check back in with the owners on August 23 to ensure that both had happened.
According to Toledo Fire audio log records from Broadcastify.com, the location of the home is 545 Potter Street. On July 19, 2021 Toledo police received an unconfirmed report of a vicious dog loose at 545 Potter Street, according to Citizen.com. July 19 is right about the time when Knezevich and Dotson acquired this pit bull. In a matter of a few weeks, this allegedly "young" pit bull had a loose vicious dog call, an off-property documented bite and a fatal neck injury bite.
Pit Bull Owners Take Note
A handful of pit bull owners and family members have been killed by their pit bull during an alleged seizure over the years. We say alleged because the seizure is rarely, if ever, witnessed. The seizure is primarily speculated after the fatal attack. As deputy Lucas County coroner Dr. Cynthia Beisser stated last month about Emily Kahl's death, the incident was reportedly unwitnessed and that it is impossible to determine if Kahl had a seizure before or during the time she was bitten.
What are the odds that two young people, ages 26 and 31, from the same city were killed by pet pit bulls while having a seizure in the last month? Both were killed in the same manner as well, the pit bull executed the killing bite, attacking the victim's neck. Notably, the audio from Toledo Fire only stated they were responding to a person with a seizure. There was no mention of a dog attack. So, emergency responders entered that home with no knowledge of a violent dog.
---
Owners and family members killed by a family pit bull during an alleged seizure include: Javon Stokes, 26-years old (Toledo, OH, 2021), Emily Kahl, 31-years old (Toledo, OH, 2021), Miguel Ángel Aguilar, 18-years old (Saltillo, Mexico, 2020) Dustin Bryan, 21-years old (Modesto, CA, 2019) Melissa Astacio, 44-years old (Somerset, MA, 2019), Homer Utterback, 52-years old (Uniontown, PA, 2019); Teena Mawhorter, 74-years old (Mount Shasta, CA, 2018); Della Riley, 42-years old (Cleveland, OH, 2018); Jamie Owsley, 21-years old (Quincy, IL, 2017); Daisie Bradshaw, 68-years old (New York City, NY, 2016); Susan Shawl, 60-years old (Conifer, CO, 2016); Charles Hagerman, 44-years old (Chicago, IL, 2012); Tonia Parks, 39-years old (Rockford, IL, 2011); Kelli Chapman, 24-years old (Longville, LA, 2008); Brandon Coleman, 25-years old (Morgantown, WV, 2006); Lorinze Reddings, 42-years old (St. Louis, MO, 2005) and likely others.
---
1
The Blade always places quote marks around the term "pit bull" to emphasize that a pit bull is not a breed of dog.
View the DogsBite.org Google Map:
Ohio Fatal Pit Bull Maulings
.
Related articles:
07/22/21: 2021 Dog Bite Fatality: 31-Year Old Woman Fatally Bitten in the Neck by Pit Bull in Ohio
05/27/20: Seizure Speculated After Family Pit Bull Named 'The Devil' Kills Teenage Owner
08/27/18: 2018 Dog Bite Fatality: Ohio Woman Killed by Her Pit Bull; Police Call Case... 
---
Baseline reporting requirements:
Law enforcement departments across the United States should release consistent "baseline" information to the media and the public after each fatal dog mauling,
including these items
.