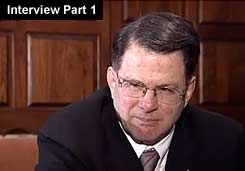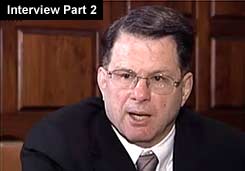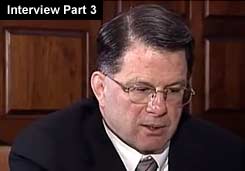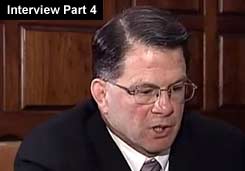 Please click an image to view that portion of the interview.
Exclusive Interview
Toledo, OH - In a powerful four-part videotaped interview by WTOL, former Lucas County Dog Warden and expert witness Tom Skeldon opens up for the first time about the "Yellow" Toledo Blade, whose painfully biased reporting all but forced his resignation last November; the recent municipal court ruling that halted enforcement of Toledo and Ohio state pit bull laws in the City of Toledo1 and the repercussions this ruling will have on the safety of constituents.
Never before has the 30-year old pit bull problem been summed up so quickly and distinctly as in this WTOL interview.
DogsBite.org has provided a summary of each interview clip below. Outside of the litigious history of Denver's pit bull ban -- which Colorado courts consistently uphold -- no other city except Toledo has endured a similar history. Pit bull advocates declared both regions "BSL battle grounds" back in the 1990's. As demonstrated by recent events in Denver and Toledo, this battle continues today. In many ways, this interview with Tom Skeldon is the history of BSL in the U.S.
Interview part 1 | 10:00 minutes
During the first segment, Skeldon reflects upon his many years in public service, the Toledo Blade witch-hunt, which all but forced his resignation, and the outstanding effectiveness of his tenure as the Lucas County Dog Warden. Unlike the vast majority of U.S. animal control agencies, Skeldon's department never had to dip into the taxpayer base for funding. His department wholly operated on county dog owners being compliant in paying their dog licensing fees.2
This segment also addresses the political forces, which submitted to the Blade's pressures, instead of standing up for Skeldon and his department's outstanding record. Skeldon cites that the most "disappointing" aspect of the Blade's witch-hunt wasn't even the Blade itself, but that not one elected official stood up in protest of the Blade's biased reporting. Skeldon's superiors also forbade him from having contact with his own media sources, thus silencing Skeldon's story.
Interview part 2 | 9:58 minutes
During segment two, Skeldon explains the "straw that broke the camel's back" concerning the Blade and Commissioner Ben Konop. According to Skeldon, the young grandstanding commissioner has a history of beating up devoted county employees during public meetings. About a year-and-a-half ago, Skeldon was told that he was Konop's next target. Skeldon was also told by his political superiors to "rollover" to Konop -- to not defend himself and his department.
Skeldon, however, did not "rollover" during the public meeting. Skeldon told WTOL, "For 45 minutes Konop was throwing hardballs and for 45 minutes I kept knocking home runs with his hardballs." After the meeting, Skeldon's superiors instructed him to cease contact with the media, whereby halting his communication to the public, including sharing reports of children being mauled. Skeldon said that from that point forward, his department became a "punching bag."
Skeldon also explains in this segment why he believes Konop went after him. Essentially, Konop had many zealous pro-pit bull groups "in his ear" along with the Blade -- the primary newspaper in Toledo -- pushing the pro-pit bull agenda. Skeldon talks about the national pro-pit bull lobby too and how he helped jurisdictions in Denver and Ontario, who were facing this lobby in legal battles, by providing education and expert testimony to them about the pit bull problem.
Lastly, Skeldon talks about the recent municipal court ruling in the City of Toledo by Judge Goulding that voids Toledo and Ohio state pit bull laws in the City of Toledo. Despite two Ohio State Supreme court rulings that declare these laws constitutional, Goulding (whose campaign slogan is "Keep Our City Safer") has now made it impossible for the dog warden and police authorites to effectively enforce vicious dog laws in the City of Toledo. Skeldon tells WTOL:
"When the weather breaks in April, your next-door neighbor can have as many pit bulls as he wants. Your next-door neighbor wouldn't have to have a muzzle on the pit bulls when he takes them off the property. Your next-door neighbor wouldn't have to have the pit bulls in a locked, fenced yard, and your next-door neighbor wouldn't have to have any insurance on those pit bulls.

"We investigate the serious dog bites for the health department. The second breed most involved in dog bites last year were Labrador retriever and Labrador retriever mixes. There were 35 serious dog bites. The third was German shepherds. There were 28. There were 81 serious dog bites by pit bulls."
Please understand that this ratio of serious pit bull bites existed with strong pit bull regulations in place. These restrictions include the State of Ohio pit bull laws and the City of Toledo pit bull laws, which limit the ownership of pit bulls to one per household and require pit bulls to be muzzled when off property. Goulding's questionable ruling, which voids these laws, means that serious pit bull maulings in the City of Toledo will take a drastic swing upward.
Interview part 3 | 3:34 minutes
During segment three, Skeldon talks about the history of Ohio state pit bull laws, which were enacted in 1987 and prior to his tenure as dog warden, and why he was targeted by pro-pit bull groups. He said that since the pit bull lobby has been unable to overturn state laws, they "shot the messenger." In this segment, Skeldon also tackles the outdated motto, "It's the owner not the breed," employed by pro-pit bull groups that ignores the genetic traits of the breed.3
"(The owners) are a factor," Skeldon said.

"If these pit bulls are going to be made vicious by an owner, shame on that owner and they should be taken to task for it.

But it is hard to tell which of those dogs are going to act that way because that is what they are bred to do. The vast majority of pit bulls that have maimed, disfigured or killed someone in the past 25, 30 years have had no history that they can find of being trained for fighting or of biting someone before."

"So out of the blue?" asked the reporter.

"Boom!" Skeldon replied. "If they are triggered."
This explanation refers back to the unpredictability of a pit bull attack that Skeldon discusses at the end of segment two. When explaining the inherent danger of the breed, Skeldon describes the lack of warning signals pit bulls display prior to an attack versus other dog breeds that offer clear physical and verbal warning signs. For instance, pit bulls often do not bark, growl or offer a direct stare prior to an attack. This information is well documented by humane groups.
Interview part 4 | 7:21 minutes
In segment four, Skeldon discusses pit bull puppies, the issue over which the Blade demonized Skeldon, calling him a "puppy killer." Skeldon's department, as well as most Ohio counties, adhere to a "No Adopt Out" pit bull policy as the state prima facially deems the pit bull breed "vicious." Skeldon also notes that nearly all U.S. insurance companies refuse to cover pit bulls, so there is "no deep pocket to put these kids back together again" after a serious mauling.
In terms of what to do with future pit bull puppies, Skeldon talks about how the recent municipal ruling will affect Lucas County residents. During Skeldon's tenure, and while pit bull regulations were enforced, his department had turned the corner on the pit bull problem. The number of pit bulls impounded was decreasing. This is a huge triumph as few other U.S. animal control agencies can report similar results. Skeldon adds about the ruling:
"If these laws aren't going to be enforced, because the courts have tied the police and dog warden's hands, then those numbers are going to come right through the ceiling. And the pit bulls will be out in the front yard instead of the back. They'll be in the alley instead of the garage. They won't be housed in the basement out of sight. They'll be flaunted. And they will be used for people to intimidate their neighbors and to control neighborhoods4 in the City of Toledo."
Lastly, Skeldon recounts the ending of his career after serving as the dog warden for over 22 years. Prior to this, he served in the Peace Corp and military. "If you look at the career, I've been obviously blessed," he said. "In the past year-and-a-half, they were knocking the snot out of me and it was uncalled for." Skeldon said that wherever you've got a "strong media form of government,"5 you end up with people in office who will succumb to this kind of pressure.
Court Rulings:
Toledo, Ohio v. Paul Tellings - United States Supreme Court
Toledo, Ohio v. Paul Tellings - Ohio State Supreme Court
The State of Ohio vs. Anderson - Ohio State Supreme Court
DogsBite.org greatly thanks WTOL for making this interview accessible to a nation and worldwide audience by posting this material to YouTube.
1
The City of Toledo has appealed the recent municipal ruling.
2
In most U.S. cities, dog licensing compliance is under 25% due to poor management. An excellent example was seen last year in Los Angeles under the leadership of Ed Boks.
3
No person in the world has been asked to explain this outdated and false motto more times than Tom Skeldon. Note the expression on his face after the reporter poses the question.
4
DogsBite.org receives numerous complaints from U.S. citizens who feel that their world has substantially "shrunk" due to nearby pit bull owners. They can no longer walk or jog down their usual paths, nor can they take their own dog on a walk out of fear of being attacked.
5
The Yellow Toledo Blade.
Related articles:
11/21/09: The Resignation of Lucas County Dog Warden Tom Skeldon
08/25/09: The History of the Denver Pit Bull Ban and the Victims that Prompted New Law
08/24/09: 2009 U.S. Shelter Data: Pit Bulls Account for 58% of Dogs Euthanized
06/15/09: Canada Supreme Court Upholds Ontario's Pit Bull Ban: Rules Ban is Constitutional
12/16/08: Tom Skeldon Named Dog Warden of the Year 2008