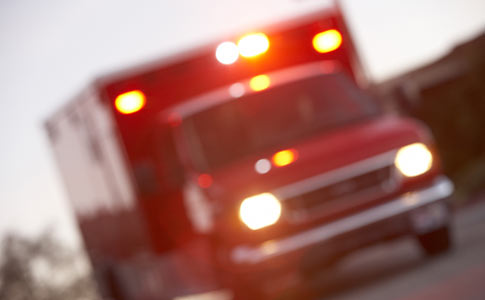 A family dog killed a newborn baby in the middle of the night in Kearney, Nebraska.
Dog Kills Newborn
Kearney, NE - On Friday afternoon, it was reported that a 1-month old baby girl died as a result of blunt force and cranial trauma inflicted by a family dog. The attack occurred about 3:00 am Wednesday, according to Kearney Police. A Good Samaritan ambulance was dispatched to a home in the 500 block of West 14th Street for an infant not breathing. KPD was first to arrive on scene and discovered the newborn dead. A family American bulldog inflicted the deadly attack.
Police did not issue a press release after the fatal dog mauling. However, Buffalo County Attorney Shawn Eatherton did issue a release Friday stating that an autopsy performed on February 11 confirmed the infant died as a result of blunt force and cranial trauma caused by an American bulldog residing in the home. An investigation into the history of the dog revealed no prior known aggression. The cause of death was ruled accidental. The dog was euthanized on February 10.
Fatal Dog Mauling Trends
This is the only recorded fatal dog mauling in Nebraska since 2005. Last year, we discussed fatal dog attacks that occur in the "middle of the night." We stated then, "We do not track the time of a fatal attack. Perhaps we should, especially for ages 0-2 years old." A 2019 Central Texas pediatric study reported that most serious dog bite injuries occurred during the evening hours, 46.8% (5:00 pm to 8:59 pm). During the night hours (9:00 pm to 4:59 am), only 13.8% of injuries occurred.
Last year, there were six John or Jane Doe fatal dog maulings, which is a high number of unnamed victims. Each person was killed by a family dog. In half of the cases, police did not issue a press release after the death. These deaths were only discovered through FOIA requests by this nonprofit, and in one case, a request sent in by a local media outlet. Of the 46 persons killed by dogs in 2020, nearly one-quarter, 22%, lacked an official news release, a disturbing trend.
Had the Buffalo County attorney, in this instance, not issued a news release, this infant's death likely would have gone undetected.
It is proper to question why this occurred. Is Covid-19 impacting normal protocols? Over 95% of information that reaches the public about fatal dog maulings does so by the media directly reporting police and coroner news releases. Without these releases, the media reports are absent. During 2020, we also saw a 45% decrease in media reports regarding fatal dog maulings. That was Covid-related, as the media industry lost over 36,000 jobs from January through June 2020.
Finally, from November 1, 2019 to February 12, 2020 (pre-pandemic), there were 16 dog bite fatalities reported. From November 1, 2020 to February 12, 2021 (amidst pandemic) there were 6 dog bite fatalities reported, an abnormal decrease of 63%. There is no precedent for this. When combining 15 years of dog bite fatalities, there are no seasonal differences in the frequency. This is unlike nonfatal dog bites, where frequency increases during the spring and summer months.
---
Related articles:
07/06/20: 2020 Dog Bite Fatality: Pit Bull Kills Toddler in the Middle of the Night During July 4th...
01/13/20: 2020 Dog Bite Fatality: Family Pit Bull Kills 4-Month Old Baby Girl in Dayton, Ohio