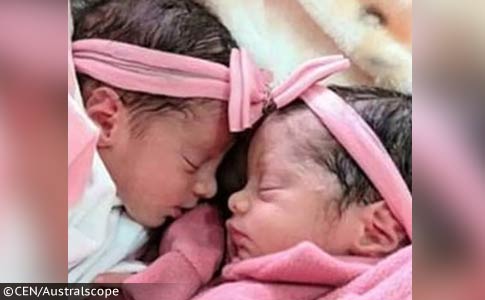 Newborn twins, just 26-days old, were killed by a family dog in the city of Piripá.
Throughout this post we are linking into Portuguese news articles. If you are using Google's Chrome browser, it will automatically translate for you. In any browser, you can paste the URL into this left box. Then in the right box hit the open icon (a small box with an arrow pointing upward).
---
Family Dog Kills Twins
Salvador, BR - The Civil Police of Bahia are investigating the circumstances of the death of newborn twins attacked by a family dog in the Bahian city of Piripá, about 637 km from Salvador. The 26-day old twin sisters, Anne and Analu, were mauled to death on June 23. Media reports indicate the mother went to talk to a neighbor at a gate. When she returned inside the home, she found the dog on top of the babies. There are conflicting reports about the dog breed involved.1
The newborns were rushed to Municipal Hospital Maria Pedreira Barbosa. One infant arrived lifeless. The trauma team attempted to revived the other infant, but she did not survive her injuries. The babies, who were born premature by cesarean section, were scheduled to be buried the same day as the attack. The city of Piripá lies in the Northeast Region of Brazil with a small population of 11,000. City officials released a message to the public on their Instagram page.
The Piripá City Hall expresses its deepest regret at the death of the children Anne and Analú, which occurred on Tuesday, June 23.

In the face of this priceless loss, we express our condolences and sympathize with parents Elaine and Régis, their family and friends, in this moment of deep sadness and pain. May God comfort your hearts and give you the strength to transform all the pain of this irreparable loss into faith and hope! - June 24, 2020
The Brazilian newspaper, Estadão, reports that a social media profile for the mother Elaine states she loves horseback riding and describes herself as "in love with animals." Her Instagram page (which we have yet to find) shows the mother sitting on the floor, while she is still pregnant, petting two dogs. The dog that killed the newborns had been with the family for five years and had not previously shown aggression. It is unknown what became of the dog after it killed the twin girls.
Double Fatal Dog Maulings
Double fatal dog maulings are rare in the U.S., and have only occurred twice since 2007. In September of that year, in Iosco Township, Michigan, a pack of American bulldog-mixes escaped their owner's property and brutally killed Cheryl Harper, 56, and Edward Gierlach, 91. The attacks occurred in such a short time span that authorities could not determine which victim had been attacked first. The dogs' owner, Diane Cockrell, was later sentenced to 3.5 years in prison.
Two years later, Sherry Schweder, 65, and Lothar Schweder, 77, a husband and wife, were killed by up to 16 "mongrel dogs" being fed by a neighbor in Oglethorpe County, Georgia. It is believed that Sherry had gone for a walk that evening. When she did not return, Lothar took the couple's car and drove down the road looking for her. When he discovered her, he got out of his car and the dogs attacked him too. Both bodies were found lying next to the car the following day.
Infinite Anthropomorphism
The killing of twin newborns by a family dog is no surprise to us. This was just a matter of time. The anthropomorphism seen on social media today is quite literally being trademarked. Long Bois and the House Hippos is a trademarked business name. The most recent addition to their home with five large dogs is an infant (watch the father bathe the infant in a kitchen sink). The couple not only anthropomorphizes their dogs, but posts many pit bull-infant propaganda photographs too.
In 2018, we were sent one of the most disturbing social media posts we had ever seen. In it, a young mother is planning to buy a canopy for the baby's room (the baby has not yet arrived) and placing the dog's bed beneath it. "I have a 4.5 year old pit bull-mix and the nursery is currently her bedroom, so I'd like to incorporate her," she writes. "Both me and my BF are 100% comfortable with a shared nursery. We've had Roxy since she was 4 months, so we KNOW her." [sic]
We named that photograph file, "No more pendulum," because the nature of a pendulum is to at some point reach a peak of resistance and swing in the opposite direction. In this case, the direction back toward common sense infant and dog safety. Unfortunately, our prediction for greater anthropomorphism in societies, and acts like "incorporating" large dogs into an infant's nursery, is infinity. There are no boundaries or friction. The trajectory is simply limitless.
Related articles:
06/12/20: 2020 Dog Bite Fatality: Infant Dies After Being Bitten by Family Dog in Hartford
01/27/20: 2020 Dog Bite Fatality: Family Pit Bull-Mix Kills Infant in Lafayette, Indiana
07/09/19: 2019 Dog Bite Fatality: Sleeping Infant Killed by Family Husky in Hall County