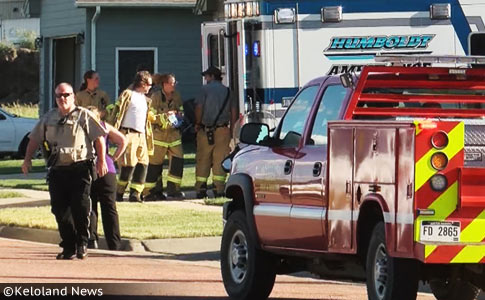 A 6-week old baby boy died after being bitten by a family dog in Hartford, South Dakota.
Infant Dies After Dog Bite
Hartford, SD - An infant died Thursday after being bitten by a family dog, according to the Minnehaha County Sheriff's Office. Deputies were dispatched to a home in the 900 block of Trojan Avenue in Hartford about 5:40 pm. Fire and Rescue arrived first and found a 6-week old boy with "several bite wounds" from a dog. Audio dispatch files from Minnehaha County Fire Dispatch 1 (and the police call log) indicate the call was in response to a cardiac arrest, not a dog bite.
After arriving on scene, Fire and Rescue determined it was a dog bite and requested law enforcement and animal control come to the scene.
The infant was airlifted to a hospital, where he died of his injuries. The dog involved, the family's Belgian malinios, was taken into custody by the Sioux Falls Area Humane Society.1 Audio dispatch files indicate the infant gained a pulse and then lost it again prior to the airlift. There were multiple dogs in the family's home, according to the dispatch files. Earlier this year, a 4-week old boy died from "multiple sharp force injuries" after a family pit bull attacked him in Lafayette, Indiana.
"What are the details? There is a 6-week old child, on the floor, bleeding but not breathing … There is bleeding. I don't know where from."2
Infants, less than 1-year old, have the highest age-specific fatality rate and make up 48% of all dog bite fatality victims 2-years old and younger. This has been true in most, if not all, multi-year dog bite fatality studies. Between January 2005 and December 2019, only two dog bite fatalities were recorded in South Dakota. Both deaths occurred on Indian reservations during a 2-year period: 8-year old Jayla Rodriguez in 2014 and 49-year old Julia Charging Whirlwind in 2015.
In the Hartford attack, the father's Facebook page shows up to five large dogs in the home and a litter of great dane puppies in late 2019. There was at least one Belgian malinois in the home. "Sig" appears to be a German shepherd. Eerily, the shepherd-type "Alf" appears to have been on "baby duty" one day before the fatal attack. It is unknown if there was more than one malinois in the home. We disagree that either parent was "well versed" on the Belgian malinois dog breed.
---
1
What is unknown to us is whether this Belgian malinois was a working military, police or protection dog. Malinois are typically not family pets. There is a discussion in comments about this on the Tea Storm Chasers page.
2
Minnehaha County and Sioux Falls Police, Fire, and EMS audio dispatch files, 6/11/20 (broadcastify.com).
Related articles:
01/27/20: 2020 Dog Bite Fatality: Family Pit Bull-Mix Kills Infant in Lafayette, Indiana
---
Baseline reporting requirements:
Law enforcement departments across the United States should release consistent "baseline" information to the media and the public after each fatal dog mauling,
including these items
.