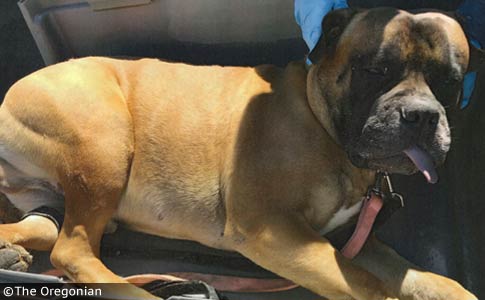 Frederick Shew, 70-years old, was violently killed by his mastiff on April 11 in Portland.
Mastiff Kills Owner
Portland, OR - On June 15, it was reported for the first time that a 70-year old man was brutally killed by his mastiff in April. On the night of April 11, police were called to the Southeast Portland home of Frederick Shew, where he lived with two housemates. One of Shew's housemates, Kenneth Miller, told The Oregonian that after he went to bed, he heard a loud thump outside his door. He then found the massive dog latched onto Shew's neck and shaking it "like a ragdoll."
The burly beast was an intact 2.5 year old male mastiff, named "Thor." Miller estimated the dog weighed 160 pounds and that Shew weighed less than 100 pounds. Miller was able to wrestle the large dog away from Shew and put the animal in his room. Miller called for his housemates to wake up and bring towels to try to stop the bleeding. One housemate called 9-1-1. "I was beating the dog off him" and trying to help save Fred," Miller told The Oregonian. "I was just too late."
"He was sitting there and blood was shooting out of his neck ... He bled out right in front of me. His last words were 'Don't call 9-1-1.'" - Kenneth Miller
Miller speculated that Shaw did not want 9-1-1 called because Miller did not want his dog taken away. Shew had purchased the mastiff for $3,500 as a 4-month old puppy two years earlier. Yet, the dog had become dangerous, according to Miller. A month before Thor killed Shew, Thor "about took my nose off my face," Miller said. Before that incident, Thor "bit me through my hand," he said. Those two biting incidents were not reported to authorities until the day after Shew died.
Yet, Miller complained that Shew refused to neuter the dog or to enroll him in obedient classes. "He couldn't even walk the damn thing, he was just too strong," Miller said. It's unclear how a housemate (who designates Shew as a "family member" on Facebook) could bear living with such a brutish dog, which could conceivably be classified as a bullmastiff or South African boerboel, as well as, a mastiff. When medical responders arrived at the home, they pronounced Shew dead.
Multnomah County Animal Services (MCAS) did not arrive to seize the dog until the next day (apparently, there is no night duty officer at the department). While Miller and his roommate were attempting to lift the dog into the MCAS truck, the dog slipped away. They eventually recaptured it and hoisted the massive dog onto the truck. Shew's daughter gave county officials permission to euthanize the dog. And that was the end of "Thor," the mastiff, bullmastiff or boerboel beast.
---
MILLER stated on April 11, 2020 around 2200hrs, he and his girlfriend went to bed. MILLER stated he heard a "thump outside my door and the dogs right there shaking his [SHEW] neck like a ragdoll". MILLER stated "all I could see was blood shooting out of his neck". MILLER stated he was able to get the dog off of SHEW by twisting the collar enough to choke the dog. MILLER then secured the dog in his bedroom. MILLER said "All Fred's doin' is sittin' there bleedin' to death. And I'm trying to [yell to others] "get some towels! Wake up! Get some towels! "I'm trying to stop it, but it just didn't, it didn't work that way". MILLER stated SHEW was still speaking at this point, but was bleeding heavily. SHEW died at the scene and was confirmed later by medics … MILLER also stated that "Thor" bit him about a month ago, resulting in a significant injury to his nose, and then also bit him on the hand a few months ago. None of this was reported. - Incident Report, Multnomah County Animal Services, April 12, 2020
---
Summary
It is devastating what Frederick Shew suffered in his final moments. It is devastating what Miller and the other housemates witnessed and now have to live with for the rest of their lives. It is alarming that the Portland Police Department did not issue a press release after this extremely violent attack. It is alarming that Miller and The Oregonian hint that a mere neutering job would have solved this dog's escalating aggression, which resulted in "Thor" executing the killing bite.
In the Incident Report, Miller calls this dog "King Mastiff." It is unclear if "King" is a kennel name. If you know the breeder or seller of this dog, please leave this information in comments or send us email at any of the addresses on our Contact Us page. Your identity will remain confidential.
Related articles:
06/02/20: 2020 Dog Bite Fatality: Two Family Neapolitan Mastiffs Kill 11-Year Old Girl in Georgia
04/17/18: 2017 Dog Bite Fatality: South African Boerboel Breeder Killed by One of Her Dogs
05/05/09: Alexandra Semyonova: Heritability of Behavior in the Abnormally Aggressive Dog
---
Baseline reporting requirements:
Law enforcement departments across the United States should release consistent "baseline" information to the media and the public after each fatal dog mauling,
including these items
.