Pit Bull Owner Charged with Felony Involuntary Manslaughter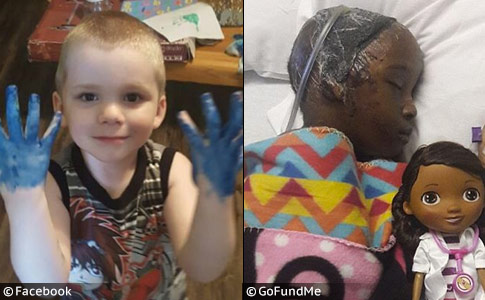 Pit bulls killed Logan Braatz, 6, and gravely injured Syrai Sanders, 5, in Atlanta.
City Leaders Respond
UPDATE 01/19/17: On Tuesday morning in southwest Atlanta, a group of children walked along Cerro Street on their way to the school bus stop when two loose pit bulls launched a horrifying attack. The dogs eviscerated 6-year old Logan Braatz, who did not survive his injuries, and critically injured 5-year old Syrai Sanders -- the pit bulls ripped off her scalp. Both children were students at F.L. Stanton Elementary. The aftermath of this attack was captured by aerial footage.
The owner of the pit bulls, Cameron Tucker, was taken into custody and charged with several misdemeanors. The charges were upgraded the next day to include involuntary manslaughter, a felony. Tucker's next court appearance is scheduled for February 1, according to news reports. Two witnesses on scene, Angie Smith and Shamonta Clayton, provided chilling accounts about what happened that morning. A formal community vigil is planned for Saturday on Stafford Street.
Response from City Officials
In the wake of this savage attack, the Atlanta Public School system (APS) announced that it would add a new bus stop. "APS Transportation immediately conducted a safety assessment and plans to add a new bus stop within the one-mile walk zone to ensure the safety of our students," states the release provided to WSB-TV. The children in the neighborhood previously had to walk past an abandoned house and through some woods to reach the bus stop, according to Logan's uncle.
Just hours after the deadly attack, Atlanta City leaders began discussing legislation to prevent future maulings. Councilwoman Keisha Bottoms introduced legislation that recognizes local governments can enact stricter dog regulations than the minimum standards of state law. These new regulations have not yet been determined, but ideas include restricting owners of dangerous breeds from living near a school or school bus stop, or requiring these owners to have a fence.
"These children are living in fear, rightfully so. These dogs are predators." - Atlanta City Councilwoman Keisha Bottoms, Fox 5 Atlanta, January 18, 2017
Bottoms promised that over the next week, councilmembers would discuss the dangerous dog issue on many levels. "We are going to delve into state law, county law, city law and see what, if anything, we can do and it is absolutely of no solace to this family, but I do hope that it will at least stop this from ever happening again," said Bottoms. Two days after the deadly attack, Bottoms met with nervous neighbors close to where the attack happened and promised to contact APS.
"Border Collie" and "Unidentified Breed"
Six or seven hours after the horrific attack on Tuesday -- after many news articles were already published, along with photographs and video of the two pit bulls -- Fulton County Animal Control relayed information via phone to reporters that the dogs involved in the attack were a pit bull-mix, "border collie" and "unidentified breed." The police report stated the two dogs involved are a pit bull and pit bull-mix. Fulton County Animal Control alone is culpable for this grave obfuscation.
In high profile fatal dog attacks, we understand that information can initially be relayed poorly or even incorrectly, but in this case it is a sham. The police report states the correct breeds of dogs, a pit bull -- the bloody black dog -- and a pit bull-mix, the white and black dog. Images of both dogs were captured before, during and after being loaded into the animal control truck. A third dog was also seized by animal control, apparently a poor border collie, but no media images captured it.
CBS46 spoke with Tucker's attorney, who said that Tucker lives with his fiance, mother, mother-in-law, and six-month-old daughter. "The two other family members that are a part of the family are the two dogs that are in custody," attorney Cinque Axam said. The family does not own three dogs -- just the two the media captured being taken into custody. Also, though the white and black pit bull-mix is not pictured in Tucker's 2012 Facebook post, the coloring indicates close lineage.
---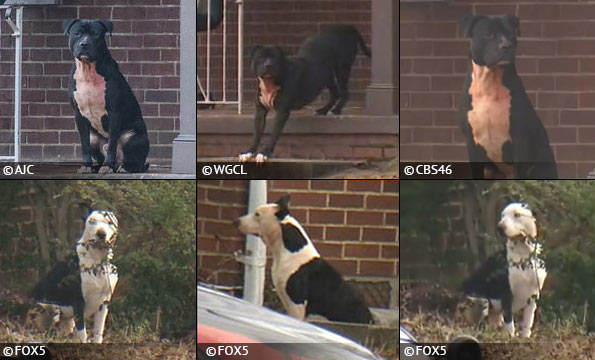 ---
01/18/17: Involuntary Manslaughter
The owner of two dogs that killed a boy and severely injured a girl is now facing a felony charge. On Wednesday, Cameron Tucker was charged with felony involuntary manslaughter in connection to the death of 6-year old Logan Braatz. A judge set his bond to $70,000. The surviving child, 5-year old Syrai Sanders, remains hospitalized. Officials said the dogs severed her scalp from her skull. A witness who saw the child after the attack said, "Her face was totally dismembered."
Another witness, Shamonta Clayton, who carried Logan's body to the ambulance, also described Syrai's injuries. "I run up on the little girl and she had been mauled very badly -- the dog just had ripped into her," he said. Then he saw Logan, his unconscious body lying in the grass. "I picked the child's body up, because his mom couldn't do nothing except to sit there and cry. I carried his bloody body to the ambulance," he said. Clayton also said the dogs commonly roamed the area.
"If a prosecutor is aggressive, they could charge him with cruelty to children in the second degree. And for any child that dies, bring it up to murder." - Attorney Page Pate, 11alive.com (WXIA), January 18, 2017
Also, despite numerous images of the dogs taken by the media yesterday, Fulton County Animal Control claims that of the three dogs, one is a "border collie" and the other is an "unidentified breed." Tucker is not a border collie type, but he is a pit bull type, according to his own Facebook page. We do not know which dog animal control is claiming to be a border collie or unidentified breed. If it is the white and black pit bull-mix that would be an outrageous and deliberate distortion.
---
01/17/17: Children Identified
On Tuesday, as a group of children walked along Cerro Street in southwest Atlanta to their school bus stop, up to three loose pit bulls brutally attacked them. Logan Braatz, 6-years old, died of his injuries. Syrai Sanders, 5-years old, suffered horrific facial damage. Angie Smith, who witnessed part of the attack said the little girl's "face was totally dismembered." Syrai is being treated at Egleston Hospital. A third child sustained minor injuries in the attack, according to police.
The owner of the pit bulls, Cameron Tucker, was arrested on two misdemeanor counts of reckless conduct. Police shot and hit one pit bull that tried to flee the scene, the black dog. The animal was later captured. A white and black pit bull was also taken into custody. Investigators are trying to determine if a third pit bull (belonging to someone else) was also involved in the deadly mauling. The children attended F.L. Stanton Elementary. Earlier the school released this statement:
"Atlanta Public Schools can confirm that two F.L. Stanton Elementary students walking to the bus stop were attacked by pitbulls. Both students were transported to Egleston Hospital. One student was transported back to Grady Hospital's trauma unit and later passed away. The female student at Egleston is in stable condition. Atlanta Public Schools sent a crisis team to F.L. Stanton this morning to provide grief counseling for students and staff. Our deepest condolences go out to the family." - F.L. Stanton Elementary School
---
SIDEBAR: We were shocked earlier to see that the Atlanta Journal-Constitution had named the breed in their report, much less in their headline -- that is how pit bull sympathetic they are, and have been for years. In their latest update, at the bottom of the article is a large video of a shelter pit bull with a message on the front: "A majority of pit bulls in shelters have no history of violence, their owners voluntarily surrender them." Pimping for pit bulls after these brutal child maulings!
A major regional newspaper in Georgia is perpetuating the Nanny Dog myth and pleading, "Dear public, please adopt our unwanted shelter pit bulls," after two pit bulls savagely attacked and killed a little boy and "dismembered" a little girl's face. The most recent medical study highlighting the severity of pit bull injuries was a retrospective review of 1616 consecutive child dog bite injuries at Children's Healthcare of Atlanta at Egleston (CHOA) where both injured children were sent.
---
01/17/17: Pit Bulls Kill Child
Atlanta, GA - Pit bulls killed one child and critically injured another as they walked to school Tuesday morning. A third child was also injured, but his condition is unclear. The children were ages 5 to 6 years old. The deadly attack occurred in the 1200 block of Gideons Drive in southwest Atlanta at about 7:20 am. Three pit bulls killed a little boy and critically injured a girl. Neighbors flew outside after awaking to screams. Aerial footage captured the horrific aftermath of the attack.
"I looked down at her to see what I could do for her. And when I looked at her, I knew that there was nothing I could do." - Witness Angie Smith
Police officers shot and killed one pit bull and the two others were taken into custody by animal control. The Atlanta Journal-Constitution reports that authorities have arrested the dogs' owner. Sgt. Warren Pickard said the children were walking with a group of children to school when the pit bulls attacked. "We had some brave kids. Some kids ran back to the scene to try to pull the dogs off the children that were injured," Pickard said. Neighbors also intervened to rescue the children.
WGCL-TV reports the children attend F.L. Stanton Elementary School, and were walking to their school bus stop when they were attacked. Aerial footage from a chopper shows a white and black pit bull sitting in a nearby driveway. A black pit bull, photographed on a nearby porch, was also involved, according to police. The dogs lived about a block away from the attack, police said. Fox 5 reports neighbors rushed to the scene with a baseball bat and knives to stop the mauling.
Angie Smith speaks to reporters near the scene (@johnspink):

Smith: "I ran to the baby and I said, I looked down at her to see what I could do for her. And when I looked at her, I knew that there was nothing I could do."

Reporter: "Was she gone at that point?"

Smith: "I couldn't tell if she was gone. I just knew, she had on a jacket and a book bag so I couldn't tell if she was breathing or not. I think that kind of saved her skin. I knew that her face was totally dismembered.

Reporter: "Have you ever seen the dogs before?"

Smith: "I actually saw the dogs Saturday. They were running around. I told myself, 'I should call the humane society because dogs are just roaming. But by the time they get here, the dogs will probably be gone and they don't usually look for them.' And so, I did not call. This is just so unfortunate.

Reporter: "Did you hear anything beforehand?"

Smith: "Yes. I heard the kids screaming. The kids were screaming very loudly, but they usually in the morning -- because they walk to the bus stop -- they are sometimes loud and they are playing, they are chasing each other. So, I sat there for a couple of seconds, because I was like, maybe the kids are playing. But after a few minutes, maybe two minutes or so, I realized that the kids weren't playing. It was a different kind of cry. It was a different kind of screaming. Then I heard adults screaming as well, so that prompted me to come outside."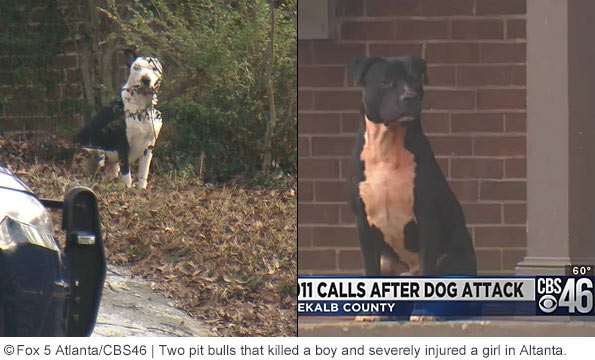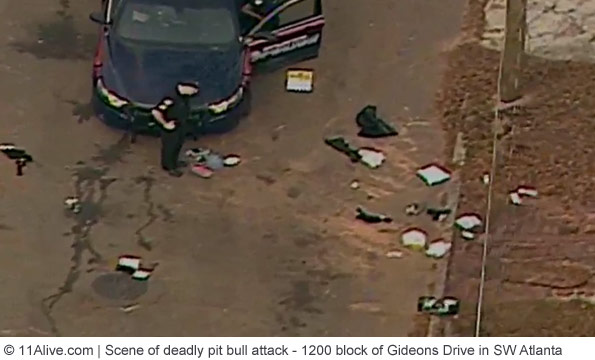 View the DogsBite.org Google Map:
Georgia Fatal Pit Bull Maulings
.
Related articles:
10/10/16: Special Report: Level 1 Trauma Center Dog Bite Studies in All U.S. Geographical...
08/04/16: 2016 Dog Bite Fatality: Woman Mauled to Death by Her Boyfriend's Pit Bull in Georgia
12/12/13: Video: Mother of Fatal Pit Bull Attack Victim Shares Story with State Representative
05/23/13: 2013 Dog Bite Fatality: Fulton County Infant Killed by Family Pit Bull
---
Baseline reporting requirements:
Law enforcement departments across the United States should release consistent "baseline" information to the media and the public after each fatal dog mauling,
including these items
.