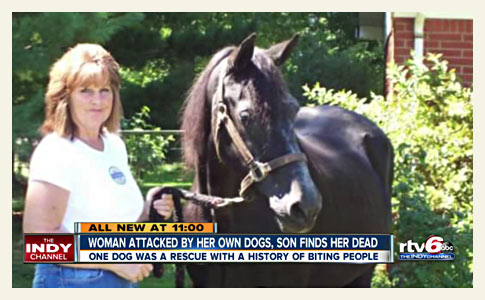 Lola Endres, an animal rescue advocate, discovered dead with dog bite injuries.
Bitten After Death
UPDATE 05/10/16: The Hendricks County Coroner said an autopsy showed that Lola Endres' heart stopped about 7 pm Sunday night. The coroner's report states that all of the dog bites were inflicted after her death. Thus, the bites did not contribute to her death. Each year in the U.S., via collecting media reports, we see a handful of people who suffer a fatal heart attack while trying to break up a dog fight. Bites inflicted post-mortem occur too, even severe ones, but are very rare.
05/09/16: Woman Found Dead
Brownsburg, IN - A woman was discovered dead in her home with bite injuries from one or both of her two family dogs. The Hendricks County coroner identified the woman as 61-year old Lola Endres. The attack happened at a home on the 3200 block of North County Road 800 East. The coroner described the scene as "horrific." Her son found her body when he returned home around midnight. First responders said Endres had died "several hours" before her son found the body.
An autopsy was conducted Monday evening to determine the cause of death. The results are expected to be released Tuesday morning. Despite the "horrific" scene, police do not believe the dog attack killed Endres, but might have played a contributing role. Endres had a pre-existing heart condition. Police said she suffered bite injuries to her legs, buttocks and hip areas. Both dogs -- English bulldogs -- are being quarantined at the Hendricks County Animal Shelter.
When dog bites are a contributing cause of death and inflicted severe injury, the death is included in our dog bite fatality statistics. - DogsBite.org
One of the bulldogs had been with Endres for several years, police said. That dog had no history of aggression, according to police. The other bulldog was recently rescued and had only been with Endres for two weeks. That dog had a history of being aggressive, police said. The dog reportedly bit its previous owner. The victim's Facebook album shows more than two dogs, however all of these photographs are dated in 2010. So far there has been no information about additional dogs.
Evening Updates
In a late evening update, the IndyStar added new information along with a photograph of the two English bulldogs provided by the Brownsburg Police Department. As demonstrated on her Facebook page, which shows many dogs and horses, Endres was a longtime animal rescuer. She not only rescued dogs, but possibly also racehorses, according to one of her Facebook posts. When police arrived, they found Endres unresponsive and both dogs engaged in a "vicious fight."
The bulldog rescued 2-weeks earlier, named Bull, is suspected of being the main aggressor in the attack, Brownsburg Police Department Capt. Jennifer Pyatt-Barrett said. That dog had reportedly bitten or attacked its previous owner. The other bulldog, Tomahawk, had lived with Endres for 3-years. Investigators are trying to determine if any of the bite injuries on her body were inflicted by him. If bite marks can be matched to Tomahawk, both dogs will be euthanized, police said.
Police also said that two other dogs were in Endres' home when she was attack, but were caged.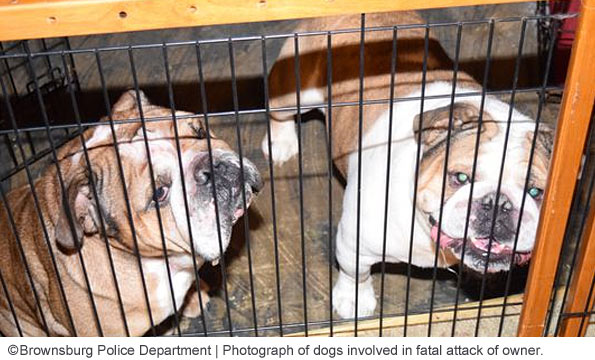 Related articles:
04/13/15: 2014 Dog Bite Fatality: Man Dies in Rockingham County During Vicious Dog Attack
10/02/14: 2014 Dog Bite Fatality: Dog Bite Injuries Contribute to Florida Woman's Death
07/13/12: Pit Bull Owner Suffers Fatal Heart Attack Trying to Break Up Dog Fight
03/09/12: 2012 Dog Bite Fatality: Letter Carrier Dies After Pit Bull Attack in Escondido