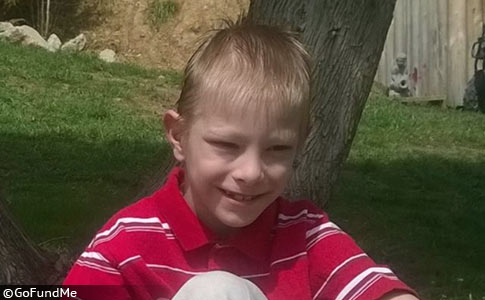 Corey Godsey, 13, was found dead after being attacked by dogs in Knott County.
Boy Killed by Dogs
UPDATE 08/13/20: After six months of investigating, Kentucky State Police (KSP) have determined the cause of death of 13-year old Corey Godsey. The teenager was found dead on February 18 in a suspected animal attack. His body was located 1,500 feet up a hillside behind a residence. With the assistance of Fish and Wildlife officers, KSP detectives utilized wildlife cameras to locate multiple dogs on an old mine site near the area where Godsey was found.
The dogs were transported to Kentucky River Animal Shelter in Hazard, where DNA samples were collected. The DNA samples were compared to evidence located on the victim. The lab results showed that specimens from several of the dogs matched those found on the victim. Authorities stated they did not know the types of dogs involved, reports the Troublesome Creek Times. Other news outlets are calling the dogs "wild." In other words, the dogs likely do not have owners.
Ownerless dogs involved in fatal attacks mainly occurrs on Indian reservations. In those few cases, it is more likely the dogs were owned and were roaming without collars. The limited media coverage in those cases makes it impossible to be sure. In the two non-reservation attacks involving stray dogs (< .4% of all fatalities since 2005), one involved multiple people feeding the dogs and the other was a pit bull in Detroit thought to be a stray abandoned by its owner.
A stray dog is not a feral dog. A stray dog is born and kept by humans and is either roaming at large or was abandoned by its owner. A feral dog is a domestic dog born to roaming dogs outside of any human care or contact. A "feral" dog can be first generation, second, etc -- but a feral dog was never kept or owned by a human. A "wild" dog and a "feral" dog are not interchangeable. A wild dog (See: African wild dog), is an individual of a species that has never been domesticated.
There are behavioral differences. Owned dogs and stray dogs have inflicted virtually all, if not all, fatal attacks in the U.S. "A stray will more easily make contact with a human, in a good or bad way depending on its experience with humans. A feral dog will be extremely shy of humans, as dogs tend to be of anything they weren't exposed to in the first six months of their lives," according to animal behaviorist Alexandra Semyonova. The investigation into Godsey's death remains ongoing.
---
02/19/20: Minor Found Dead; Dogs Suspected
Knott County, KY - Kentucky State Police confirm a juvenile died in a suspected animal attack in Knott County, an area in Eastern Kentucky. State troopers were called to the scene on KY-1102, also known as Montgomery Creek Road about 6:30 pm Tuesday. The minor was discovered dead in a wooded area several hundred feet up a hillside near a home in the Emmalena community, according to Trooper Jody Sims. Rain and dark conditions made finding the minor difficult.
"One person I thought said several hundred feet 300-400 feet up the hill. You know it was very steep, you know so it was a pretty good distance," Trooper Sims told WYMT. No confirmation of the type of animal involved in the attack was available late Tuesday. Though, Knott County Coroner Corey Watson was called to the scene of a suspected "canine attack involving a child." An autopsy is scheduled to be conducted Wednesday to determine the exact cause of death.
Speculation on Social Media
Destiny Caldwell, a woman who lives just up the road from the scene of the attack, said she heard a woman screaming for help and for someone to call 911. She called 911 while a male adult drove down the road to see if he could assist. The man returned once emergency services arrived and said that a child had been mauled by a pack of dogs. Caldwell was later told the boy was 13-years old and had died in the attack. Caldwell did not know the boy or any of the people involved.
Teenage Age Group Victims
Once again in the last 14 months we are writing about another possible teenage victim. In our 14-year data set of 471 dog bite fatalities (2005 to 2018), teenage deaths (12 to 18 years old) are exceptionally rare. There are only three teenage victims in this age group. Yet over the last 14 months, there may now be four of these deaths. That would mean that the number of teenagers killed by dogs during this 14-month period is more than during the previous 14 years combined.
Each of the attacks involving teenage victims in 2019 involved multiple dogs, and in each case the victim was male. In two deaths, Texas and Massachusetts, the victims had some familiarity with the dogs, but were killed on the dog owner's property. The most recent death occurred in December when 12-year old Victor Garces was killed by two loose pit bulls while walking home from school in Hollis, Oklahoma. The owners of the dogs were later charged with manslaughter.
Wednesday Autopsy Results
An autopsy performed at the State Medical Examiner's Office in Frankfort on Wednesday confirmed the cause of death, but a specific animal has not been determined. "Their initial determination was this was caused by injuries consistent with an animal attack," said Trooper Sims. At the time of the attack, the teenager was staying at a relative's home, but he was familiar with the area. Officials continue to withhold the boy's name until they can rule out a criminal act.
Troopers say people in the area should remain "hyper vigilant", especially at night, but there is no immediate threat to the community.1
Meanwhile, a relative or friend of the boy's family has started a GoFundMe to help pay for funeral costs. "13 Year-old Corey Godsey was tragically killed yesterday during an animal attack. I am asking our county, communities and friends to please help with the expenses of this sweet child's funeral," states the page. Just hours after starting the fund, the organizer states, "I'm speechless, and completely at a loss for words. We have already met our goal for the initial down payment."
---
Note: We understand that police need to call this a suspected "animal attack" until they have more information, but frankly that only fuels unfounded rumors about coyotes or other wild animals.
---
1
Which means they shot and killed the suspected animal or have the animal in custody. Additionally, police stated, "this is not suspected to be anything other than a terrible accident," which again indicates a domesticated dog.
Related articles:
12/18/19: 2019 Dog Bite Fatality: Multiple Dogs Killed Teenager Walking Home from School
08/13/19: 2019 Dog Bite Fatality: Texas Teen Dies After Brutal Attack by Three Pit Bulls
06/21/19: 2019 Dog Bite Fatality: Dighton Dog Attack Leaves a 14-Year Old Boy Dead...
---
Baseline reporting requirements:
Law enforcement departments across the United States should release consistent "baseline" information to the media and the public after each fatal dog mauling,
including these items
.