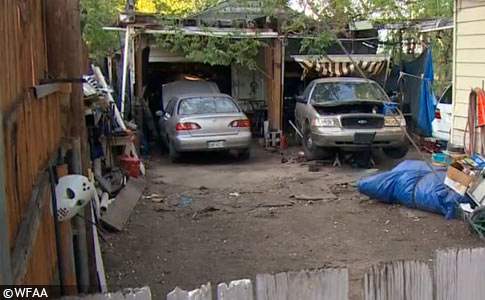 Nelson Bernardo Cabrera, 16, was killed by three pit bulls in Irving, Texas.
Dog Owner Knew Victim
UPDATE 08/13/19: On August 12, a Spanish speaking news outlet, Univision, added new dimensions to this boy's mauling death -- view the URL in Chrome to translate. According to the owner of the pit bulls, Guillermor Lorenzo, "the young man had stayed a few days in his house due to a favor he wanted to do to the minor. However, the owner of the house had canceled access to the property due to alleged problems that dragged the child," states the Google translation.
"In fact," the translation continues, "the owner of the property had changed the main locks to ensure that Cabrera would not enter the house again, Lorenzo explained to News 23 DFW." Notably, the subtitle is confusing and contradictory. This may be due to a poor Google translation: "Apparently the young man tried to enter the back of the house where he had stayed for a few days but where he never met the dogs that lived there," states the Google translation.
Lorenzo admits the boy had been staying at his home for a few days. English media outlets only stated that Lorenzo had seen the teenager a day earlier. This is a powerful difference relationship-wise. Despite the contradictory subtitle, certainly Nelson Cabrera, 16, would have known about Lorenzo's multiple pit bulls -- unless he was blind and mute -- since he had been living at his modest home for several days. There is no mention of Cabrera's parents or family members.
Multi-Pit Bull Household, Breeding
There were three adult pit bulls and at least four pit bull puppies in Lorenzo's home at the time of the deadly attack. Lorenzo admitted to his neighbor, Elizabeth Cantu, who feared the dogs, that his pit bulls could be aggressive. Lorenzo's daughter, Christina Lorena, who took to social media after Cabrera's death and stated, "That's what yo ass gets," referring to his death, also admitted that "Bella" is mean. "Bella the one the officer shot yes, she is mean really mean," Lorena wrote.
Lorena also wants the two adult pit bulls being held in quarantine returned to her family. A person impersonating the Facebook profile of John Nezat left a comment on a recent post by Lorena stating: "Hello we are pitbull lovers and trying to reach your father to help him get his dogs back! We are so sorry for the loss of pregnant bella we would hate to see the loss of the other 2 babies please reply to our message on messager. We do have connections so please reatch out [sic]."
Killed Before His 17th Birthday
The Daily Mail published photos of a younger Cabrera from a montage created by Rosy Cabrera, who is believed to be his grandmother. "The happiest days of my life with my beautiful child, thank God for giving me these beautiful moments," Rosy wrote. One mourner posted a photo of a Cabrera cutting a cake and stated: "Today would have been your 16th birthday. I'm still in shock you were taken yesterday." He was killed one day before his 17th birthday, reports CBS DFW.
It's hard to believe Cabrera "never met the dogs that lived there," as the Google translation states. On the day of the deadly mauling, Lorenzo was featured in multiple English speaking news videos, making the claim he only met the boy a day earlier. The Univision piece is in direct contrast to the "unknown intruder scenario" that was syndicated by English media from coast-to-coast after his horrific death. Unless his family speaks out, we may learn nothing else about his background.
---
08/11/19: Texas Teen Dies by Dog Mauling
Irving, TX - Early Saturday morning, three pit bulls secured in their fenced-in yard brutally attacked a 16-year old male. Irving police received reports of the attack about 4:45 am in the 800 block of East Third Street. Arriving officers jumped the fence and tried to stop the vicious attack by placing themselves between the teenager and the dogs, firing on the pit bulls in the process. One pit bull was shot in the jaw. The victim was transported to Parkland Memorial Hospital with critical injuries.
Nelson Cabrera, 16, succumbed to his injuries late Saturday. Cabrera did not reside at the home and police do not know why he was there.
The dogs also bit one of the officers, who was treated and released. "I commend those officers for taking the initiative to jump over that fence and think about the victim before themselves," Irving police public information officer Robert Reeves said. The owner of the pit bulls, Guillermo Lorenzo, shed no sympathy for the teenager. "He has no right to be in [my] yard," Lorenzo said. "Nobody has a right to be in [my] yard." Lorenzo claimed his dogs were "doing their job" by protecting him.
Lorenzo is also a backyard breeder of pit bulls. On the day of the attack, Fox 4 News captured images of four pit bull puppies on Lorenzo's property. The female pit bull that was shot in the jaw, "Bella" was humanely euthanized due to "the severity of its injuries," police said. Lorenzo's other two adult pit bulls, "Bruce" and "Little Bit" (a longtime game-bred dog name), are being held in quarantine at the Irving Animal Shelter. Irving Police are still investigating the deadly dog attack.
Second Fatal Pit Bull Attack in Irving
In March, Johana Villafane, 33, was killed by her two pit bulls while visiting them at O'Connor Animal Hospital. Both pit bulls had been involved in a biting incident, but the Irving Animal Shelter's quarantine space "was at capacity," so Villafane took her dogs to O'Connor's instead. The staff told Villafane that her dogs were so aggressive they could not keep them unless she would walk them herself twice a day. During one of those visits, her pit bulls fatally attacked her.
The vicious attack lasted 31 minutes and was captured on the animal hospital's surveillance cameras. Police did not release any of the footage.
Cabrera's death also marks the second teenager killed by a dog this year -- the rarest of all age groups for victims of fatal dog maulings. Both attacks involved multiple dogs on the owner's property. In May, Ryan Hazel, 14, was killed by five protection trained dogs (Belgian malinois and Dutch shepherds) that he regularly cared for while their owner, elite dog trainer Scott Dunmore, was away. The 10 to 18-year old age group makes up 1.5% of all fatal dog attack victims.
Finally, less than two weeks ago, the Dallas-Fort Worth area (includes Arlington and Irving) made national headlines after an Arlington police officer shot a charging pit bull-mix and accidentally killed its owner, Margarita Brooks, 30, while performing a welfare check on her. The body cam footage was immediately released. The victims in the Irving dog mauling, Cabrera, and the police shooting, Brooks, were both homeless. The officer who fired on the dog was a new officer.
Evening Updates on Fatal Dog Attack
The Dallas Morning News reported that Elizabeth Cantu, Lorenzo's next-door neighbor, was awakened by the sounds of the dog attack at 4:30 am. "I heard yelling, I heard dogs," Cantu said. "I jumped out of bed and ran outside." I could tell those dogs were attacking someone, she said. Cantu tried to wake up Lorenzo by honking her truck's horn while her family called 911. She said Lorenzo had told her all three dogs could be aggressive. Cantu described them as "not nice."
Police do not know why Cabrera was in Lorenzo's backyard. "We don't want to speculate on what he might have been doing, but we definitely don't know why he was in that backyard," officer Reeves said. But that did not stop Lorenzo's daughter from voicing pathological vindictiveness. Christina Lorena posted to Facebook, "that motherfucker had no business jumping the fence while my dad was asleep! That's what yo ass gets," thus equating a "trespass" to the death penalty.
News flash to Lorena. In the United States of America, we do not met out a "death by dog mauling" penalty to any person, regardless of how grievous his or her crimes are because it is absolutely barbaric and unconstitutional. Criminal Trespass in Texas is a Class B misdemeanor punishable by a fine of up to $2,000 and a jail term up to 180 days. For all we know at this stage, Cabrera may have been running from something himself. Irving police continue to investigate.
---
Join Texas Dog Bite Victims' Advocacy - Join our Texas email list to stay informed
View the DogsBite.org Google State Map:
Texas Fatal Pit Bull Attacks
.
Related articles:
96/21/19: 2019 Dog Bite Fatality: Dighton Dog Attack Leaves a 14-Year Old Boy Dead...
03/27/19: 2019 Dog Bite Fatality: Pit Bulls Attack, Kill Owner While She Visited Her Dogs...
02/10/16: 2015 Dog Bite Fatality: Port Huron Woman, 22, Fatally Attacked by a Pit Bull
---
Baseline reporting requirements:
Law enforcement departments across the United States should release consistent "baseline" information to the media and the public after each fatal dog mauling,
including these items
.