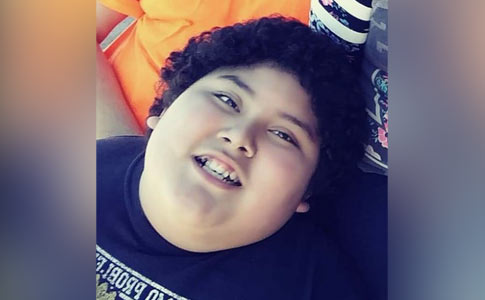 Victor Garces, 12, was mauled to death by dogs on Friday in Hollis, Oklahoma.
Dog Owners Arrested
UPDATE 12/18/19: On Wednesday, it was announced that two men were arrested in connection to the dog mauling death of a 12-year old boy. 53-year-old Jacob Benavidez and 44-year-old Ruben Benavidez, who are brothers, were arrested on charges of manslaughter in the second-degree and cruelty to animals. Victor Garces was killed by two dogs belonging to the brothers on Friday while walking home alone from school. Police shot and killed both dogs at the scene.
Court documents state the brothers deprived the dogs of food and water, and allowed the animals to be at large. A third dog at the scene belonged to the victim. Apparently, that dog came from the boy's yard, which is a block away from the attack scene, and tried to defend the boy. It's unclear if anyone witnessed that or the fatal attack. District Attorney David Thomas said the Benavidez brothers will make a court appearance in the next few days. Bond has been set for $75,000.1
Section 717: "If the owner of a mischievous animal, knowing its propensities, willfully suffers it to go at large, or keeps it without ordinary care, and such animal, while so at large or not confined, kills any human being who has taken all the precautions which the circumstances permitted, to avoid such animal, the owner is deemed guilty of manslaughter in the second degree." Second-degree manslaughter is a felony on Oklahoma and is punishable by up to 4 years in prison.
---
12/16/19: Teenage Victim Identified
The fatal dog mauling victim has been identified as 12-year old Victor Louis Garces. On Friday afternoon, Garces was mauled to death by up to three dogs as he walked in an alley on his way home from school. Harmon Electric Company employees found the boy's body and notified law enforcement officials. Oklahoma Third Judicial District Attorney David Thomas announced Saturday that a criminal investigation is underway concerning his death, reports the Altus Times.
The District Attorney's Drug and Violent Crime Task Force has also joined the investigation into the boy's death, according to the Altus Times.
"A full investigation is ongoing and will continue until we have all the answers regarding how this senseless death could have happened," Thomas said in the prepared statement. The Hollis elementary school, Sallie Gillentine, posted Sunday, "Hollis Public School will recognize a moment of silence at 8:10 am Monday December 16th in memory of Victor Garces." Garces was in the 6th grade. Currently, students and staff are collecting a love offering in memory of Victor Garces.
Late Monday Updates
Late Monday, KSWO spoke to relatives of the boy. Victor left school early on Friday and walked home alone, apparently because he was sick and his mother was sick too and could not pick him up. He only lived a few blocks away from the school. "How long was he laying out there, how long were those dogs eating my nephew, really how long?" asked Maria McMullin, Victor's great aunt. Authorities shot and killed two dogs at the scene Friday and captured a third dog on Monday.
Amanda Perez, another great aunt of Victor, said the dogs "didn't just kill him, they were practically eating him." Perez said the dogs' owner "knew his dogs were vicious." The news video footage shows the dirt alley and the dog owner's dilapidated fence. The alley divides a row of homes from a fenced-in industrial yard. A clumped up red blanket is seen lying near the dog owner's fence in the alley. Family members are still in shock, reports KSWO. Victor's funeral is set for Saturday.
---
12/14/19: Teenage Boy Killed by Dogs
Hollis, OK - Family members say a teenage boy was killed by multiple dogs Friday afternoon, reports KSWO. As of late Friday night, the Oklahoma State Bureau of Investigation (OSBI) had not responded to requests for information. A witness at the scene told KSWO the victim was a teenager. He was walking home from school just after noon when three dogs attacked him in an alley, according to family members. Police shot and killed two of the dogs; the third dog got away.
The video footage shows multiple law enforcement at the scene, including Hollis Police, Harmon County Sheriff's Office, OSBI and the Oklahoma Medical Examiner's office. Hollis is a small city in the southwest corner of Oklahoma with a population just below 2,000. It is the county seat of Harmon County. We have no previous dog bite fatalities on record for this county, which lies on the border of East Texas. The nearest larger Oklahoma city is Lawton, about 90 miles to the east.
The Facebook Post
On the accompanying KSWO Facebook post, multiple people claim pit bulls are the culprits. Including Kim Glen, "Yes it was 2 pits. Yes it was a family member's dogs." Belinda Bennet, "I know an officer, it was 3 pit bulls." Zack Cress, "It was actually pit bulls, or at least 2 of them were. My kids live there and my ex knows the family." Also, Cyndi Pierce, "I live in Hollis and there was three pits that attacked a little 12 year old boy he was in my granddaughter's class." [sic].
Teenage Age Group
In our 14-year data set of 471 dog bite fatalities (2005 to 2018), teenage deaths are rare. Within the 10-18 years age group, there are only 7 victims and 5 victims fall between the ages of 10-12 years, which are "tween" years. There are only 2 teenage victims, a 13-year old and 14-year old. Yet during 2019, there may now be 3 of these deaths. That would mean that more teenagers (13 to 18 years old) have been killed by dogs in a single year than in the previous 14 years combined.
---
View the DogsBite.org Google State Map:
Oklahoma Fatal Pit Bull Attacks
.
1
Multiple names have invalid spellings in this article. "Benavidez" is the spelling of the brothers' last name, and the boy's last name is "Garces" not "Grace."
Related articles:
08/13/19: 2019 Dog Bite Fatality: Texas Teen Dies After Brutal Attack by Three Pit Bulls
06/21/19: 2019 Dog Bite Fatality: Dighton Dog Attack Leaves a 14-Year Old Boy Dead...
Statewide attacks:
Vicious Dog Attacks in Oklahoma by Butch Bridges, a log of Oklahoma vicious dog attacks.
---
Baseline reporting requirements:
Law enforcement departments across the United States should release consistent "baseline" information to the media and the public after each fatal dog mauling,
including these items
.