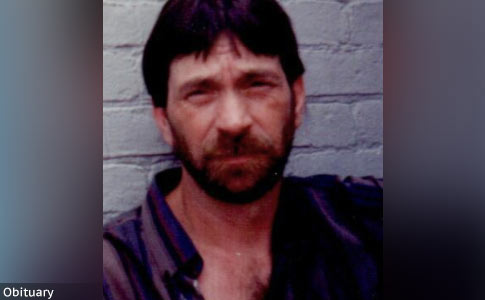 Donald Abner, 55, died after being mauled by a pit bull in Rockcastle County, Kentucky.
More Details Released
UPDATE 01/12/20: The owner of the pit bull, 38-year old Melissa Wolke, was charged with murder in connection to the death of Donald Abner. On Friday morning, at about 3:40 am, deputies received a 911 call. When they arrived at the home on US 25 near Pug Lane they encountered an aggressive pit bull. An arrest citation states that Wolke sicced her pit bull on Abner. It was the 911 caller who witnessed Wolke attacking Abner and giving her dog commands to attack the man.
"The way to look at it is that she used her animal, a pit bull, as a weapon to help her in this altercation." - Kentucky State Police Trooper Scottie Pennington
Arriving deputies also witnessed Wolke sitting on the man and punching him in the face, while the dog attacked him. According to the arrest citation, Wolke appeared to have blood on her hands and feet, and a large clump of hair in her hands that was consistent with the victim's hair, reports LEX 18. During an interview Friday, Wolke told Kentucky State Police that she was going "redneck" on the man and that she was the owner of the female pit bull, named "Denali."
There are conflicting reports about who lived at the home near Pug Lane. Wolke and her dog were "there at the time," reports LEX 18. On Saturday, the man's body was sent to the state medical examiner's office in Frankfort. Police said the man suffered dog bites to his face and head. Police are awaiting the cause of death from the autopsy report. "They'll be able to tell if it was a gun shot, a dog bite, or heart attack," said Trooper Scottie Pennington of the Kentucky State Police.
---
01/10/20: Pit Bull Kills Man
Berea, KY - A man is dead after being attacked by a dog in northern Rockcastle County, near Pug Lane, according to authorities. Rockcastle County Coroner Marvin Owens was called to the home on U.S. 25 early Friday morning after a reported fatal dog mauling. Arriving state troopers found an aggressive pit bull near a truck at the home. They shot and killed the animal. News footage shows a veterinarian at the scene bagging the dead pit bull in a black, plastic garbage bag.
Kentucky State Police said the dog was not a stray and apparently belonged to a woman who was visiting the home. That woman, the owner of the dog, has been hospitalized due to the trauma of the experience, reports LEX 18. Neighbors told WKYT the people who lived at the home had only recently moved in. Jerry Merritt said he's heard gunfire at night in the past few weeks, apparently coming from the residents, "I don't know what they're shooting at or for the fun of it or what."
Friday Evening Updates
Late Friday, police charged Melissa Wolke, 38, for murder in connection to the death 55-year old Donald Abner. When state troopers arrived at the home on Pug Lane, Wolke was on top of Abner, punching him. She was also commanding her pit bull to attack him. Wolke had to be Tased to get her off the victim. She also refused to call off her dog. The pit bull had to be shot and killed as a result. An autopsy is scheduled for Saturday to determine the cause and manner of death.
A Google Search returns many arrest photographs of Wolke. In 2013, she ran a Twitter page too. Its unknown if the case is categorized as domestic violence. One of the most horrific Kentucky domestic violence cases involving a pit bull occurred in 2015, when Marilyn Stanley was partially scalped by a pit bull Zachary Allen Gross "directed" to attack her. Despite routine scalping injuries inflicted by pit bulls, investigators determined that Gross cut off her scalp with a sharp knife.
Kentucky Fatal Dog Attacks
In 2019, canines in Kentucky killed four people. All four victims were male. In February, 1-year old Ashton McGee was killed was killed by a family pit bull-mix in Guthrie. In May, 2-year old Isaiah Geiling was killed by a family pit bull in Louisville. In October, 3-year old Steven Thornton was also killed by dogs, rottweiler-mixes, in Louisville after he climbed through a bedroom window while the rest of his family slept. In June, 46-year old Brian Butler was killed by three pit bulls in Gilbertsville.
Kentucky is a moderate population state with an estimated 4.5 million residents. Despite dogs killing nine people in California in 2019, a state with an estimated population of 39.6 million, the rate of fatal dog attacks in Kentucky last year (per 100,000 population) was over four times higher than California. Traditionally, states with the highest populations -- California, Texas and Florida -- also have the highest number of fatal dog maulings each year, excluding the state of New York.
View the DogsBite.org Google State Map:
Kentucky Fatal Pit Bull Attacks
.
Related articles:
09/25/19: 2019 Dog Bite Fatality: Man Killed by Three Pit Bulls in Western Kentucky
01/26/19: 2018 Dog Bite Fatality: Winchester Mother Dies After Violent Pit Bull Mauling
---
Baseline reporting requirements:
Law enforcement departments across the United States should release consistent "baseline" information to the media and the public after each fatal dog mauling,
including these items
.