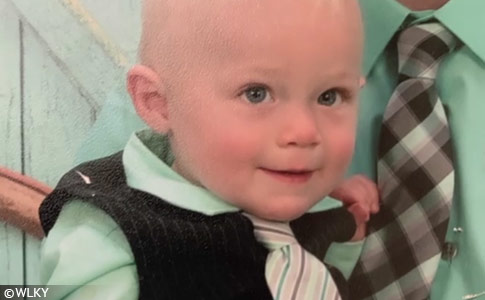 On Thursday, Isaiah Geiling, 2, was mauled to death by a family pit bull in Louisville.
Three People Indicted
UPDATE 07/23/19: Three people have been indicted after the fatal dog mauling of a 2-year old boy back in May. Jack Charpring Jr., 50, and Sharon (Sharyn) Charpring, 53, are both charged with second-degree manslaughter in connection to the brutal death of Isaiah Geiling. The Charprings reside at the home in the 3800 block of Grand Avenue where the deadly attack occurred. The child's mother, 25-year old Jennifer Geiling, is charged with reckless homicide.
Prosecutors said the Charpings and the Geilings are not related, but lived in the same residence on Grand Avenue, reports WLKY.
Jack Charpring owned the male pit bull named King that fatally attacked the boy. He previously spoke to WAVE-TV but refused to be identified. In a husky voice, Charpring stated in May: "I know it was an accident. But, at the same time, he did take a little boy's life accidentally. Eye for an eye. Little boy died, he [King] deserves to die." Charpring also claimed his dog had never bitten Isaiah before. Both Charprings can bee seen in the background of this news footage looking anxious.
The child's mother has multiple Facebook pages, each with different last names. After Isaiah was killed, his maternal grandmother, Cynthia Coy, asked WDRB, "Where was my daughter? Was she there?" Coy also said the dog had previously bitten Isaiah. She showed a photograph of the boy's dog bite injury too. Thus, there are now significant criminal charges. The adults who were Isaiah's caretakers knew about the dog's vicious propensities and did not protect Isaiah from this dog.
Second-degree manslaughter (involuntary manslaughter) in Kentucky is a Class C felony and is punishable by a term of imprisonment of 5 to 10 years. Reckless homicide is a closely related offense, but is a Class D felony and is punishable by a term of imprisonment of 1 to 5 years.
---
05/03/19: Dog Attacked Child Before
On Friday, WLKY updated their report with new information. They spoke to the child's maternal grandmother, Cynthia Coy, who said the deadly dog mauling came just weeks after the dog had attacked Isaiah, ripping his ear. Coy provided a photograph of the child's injury. "So obviously the dog has attacked him before," Coy said. "Where was my daughter? Was she there?" Coy asked, referring to the home on Grand Avenue where the fatal dog mauling occurred on Thursday.
According to WLKY footage, Isaiah was with a "relative" at the home on Grand Avenue when the dog attacked. Shelby Chadwell, who along with his cousin risked his life to save the boy, stated yesterday, "The man that owns the dog had a very tough time wrestling the dog, pinning it, and getting it under control to take it back home." Unidentified neighbors told WLKY the dog was known for its aggressiveness and had gotten loose at least two or three times in the past.
---
05/02/19: Family Pit Bull-Mix Kills Boy
Louisville, KY - A 2-year old boy is dead after being attacked by a dog in Louisville's Chickasaw neighborhood. The attack occurred inside a home in the 3800 bock of Grand Avenue. Officers were dispatched to the home at 12:00 pm, after a report that a dog had bitten a child, according to Louisville Metro Police. When officers arrived at the scene, they found the injured boy and began performing CPR. He was transported to Norton Children's Hospital, where he later died.
A reporter from WLKY Tweeted earlier today that the attacking dog is a pit bull. The WLKY Facebook page shows an image of a dog appearing to pit bull-lab mixture being taken from the home on Grand Avenue. So far, police have not released breed information. The address of the home on Grand Avenue is also listed on the Foreclosure.com website. The dog was taken into custody by Louisville Metro Animal Services and will be held in quarantine for 10 days.
Audio Dispatch Logs
Audio dispatch from Louisville Fire on Broadcastify.com clearly states the dog is a pit bull and the child was bitten in the head. "Engine 19, I have you responding, this is EMS code 3. Police are responding along with EMS … Approximately a 3-year old child that has been bitten by a pit bull in the head. Heavy bleeding. Child is conscious. Time is 12:02," states dispatch. The dispatcher then quickly relays a critical update to Engine 19, "Update, advised, this child has stopped breathing."
Afternoon Updates
The Louisville Courier Journal reports that police responded to the home in the 3800 block of Grand Avenue about noon on reports of a child in the mouth of a pit bull, according to dispatch records. Officers performed CPR on the young boy before the ambulance arrived. A spokesman for Louisville Metro Animal Services, Teeya Barnes, confirmed to Courier Journal that her agency responded to the residence on Grand Avenue after reports that a child was injured by a pit bull.
"He was barely breathing on the floor, a lot of blood, face down. It was the worst. It's not something I want to relive." - Neighbor Shelby Chadwell
WDRB spoke to neighbors who rushed to help the boy. Shelby Chadwell, who lives next-door, said a woman pounded on his door Thursday morning asking for help. Chadwell and his cousin ran into the home and found the dog on top of the child. "It was a ferocious dog," Chadwell said. "We had to get the dog out of the room. So my cousin used sticks and bashed them together and scared the dog away. We put the dresser in the hallway to block the dog off and get out of there," he said.
WDRB also captured footage of the dog while animal control officers used control poles to contain it. The dog is seen biting the poles. Investigators say the only thing that is left to determine about the dog's breed is whether it is a purebred pit bull or pit bull-mix. Lt. Emily McKinley said that responding to the scene was difficult for everyone involved. "I know a lot of people are pretty shook up having to go through that and experience that, including our officers," McKinley said.
View the DogsBite.org Google State Map:
Kentucky Fatal Pit Bull Attacks
.
Related articles:
02/11/19: 2019 Dog Bite Fatality: Family Pit Bull-Mix Kills Baby Boy in Guthrie, Kentucky
01/26/19: 2018 Dog Bite Fatality: Winchester Mother Dies After Pit Bull Mauling Inside Her Home
---
Baseline reporting requirements:
Law enforcement departments across the United States should release consistent "baseline" information to the media and the public after each fatal dog mauling,
including these items
.