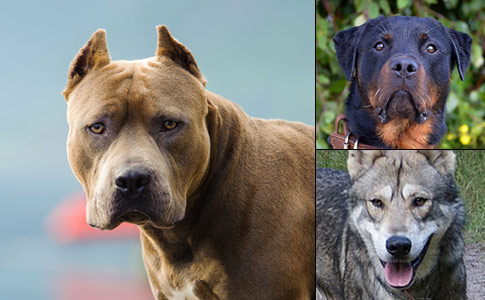 The top three regulated dog breeds: pit bulls, rottweilers and wolf-dog hybrids.
BSL Estimate 2019-2020
DogsBite.org - Since 2011, we have maintained an estimate of breed-specific laws across the United States, including breed-specific policies governing military housing. A decade ago, all three major military divisions -- U.S. Army, U.S. Marine Corps and U.S. Air Force -- banned a group of dangerous dog breeds, chiefly pit bulls, rottweilers and wolf-dog hybrids, due to the "unreasonable risk to the health and safety of personnel in family housing areas" these dog breeds pose.
In 2018, Delta Airlines became the first airline to ban pit bulls as service and support dogs, citing "untrained" pit bulls as a "potential safety risk."1
Our estimate is updated each December. Currently, over 1,100 cities, towns and villages regulate specific dog breeds for safety purposes and 40 counties have enacted countywide breed safety laws too. Jurisdictions in 39 different states have enacted breed-specific ordinances. Our estimate also tracks international breed-specific laws. Currently there are jurisdictions in at least 53 countries with breed-specific laws. In 42 of those countries, the regulation is a national-level law.
Many U.S. municipalities with breed-specific laws are concentrated in the Midwest. Other states, primarily preemption states, have virtually no breed-specific laws. In the early 1980s, cities began enacting breed-specific laws in response to grisly pit bull maulings. By 1992, dogfighting and dog breeder interests had pushed through preemption laws in ten states, including three of the most populous, California, Florida and Texas, prohibiting local jurisdictions from adopting pit bull laws.
There have been many horrific fatal maulings carried out by pit bulls and rottweilers in these three states ever since (See: Deaths After State Preemption). The most recent state to pass legislation in this area is Washington, which enacted a mandatory exemption law. The law requires cities with existing or new breed-specific laws to provide an exemption for the owners of regulated breeds if their dog passes the American Kennel Club's Canine Good Citizen (CGC) test or its equivalent.
2019 Legislative News
In 2019, only two states, Michigan and Missouri, faced actual state preemption bills, down from six states in 2018, nine states in 2016 and seven states in 2015. This may be a signal that Wave II of these preemption bills, 2012 to present day, is coming to a close. (Learn more about: Wave I and Wave II). During the 20-year CDC study period (1979 to 1998) pit bulls on average killed 20 people every five years. Now they kill nearly 140 people in a 5-year period, seven times more.
During the 2020 legislative session, South Carolina legislators may again review House Bill 3709 that requires registration to own a fertile pit bull. This is a bill that many states should be studying. Instead of preempting local pit bull ordinances, state legislators should be working to limit the excessive over breeding of pit bulls, which results in a large population of unwanted, unadoptable pit bulls continuously filling up city and county shelters and eventually having to be euthanized.
"Whereas, the pit bull dog is the most desired breed for dogfighting and is dying at a higher rate in local animal shelters than any other breed of dog in South Carolina; and

Whereas, fertile dogs are more likely to be territorial and therefore more likely to bite. Most dog bite fatalities are committed by dogs that were not altered; and

Whereas, requiring registration to own a fertile pit bull dog would provide a safety component for the public and the dog." - H 3709, 123rd Session, 2019-2020
Going against the "humane alliance," which typically opposes all breed-specific laws, Joe Elmore, CEO of Charleston Animal Society, supported the bill last year. "(The pit bull is) a wonderful dog, I have a pit bull type dog," Elmore said. "But we've got to cut down on the breeding. We've got to spay and neuter these dogs. Across shelters throughout the South, including South Carolina, they are dying at a much higher rate than other dogs because of the prevalence of them," he said.
Rental & Housing Properties
A substantial source of breed-specific policies, which our estimate does not track, are the million-plus rental properties governed by breed-specific leases in all 50 states.3 Rental property and insurance companies assess risk. Insurance carriers may refuse coverage for apartments, condominiums and homes if a lease fails to prohibit dog breeds on their blacklist. Private rental properties, HOAs and insurance agencies are typically unaffected by state preemption laws too.
When you combine the many types of breed-specific laws -- municipal ordinances, military policies, Indian reservation and public housing policies, airline policies, insurance blacklists and the tens of millions of Americans living in private rental properties governed by breed-specific leases -- one gains a clearer picture of these safety laws. They are designed to prevent serious attacks by high-risk dog breeds that are well recognized for inflicting severe bite injuries.
Our estimated summary of breed-specific laws is just one source of this prevention. When or if another state passes a preemption law peddled by an out-of-state special interest group, a source of this protection will be removed from that state, but other sources will remain, such as rental leases. Finally, the significance of breed-specific laws worldwide shows that the genetics of a dog breed remain the same, whether the dog lives in the U.S., France, South Korea or New Zealand.
---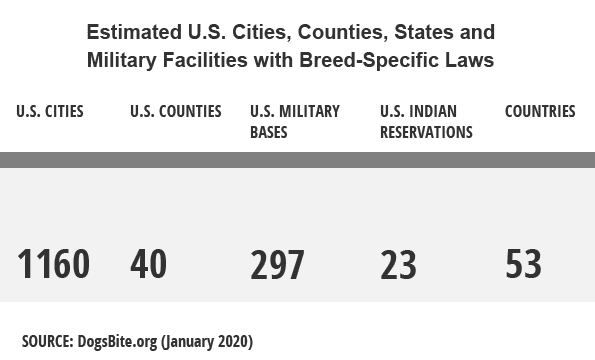 1
Kelli Bender, "Delta Airlines Bans Pit Bull-Type Service and Emotional Support Dogs from All Flights," People, June 22, 2018 (people.com)
2
The 40 Years of U.S. Fatal Pit Bull Attacks in 5-Year Periods chart is an extension of the 35 Years of U.S. Fatal Pit Bull Attacks in 5-Year Periods chart we released in 2015 when discussing the two waves of state preemption laws.
3
We could find no estimate for the vast number of rental properties governed by breed-specific leases, but breed restrictions are common. According to the National Multifamily Housing Council, over 43 million households are renter-occupied and comprise over 100 million residents (34% of the U.S. population), all of which are subject to a lease agreement. Nearly one-third of these residents, 27 million, rent a unit within a multi-unit rental property.
Related articles:
12/22/18: Estimated U.S. Jurisdictions with Breed-Specific Laws (2018-2019)
01/01/20: Fatal Pit Bull Attacks - The Archival Record - DogsBite.org
01/01/20: Fatal Rottweiler Attacks - The Archival Record - DogsBite.org
04/23/18: Fatal Wolf-Dog Hybrid Attacks - The Archival Record - DogsBite.org
04/20/15: A Primer on State Preemption Laws and Charts for Advocates by DogsBite.org