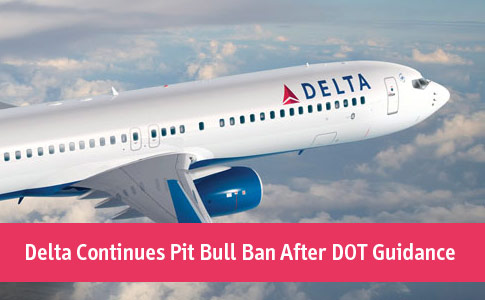 Delta Air Lines updates policy and continues pit bull ban following DOT guidance.
Delta's Policy Update
Atlanta, GA - On September 23, 2019 Delta responded to Department of Transportation (DOT) final guidance regarding service animals that was issued on August 8. "Effective immediately, Delta is discontinuing its 8-hour flight limit for emotional support animals (ESAs)," states Delta's announcement. Delta is continuing its ban on pit bulls as service and support animals that it began in July 2018 in order to "protect the airline's employees, customers and trained service animals."
Following a sharp increase in onboard animal incidents and attacks, Delta instituted its ban on pit bulls in 2018, to protect the airline's employees, customers and trained service animals. Pit bulls account for less than 5 percent of the overall dog population but 37.5 percent of vicious dog attacks. Understanding this risk, Delta has not come to a solution for allowing pit bulls onboard that satisfies its own rigorous safety requirements.

"We will never compromise on safety, and we will do what is right for the health and safety of our customers and employees," said John Laughter, Senior Vice President – Corporate Safety, Security and Compliance. "We continue to work with the DOT to find solutions that support the rights of customers who have legitimate needs to travel with trained animals." - Delta Air Lines, September 23, 2019
In mid-August, our nonprofit released a special report detailing areas of the current rule that are undefined, as we explored how the DOT final guidance would affect Delta's pit bull ban (Beneath the 'Headlines' of the DOT's Final Guidance of Enforcement Priorities Regarding Service Animals). The DOT final guidance came after Delta and other airlines adopted new policies in early 2018 designed to tackle the growing number of untrained service and emotional support animals.
---
In June 2017, a Delta passenger was repeatedly attacked in the face by an untrained psychiatric service dog. In May 2019, the victim sued Delta and the dog's owner, intensifying this issue.
---
The DOT final guidance gave airlines until mid-September to adjust any policies that are out-of-step with the Enforcement Office's interpretation of the current rule, of which parts remain undefined. Later this year, the DOT will issue its NPRM regarding the "appropriate definition of a service animal." The DOT final guidance is "not legally binding in its own right" and conformity with the guidance (as distinct from existing statutes and regulations in Part 382) is voluntary only.
The DOT's final guidance stated in part, "the Department is not aware of and has not been presented with evidence supporting the assertion that an animal poses a direct threat simply because of its breed" and "The Enforcement Office continues to take the view that restrictions on specific dog breeds are inconsistent with the current regulation." Delta's view is that "untrained, pit bull-type dogs posing as both service and support animals are a potential safety risk."
Delta stated in their policy update, "Pit bulls account for less than 5 percent of the overall dog population but 37.5 percent of vicious dog attacks." Thus, providing the DOT with facts to support their ban. However, there has long been federal precedent for this ban. A decade ago, all major U.S. military divisions banned pit bulls and several other dog breeds from privatized housing due to presenting an "unreasonable risk to the health and safety of personnel in family housing."
"The safety of our people is paramount," states Delta's policy update. "In 2018 alone, more than 40 instances of aggressive animal behavior occurred aboard a Delta aircraft," said Allison Ausband, Senior Vice President of In-Flight Service. "Our 25,000 flight attendants are my greatest responsibility, and I will do everything I can to keep them safe and send them home to their families in the same condition they came to work." Thank you for being a leader in safety Delta!
---
Learn why breed matters in service dogs and why pit bull service dogs are a bad idea. Primarily, pit bull "breed advocates," not advocates for the disabled, promote pit bulls as service dogs.
---
Related articles:
08/19/19: Beneath the 'Headlines' of the DOT's Final Guidance of Enforcement Priorities
06/04/19: Delta Passenger Attacked in the Face by a Large "Support" Dog Sues Airline...
03/04/19: Mother of Child Mauled by an 'Emotional Support' Pit Bull at Portland Airport Sues
07/05/18: Why Breed Matters in Service Dogs and Why Pit Bull Service Dogs are a Bad Idea
06/23/18: Delta Bans Pit Bull-Type Dogs as Service, Support Animals in the Cabin
01/25/18: Delta Tightens Reins on Untrained 'Support' Dogs in the Aircraft Cabin
07/14/17: Delta Passenger is Severely Attacked by an Unrestrained Emotional Support Dog