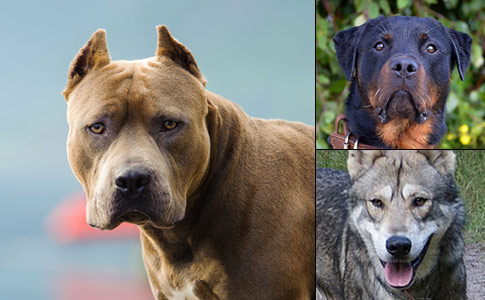 The top three regulated dog breeds: pit bulls, rottweilers and wolf-dog hybrids.
BSL Estimate 2018-2019
DogsBite.org - Since 2011, we have maintained an estimate of breed-specific laws across the United States, including breed-specific policies governing military privatized housing. By 2009, all three major military divisions -- U.S. Army, U.S. Marine Corps and U.S. Air Force -- banned a small group of dangerous dog breeds because they present an "unreasonable risk to the health and safety of personnel in family housing areas," states the 2009 Marine Corps Order.
Though the banned breeds differ slightly among the major military divisions, all three ban pit bulls, rottweilers and wolf-dog hybrids.
Our estimate is updated each December. Currently, over 1,100 cities, towns and villages regulate specific dog breeds for safety purposes and 38 counties have enacted countywide breed safety laws too. Municipalities in 37 different states have enacted breed-specific ordinances. Our estimate also tracks international breed-specific laws. Currently there are jurisdictions in at least 52 countries with breed-specific laws. In 41 of those countries, the regulation is a nation-level law.
Many U.S. municipalities with breed-specific laws are concentrated in the Midwest. Other states, primarily preemption states, have virtually no breed-specific laws. In the early 1980s, cities began enacting breed safety laws to prevent horrific pit bull maulings. By 1992, dogfighting and dog breeder interests had pushed through preemption laws in ten states, including three of the most populous, California, Florida and Texas, barring local governments from adopting pit bull laws.
A substantial source of breed-specific policies, which our estimate does not track, is the likelihood of a million private rental properties governed by breed-specific leases in all 50 states.1 Despite ongoing efforts since 2012 by Utah-based fighting dog advocates, Best Friends Animal Society, to draft, lobby and pass new state preemption laws that prohibit local governments from enacting breed safety laws, private rental properties and HOAs are unaffected by state preemption laws.
In 2018, legislatures in six states faced this type of state preemption bill (AKA an "Act for Pit Bulls"). All six states rejected the legislation.
When you combine the many types of breed-specific laws -- municipal ordinances, Indian reservation ordinances, military family housing policies, public housing authority policies, the tens of millions of Americans living in private multifamily rental properties and airline breed-specific policies -- one gains a clearer picture of these safety laws. They are designed to prevent serious attacks by dog breeds that have a well-documented history of inflicting severe and fatal injuries.
Our estimated summary of breed-specific laws is just one source of this prevention. When or if another state passes a preemption law peddled by an out-of-state special interest group, a source of this protection will be removed from that state, but other sources will remain, such as rental leases. Finally, the significance of breed-specific laws worldwide shows that the basic genetics of a dog breed remain the same, whether the dog lives in the U.S., Germany, Spain or Australia.
1
We could find no estimate for the vast number of rental properties governed by breed-specific leases, but breed restrictions are quite common. Nearly 20 million Americans live in multifamily rental properties, composed of 5 of more units, according to the National Multifamily Housing Council (nmhc.org). A 2013 survey sponsored by HUD and conducted by the Census Bureau states there are at least 2.25 million multifamily rental properties.
Related articles:
12/12/18: Fatal Rottweiler Attacks - The Archival Record - DogsBite.org
11/14/18: Fatal Pit Bull Attacks - The Archival Record - DogsBite.org
04/23/18: Fatal Wolf-Dog Hybrid Attacks - The Archival Record - DogsBite.org