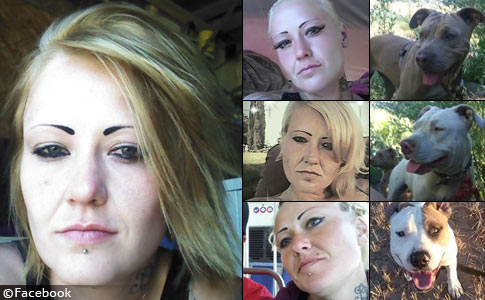 Police seek pit bull owner Heather Anglin after her dogs killed a man in Madera. 
Three Years in Prison
UPDATE 02/22/20: A woman whose pit bull mauled a man to death in November of last year has been sentenced to three years in prison. In January, Heather Anglin pleaded guilty to a felony charge in connection to the death of 38-year old Lasaro Macedo. Anglin's pit bull "Two-Tone" was known by her to vicious and attack others, District Attorney Sally Moreno said. Macedo was mauled so badly, he was left "unrecognizable." He was identifiable only through his tattoos.
At the time of her pleading, Anglin also agreed to never own a dog again. In exchange for her plea, prosecutors dropped a manslaughter charge and dismissed charges against her boyfriend Aaron Daniels. "It's one of the worst crime scenes I've ever seen. I've been doing this job for a long time," Assistant District Attorney Jeffrey Dupras said last month. The maximum penalty under the lower charge she pleaded to is three years. The judge sentenced Anglin to all three years.
12/30/19: Manslaughter Charges
In a startling development, Heather Anglin and Aaron Daniels were arrested in connection to the pit bull mauling death of a homeless man last month. On November 11, Lasaro Macedo, 38, was discovered dead in a dry riverbed with multiple dog bite injuries. Police shot and killed an aggressive white male pit bull with blood on its snout at the crime scene. Both Anglin and Daniels now face felony charges of failure to control a dangerous animal and involuntary manslaughter.
After the fatal dog attack, Madera police issued a photograph of Anglin, asking the public to help locate her. Anglin's pit bulls had been involved in multiple previous bites, according to police. Anglin "has been identified [as the] responsible party for the animals in other dog bites," Sgt. Mark Trukki said in November. "There are other cases where her dogs have bitten people," he said. Macedo was left unrecognizable after the attack. He could only be identified through his tattoos.
"On Monday November 11th, we began our investigation into the death of Lasaro Macedo, who was found deceased in the riverbed near the 1400 block of E. Yosemite. His death was determined to have been caused by a dog attack. As a result of our investigation, Heather Anglin and Aaron Daniels were found to be responsible for the care and control of the dog that killed Macedo. In working with the Madera County District Attorney's Office, warrants were issued for both, on charges of failure to control a dangerous animal and involuntary manslaughter. We have located and arrested the two, who have been booked into Madera County Jail." - City of Madera Police Department
Homeless individuals have been the victims of multiple fatal dog attacks this year, as recently as December 21. That female victim is still only known by a first name, "Modessa." Felony charges against Anglin and Aaron mark the third time dog owners have been charged in connection with their loose dogs killing a homeless person; all three fatalities involved pit bulls. The first criminal charges came after the horrific mauling death of Christina Bell in Harris County, Texas in 2014.
---
11/13/19: Mauling Victim Identified
Madera Police have identified a 38-year old man found dead in a dry riverbed on Monday. Lasaro Macedo was discovered deceased in the 1400 block East Yosemite Avenue. "An autopsy was conducted and ruled that Macedo died as a result of injuries he sustained during a dog attack," states a release from the Madera Police Department. An aggressive male pit bull was shot and killed at the scene and a second dog believed to be involved in the attack was also seized.
Police are asking the public for help in locating the owner of the two dogs, who they identified today as Heather Anglin. "We ask anyone with information on her whereabouts to call in" or for Heather herself to contact our department. Police provided a photograph of Anglin, who has a noticeable tattoo on her neck. Anglin's Facebook page shows at least six pit bulls and a litter of pit bulls as recently as two weeks ago. Anglin is running a backyard pit bull breeding operation.
Wednesday Updates
By Wednesday afternoon, it was reported that Heather Anglin and Macedo knew each other; both were transients in the riverbed homeless community, which police described to KSEE as a "tight neighborhood." Anglin's pit bulls have also been involved in multiple previous bites, according to Madera police. "[Anglin] has been identified [as the] responsible party for the animals in other dog bites," Sgt. Mark Trukki said. "There are other cases where her dogs have bitten people."
The question is which of her pit bulls? For criminal charges, it only matters if one of the fatal attackers was involved in a previous bite.
Despite Anglin advertising a litter of 10 puppies on October 30, Trukki said the two pit bulls involved in the fatal attack are believed to be the only animals in Aglin's care at this time. Sadly, that is a poor belief and a dire underestimation since Anglin has been running a backyard pit bull breeding operation for years. At the very least, Anglin has a white female rednosed, "Cocaine", another white female, a tan pit bull, "Savage" and a brown and white pit bull, "Powpow."
Police returned to the scene Wednesday to interview more witnesses. "We're trying to see if there's any criminal negligence on her part in regards to her securing an animal, if in fact the animals involved in this incident were considered vicious," Sgt. Mark Trukki of the Madera Police Department told KFSN. "She does have a history with our local animal shelter so we're trying to ascertain if this animal and the animals responsible for this man's death were, in fact, vicious."
Thursday Morning Updates
Madera Police nixed their original news release posted to Facebook Wednesday and posted a new one today: "We have made contact and interviewed Heather Anglin. She is cooperating with our ongoing investigation. We appreciate all calls received with information regarding this topic. Comments on the previous release included one person stating that Anglin "has had aggressive dogs before," her dogs are "wild and disobedient to her" and "she names them all after drugs."
Heather Anglin is not just known to police because her vicious pit bulls have attacked multiple people, including killing a man. She's been involved with other criminal activities too. Far more damning, on Thursday, November 14, Anglin removed several videos from her Facebook page that shows her carrying out "questionable conditioning" with her pit bull puppies. This may be due to California Penal Code 597.5 PC, which provides criminal penalties, in part, for the following:
Heather Anglin - Reactionary Conditioning Video 1
Heather Anglin - Reactionary Conditioning Video 2
(a) Any person who does any of the following is guilty of a felony and is punishable by imprisonment pursuant to subdivision (h) of Section 1170 for 16 months, or two or three years, or by a fine not to exceed fifty thousand dollars ($50,000), or by both that fine and imprisonment:

(1) Owns, possesses, keeps, or trains any dog, with the intent that the dog shall be engaged in an exhibition of fighting with another dog.

(2) For amusement or gain, causes any dog to fight with another dog, or causes any dogs to injure each other.

(3) Permits any act in violation of paragraph (1) or (2) to be done on any premises under his or her charge or control, or aids or abets that act.
---
11/11/19: Man Found Dead with Bite Marks
Madera, CA - A man was found dead with obvious bite marks to his legs, arms, and face, according to the Madera Police Department. The victim was found in a "dry riverbed" in the area of Cleveland Avenue and Raymond Road in Madera. While officers investigated the scene, a vicious dog charged the officers. An officer open fired on the animal, killing it. The cause of death will be determined after an autopsy is conducted, police said. The man's name was not released.
The Fresno Bee reports the victim is described as an adult Hispanic male. The vicious dog shot by police was a male pit bull, Sgt. Mark Trukki said. Based on the investigation so far and interviews with witnesses, it is believed the victim was not the owner of the pit bull, Trukki said. Officers have identified the potential owner of the dog and the victim, but both still require additional evidence gathering and verification, Trukki said. The case remains an active investigation, Trukki said.
"To the legs and arms, they appear to be minor, but to the face and neck area, they appear to be significant wounds," said Detective Mark Trukki.
KFSN reports the vicious dog shot by the officer had blood on its snout. Police swabbed the dog as they collected evidence at the scene. Investigators said the victim's face was unrecognizable due to the trauma. "He had several tattoos on his person, so we're going to have the coroner help us identify the person positively, but right now, we don't have confirmation on his identity," Trukki said. It is believed the man was found soon after he died. An autopsy will be performed Tuesday.
---
Madera is the county seat of Madera County, which is adjacent to Fresno County. In 2016, after Valente Aguirre, 58, was found dead in a dry canal in Fresno County, police seized a pack of suspected dogs. Unable to prove the dogs were responsible for his death, police returned the dogs to their owner. Three weeks later, the same dog pack attacked Robert Simonian, 74, who suffered bite injuries, but died of "drowning" in the same canal, which at that time was full.
There are no recorded dog bite fatalities since 2005 in Madera County. This year, there have been 8 fatal dog maulings in California; this new victim could bring the count to 9. No state since 2005 has incurred more than 7 recorded fatal dog maulings in the same year. There are still 1.5 months remaining in 2019 with November and December typically incurring a higher number of dog bite deaths than most other months. California could have 10 or more dog bite fatality victims in 2019.
View the DogsBite.org Google Map:
California Fatal Pit Bull Maulings
.
Related articles:
10/08/19: 2019 Dog Bite Fatality: Man Found Dead, Covered in Blood Inside Modesto Home
09/24/19: 2019 Dog Bite Fatality: 13-Month Old Boy Killed by Family Pit Bull in Granite Bay