Dog Owner Charged with Second-Degree Murder & Manslaughter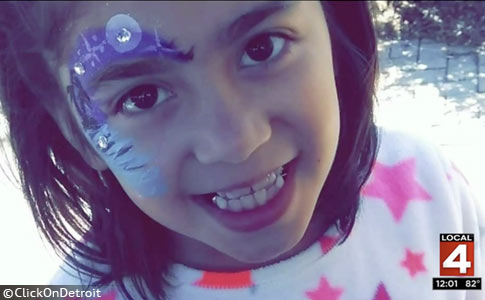 Emma Hernandez, 9-years old, was killed by three pit bulls in southwest Detroit.
Dog Owner Charged
UPDATE 08/22/19: The owner of three pit bulls that brutally killed a 9-year old girl in southwest Detroit Monday has been charged with murder, the Wayne County Prosecutor's Office said. Pierre Cleveland, 33, has been charged with second-degree murder, involuntary manslaughter and possessing dangerous animals causing death. He was arraigned Thursday. Magistrate Millicent Sherman ordered a $2 million bond with no 10 percent, exceeding the prosecution's request.
Cleveland's defense attorney argued that he deserved a reasonable bond and was not a flight risk because two weeks before the attack, three fingers on his right hand were severed in a work-related accident; he is a machinist. Cleveland also has no felonies in his past. Prosecutors countered by asking for a high cash bond. Prosecutors stated that Cleveland knew his dogs were aggressive and that his backyard was not secure. Prosecutors said the evidence will show:
"The defendant was harboring dogs he knew to be vicious; he knew to be aggressive."
"The defendant knew a week prior to his dogs killing Emma Hernandez, one of his dogs killed a puppy in his home."
The defendant knew that his dogs" fought with each other in his home."
The defendant knew that "one of the dogs killed multiple puppies on July 29, 2019" just two weeks before they fatally mauled Emma.
"On August 19, 2019 of this year, that Cleveland left those dogs he knew to be aggressive, he knew to be vicious, unrestrained and alone in a backyard that he knew was not secure."
"The evidence will show those dogs had escaped multiple times, even a week prior" to killing Emma Hernandez.
Michigan Law & What's Next
Under Michigan law -- one of the few states with a felony dog attack law -- prosecutors should be able to prove the involuntary manslaughter charge with the evidence just stated. Proving the second-degree murder charge is much more difficult. As we saw during the Geneke Lyons case, the judge threw out that charge during the trial, stating that prosecution had failed to provide sufficient evidence for the higher charge. The preliminary exam is scheduled for September 6.
---
---
08/20/19: Community, Family Mourn Loss
The Wayne County Medical Examiner's Office identified the victim as Emma Hernandez. She died of multiple injuries and her death was ruled an accident. On Monday afternoon, three pit bulls viciously attacked the little girl in an alley behind her Detroit home while she was riding her bike. She was transported to Children's Hospital of Michigan, where she was pronounced dead. The owner of the pit bulls, a 33-year old male, was taken into custody after the violent attack.
Neighbors rushed to help the little girl, including Edward Cruz, who threw a brick at the dogs causing them to scatter. Another bystander started firing on the dogs. One pit bull was struck by a bullet, but survived. Detroit Deputy Fire Commissioner Dave Fornell said, "We were performing EMS under gunfire" while at the scene. Just hours after the deadly attack, Fornell said that some of the first responding firefighters and EMS personnel were receiving trauma counseling.
"I came out of the house and you could hear the screaming, people screaming 'Oh my God, oh my God.'" - Neighbor Deborah Golden
The girl's father, Armando Hernandez, told WWJ that he tried to do everything he could to save her. "I tried my best. I tried CPR, I tried helping her … She was gone when I reached her," Hernandez said. He recently warned the owner of the dogs that his fence was too flimsy to hold the dogs. "I knew the dogs were there. I knew the neighbor. We had an argument about it just last week and he just didn't take care of his dogs properly. He could have prevented this," he said.
Hernandez said that in November 2017, police came out and made a report about the dogs, but never followed up on it. "The dogs stayed there loose, wild, and the guy didn't feed them," he said. Now he is a heartbroken father. "There's no words. I feel so empty. I don't know what to do. I'm really heartbroken right now," Hernandez said. "Just over and over, I keep replaying it. I couldn't sleep. I haven't slept. Just, every time I close my eyes, man, I see my baby girl," he said.
Police Chief James Craig gave a press conference today. He stated in part: "A 9-year old was attacked by a number of pit bulls ... As disgusting as the fact that this owner of these dogs should be held accountable, I am happy to report that he has been arrested ... How many more times? When you hear these stories about some of these pit bulls. I think of the image of the postal employee ... Here we are sitting here talking about a child, and a family. Did it have to happen?"
"Certainly the owner has a responsibility when they have violent animals that those animals are to be secure at all times." - Police Chief James Craig
Holding the dog owner accountable in Wayne County, however, means little. After a pack of pit bulls belonging to Geneke Lyons killed 4-year old Xavier Strickland on Detroit's west side in 2015, he was convicted on two felony counts: involuntary manslaughter and possessing dangerous animals causing death. Judge James Callahan sentenced him to only 5-years probation with a year in "work release" jail. The sentence was below the minimum guidelines of 19 to 38 months.
---
08/19/19: Pit Bulls Kill Child in Detroit
Detroit, MI - On Monday, about 4:00 pm, a 9-year old girl was severely mauled by three dogs near the intersection of Central Avenue and Smart Street on Detroit's west side. Multiple news outlets report the attacking dogs were pit bulls. A neighbor shot one of the dogs, according to Detroit Fire. The child had been walking through an alley when the dogs escaped a nearby home and attacked her. She was rushed to Children's Hospital of Michigan, where she was pronounced dead.
Reporter Jermont Terry spoke to Edward Cruz at the scene, who tried to save the girl. "There was screaming and yelling," he said. "My mom was screaming, 'Help! Help!' I came outside and decided to help." I saw "three dogs attacking a child, biting her, chewing her, attacking her, mauling her, whatever you guys call it. It was just tearing her apart." Cruz grabbed a brick and threw it at the pit bulls and they fled. Shaken, Cruz wishes he could have gotten there sooner.
Evening Updates
The Detroit Free Press reports that the owner of the dogs that killed the child, a 33-year old man, was taken into custody in the hours following the attack. Detroit Deputy Fire Commissioner Dave Fornell told the Free Press, "When we first got on the scene, the girl was laying in the alley, and her father was performing CPR. Our first arriving unit jumped in and started CPR. At that point, the neighbors were shooting at the dogs. We were performing EMS under gunfire," Fornell said.
One of the attacking dogs was struck by the gunfire. Another person threw a brick at the dogs to stop the attack, Detroit Police Cpl. Dan Donakowski said. Paramedics continued CPR in the ambulance while en route to Children's Hospital of Michigan. She was pronounced dead after she arrived, Fornell said. The little girl "suffered severe traumatic injuries," Fornell said. Police have not released the identity of the child. Donakowski described all three attacking dogs as pit bulls.
WXYZ interviewed neighbor Deborah Golden who also tried to help the girl. "I seen the little girl flat on her back with bite marks and part of her neck hanging off. I started CPR and I had her dad grab her neck and hold it," Golden said. As she started CPR she instructed one of the victim's relatives to use a tee shirt to stop the blood until paramedics arrived at the scene. "You're not going to wait even a second," she told The Detroit News. WXYZ reports the victim is Hispanic.
ClickOnDetroit reports that someone threw a flammable object at the dog owner's home after the horrific attack. So Detroit Fire had to return to the home. Tensions are high in the neighborhood.
---
Graphic Medical study: Pitbull Mauling Deaths in Detroit, by Cheryl L. Loewe MD et al., The American Journal of Forensic Medicine and Pathology, Vol 28, December 2007.
Related articles:
07/20/16: 2016 Dog Bite Fatality: Family Pit Bull Kills 71-Year Old Woman in Southwest Detroit
06/30/16: Criminal Trial: Detroit Pit Bull Owner Convicted on Two Counts of Manslaughter...
01/07/16: 2015 Dog Bite Fatality: 4-Year Old Boy Savagely Killed by Four Pit Bulls in Detroit
09/15/15: Detroit Man Suffers Catastrophic Injuries in Violent Pack Attack by Pit Bulls
---