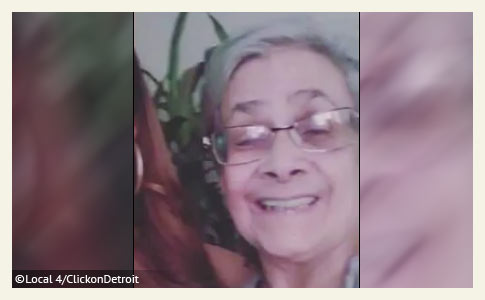 Elizabeth Rivera, 71-years old, was killed by a family pit bull in southwest Detroit.
Previous Attack Photos
UPDATE 07/20/16: The Wayne County Medical Examiner's office said that 71-year old Elizabeth Rivera died of "crush injury to the neck." The manner of death was ruled an accident. The autopsy was performed on July 17, reports the Detroit Free Press. The following day, Detroit police stated they had completed their investigation, though it was unknown if one or more family pit bulls were involved in the fatal attack. Rivera was found dead inside her home by a relative Saturday night.
WXYZ Detroit reported new details in a news video Monday, along with photographs of Rivera's injuries involving a previous attack by a different pit bull. That attack was first reported as occurring last August. However, the WXYZ video states that it was several years ago, and Rivera had to undergo extensive surgeries and skin grafts after that family pit bull attacked her face. It was later put down. The loved one who spoke to WXYZ would not appear on camera in fear of retaliation.
In both attacks, the severe facial attack and the attack that killed her, Rivera's daughter and her daughter's "boyfriend" owned the pit bulls.
"I was astonished. I couldn't believe it because of what happened prior. I never thought this would happen again," states the person. "She was the heart of our family. She was a wonderful sweet woman, very compassionate. She went to church all the time, and she does not deserve this. This should have never happened to her," states the person. There aren't words to describe how difficult her funeral services will be. What could the daughter and her "boyfriend" possibly say?
---
07/16/16: Killed by Family Pit Bull
Detroit, MI - A 71-year old woman was attacked and killed by her own pit bull in her southwest Detroit home. The attack happened about 8 pm at her home in the 2000 block of Ferdinand Street, Sgt. Michael Woody of Detroit Police said. The pit bull attacked the woman, knocking her down then latched onto her neck and executed the killing bite, severing her jugular vein. She died on scene. There were three other dogs in the home at the time. Animal control seized the pit bull.
Click on Detroit reports that all four dogs are pit bulls and were seized by authorities. Family members identified the victim as Elizabeth Rivera. The victim's granddaughter discovered Rivera lifeless on the home's first floor. Family members said the dogs belong to a "boyfriend" of a family member, but Rivera had been around the dogs regularly. Rivera survived a pit bull attack last August from a different dog. It is unclear who owned that pit bull, the "boyfriend" or someone else.
Rivera's home is about a 15-minute drive from where 4-year old Xavier Strickland was brutally struck down by a pack of pit bulls that escaped their owner's property on December 2. Last month, a jury convicted the owner of those pit bulls, Geneke Lyons, on manslaughter. On June 30, Judge James Callahan sentenced Lyons below the guidelines in connection to the boy's death to 5-years probation with the first year to be spent in the Wayne County prison work release program.
---
Graphic Medical study: Pitbull Mauling Deaths in Detroit, by Cheryl L. Loewe MD et al., The American Journal of Forensic Medicine and Pathology, Vol 28, December 2007.
View the DogsBite.org Google State Map:
Michigan Fatal Pit Bull Attacks
.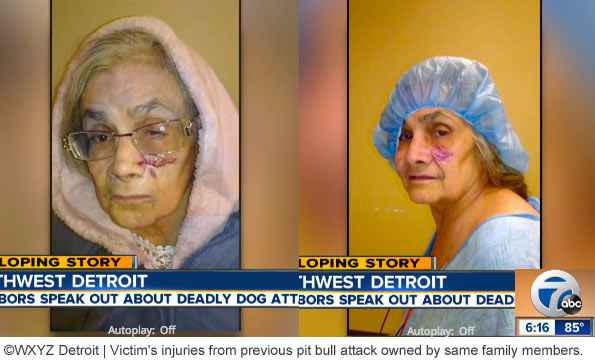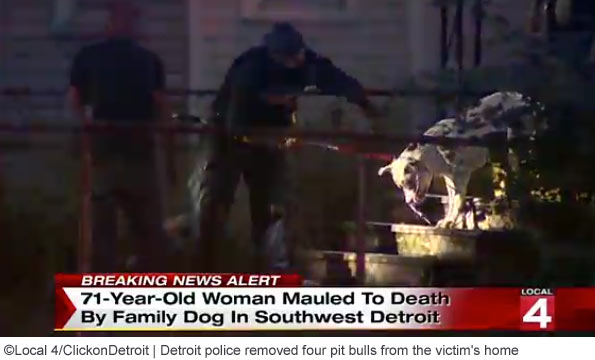 Related articles:
06/30/16: Criminal Trial: Detroit Pit Bull Owner Convicted on Two Counts of Manslaughter...
01/07/16: 2015 Dog Bite Fatality: 4-Year Old Boy Savagely Killed by Four Pit Bulls in Detroit
09/15/15: Detroit Man Suffers Catastrophic Injuries in Violent Pack Attack by Pit Bulls