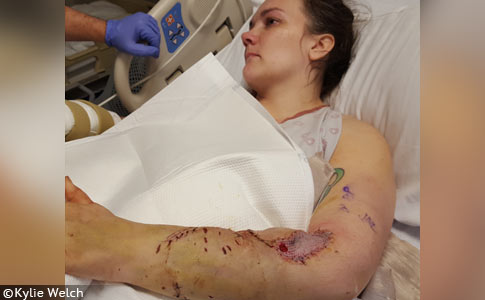 Kylie Welch seen while hospitalized at a Pittsburgh trauma center after the dog attack.
The Vicious Attack
Meadowlands, PA - On April 9, 2017, Kylie Welch and her daughter survived a vicious dog attack while volunteering at Angel Ridge Animal Rescue, a no-kill rescue shelter that adopts out "special needs" and death row dogs. The male pit bull, "Dallas" had come to the rescue two days earlier and was placed in a pen labeled "friendly and playful." When Welch took the dog out for playtime, it unleashed a violent attack. Welch recently wrote into DogsBite.org to share her story.
Several months after the attack, the Observer-Reporter featured Kylie Welch and the man who came to her rescue in ExtraO-Rrdinary People.
Welch said at the time, "[The dog] didn't just get hold of my arm. It was like when a dog plays with a rope toy, he was shaking his head, then regripping." Justin Killion, who rented a house nearby, rushed over and tackled the dog. He kicked and punched the dog and threw himself over Welch's body to shield her from the blood drenched canine. "He was relentless. He kept coming back," Killion said. Welch was bleeding so badly, Killion used his belt and a dog leash as tourniquets.
Welch was airlifted to Allegheny General Hospital where she underwent multiple surgeries for her extensive injuries, including massive muscle, tissue and tendon damage to her arms. One year after the attack, Welch spoke to WPXI. She recounted parts of the attack and said that Killion kept telling her, "Stay awake, stay awake. Don't die." Presently, Welch says that her physical condition has not improved over the last year and at times, the PTSD she suffers has been unbearable.
---
Dear Dogsbite.org,

I used to be a volunteer at an animal rescue, along with 3 of my 5 children. The rescue encouraged me to take photos of my children playing with the dogs, to show how friendly they were. On April 9, 2017, my daughters Emaly and Haylee (4 years and 8 years old) went with me to walk a couple of dogs in the evening. We chose to walk Dallas, a gray pit bull, and after playing with us for about 10-15 minutes, he jumped on Emaly, knocked her down, and opened his mouth on her face. He didn't get to bite down, because I was already pushing him off of her. So he latched onto my arm. The attack lasted approximately 20 minutes, until a neighbor saved my life. My daughters listened to my screams, and when I stopped screaming they thought Dallas had killed me.

That was just over 2 years ago. Emaly still has PTSD and issues stemming from that. She is absolutely terrified of dogs. Big or small, no matter the breed. She was terrified of a Teddy Bear PUPPY. Haylee puts on a brave face, but the second she's around a loose dog, you can see the horror and panic in her face. My PTSD has been unbearable at times. My friends and family have become frustrated with my lack of "improvement" since the attack, because I refuse to ever trust any dog, anywhere, ever.

Physically, I'm not doing any better today than I was last year. My arms feel tighter, like I have less mobility. I'm in pain 24/7 and it never gets better. I can barely bend my wrists forward or back, washing my kids hair in the bath is awkward and difficult, holding babies scares me because I never know when my left hand will stop working causing me to drop things. I work in a daycare, and had to give up working in the infant room because I refused to take chances. I have horrible scars, all over both arms, including a skin graft on my left arm. The children I care for ask me every single day what my scars are. They're only 18-24 months old, and have no idea what this kind of scarring is.

I am constantly ridiculed and made fun of. People who have pit bulls or love them call me evil, stupid, a terrible mother, a waste of human life, you name it and I've heard it. All because I never want to see anyone suffer through anything like this again. People with dogs try to convince me that I shouldn't be afraid of their dog because their dog would never hurt a fly. When I can't bring myself to be near their dogs, I get made fun of or people become angry and insulted. This attack has forever changed my life, and the lives of my daughters, and the lives of my entire family. No pit bull is worth that cost.

Thank you,
Kylie Welch
---
An unprovoked dog attack is life altering. The attack may only last a few seconds too. This was a relentless 20-minute mauling with the intention of mutilating and killing. Like Tina Pounds, who sacrificed herself to save her grandson from a brutal pit bull attack, Welch sacrificed herself to save her daughter, who was the dog's initial target. "Dallas" was later euthanized. The dog's "rescuers" also bear the responsibility of destroying the human-canine bond Welch once had.
The WPXI interview stated that Welch intended to file a lawsuit against Angel Ridge Animal Rescue. The dog should not have been in a pen labeled "friendly and playful." We hope the outcome of the lawsuit will provide Welch and her family with some degree of closure. Yet, no amount of money or passage of time can fully heal the destruction this savage attack caused: permanent disfiguring injuries, loss of limb use and enduring emotional and physical pain.
Related articles:
05/15/19: 2019 Dog Bite Fatality: Volunteer at Humane Society of St. Lucie County Dies...
03/27/19: Justice for Boomer: Family Shares Story After Two Unleashed Dogs Viciously...
11/19/18: Mother Shares Story After Rescue 'Lab-Mix' Bites Son in the Face During Visitation...
03/18/16: Thank You Letter: Experienced Dog Trainer Shares Attack Story & Professional Opinion