The Outcome of the Legal Proceedings; A Bittersweet Deal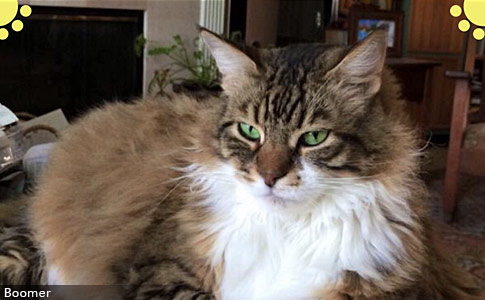 Boomer was ravaged to death by unleashed dogs while lying outside his front door.
Beloved Cat Killed
Tomball, TX - On January 21, two loose dogs viciously attacked a cat named Boomer as it lay sleeping on the front door welcome mat of its home. Ray Gravenstein rushed outside to stop the dogs. The attack was captured by a ring doorbell camera on the family's front door. "I tried to rush to the vet, but never made it out of the driveway," Gravenstein said back then. The owners of the dogs quickly claimed "victimhood" due to the "fallout" on social media and refused comment.
Gravenstein's daughter Megan, who arrived at the scene after the lethal attack, provided a longer narrative to DogsBite, including the legal proceedings that followed. Her Twitter account provides more videos and photographs of the dreadful behavior of the caretaker of the dogs -- a female teenager who was house-sitting the dogs at the time. Like many victims of dog attacks, the Gravensteins were shocked by the violence then faced the cruel behavior that followed.
Megan shares her story with DogsBite.org to raise awareness and hopefully to save another pet's life. "I'm sharing this painful story in hopes to raise awareness," Megan wrote. "It won't bring our beloved kitty back, but at least it can maybe save another pet, or heaven forbid a child. They must be held accountable for their irresponsible, illegal, heartless actions. I'm in shock that people can be so cruel. I am hoping that something positive can come from this pain. I miss you Boomer."
---
The sunny morning of January 21st faded into midnight clouds with a call from my mom. Her voice was breaking, so instantly I knew something was wrong. I never could have envisioned it was this. She cried out that our beloved Boomer was gone. I screamed, "NO, is this a joke?" It had to have been. This doesn't happen to our family. This is something we see on TV and on social media. I threw on some clothes and drove the longest 20 minutes to my parent's house calling the cops on my way.

"He was a handsome Maine Coon, who had soul piercing emerald-green eyes with shimmering flecks of gold. He was a special part of our family for 10 years..."

Boomer was our family cat, but truthfully more so my dad's. He was a handsome Maine Coon, who had soul piercing emerald-green eyes with shimmering flecks of gold. He was a special part of our family for 10 years and came with an oversized personality. We would joke and say he was bipolar because one minute he was cuddling you, then in the next, looking at you as his second course. The stinker actually cornered me a few times growling and hissing. Luckily for me, he would eventually back off so I could execute my escape. However, those instances were seldom and when his PMS subsided, he was a huge furball of love. He was always an inside cat, but over the past few years had developed a love for being outside in the sunshine or captivated by the stars on a cool night. He was never allowed to stay out for very long, and our go-to method for luring him back in was his favorite treats. You just had to shake the container and shout "TUNA TREATS!" My parents battled with forcing him to stay in, which was a fight that wasn't always won. We just wanted him to be safe. Boomer never ventured far. We would find him either in the back behind our gate or right outside the front door. That's where he was when the tragedy took place. Innocently asleep on our front door welcome mat with his paws crossed.

My mom and dad heard a ruckus outside the front door and discovered a pit bull and boxer-mix attacking our cat. They were out LEASH-LESS with no owner. My dad began to shout and tried beating them off with his fists, a shoe, then my mom handed him one of those grab-it sticks that hardly fazed the persistent dogs. My parents didn't have anything substantial in reach to use in defense. They never imagined needing anything for this. My dad said whenever he got one dog off Boomer, the other dog would latch onto Boomer and the free dog would lunge at my dad. It was a tag-team attack. Those dogs were on a mission to do severe harm, and they weren't going to stop until they were satisfied. In the end, my dad sustained injuries to his hand, leaving it swollen and bruised.

"Both the mom and daughter were laughing about the situation! The girl gave me the finger, and while my dad was in the ambulance, she was clapping like it was all a joke."

Finally, a teenage girl came out from the house across the street and dragged the dogs inside. My mom proceeded to wrap Boomer up in a blanket to rush him to the ER vet. Unfortunately, he didn't make it out of the driveway. Our beloved kitty passed away. The entire vicious attack was caught on my parent's ring doorbell camera.

I pulled up to my parent's house as they were on their way back from our vet. I waited in my own personal pain bubble, as sadness forced its way through me like an unrelenting tornado. The constable arrived right after my parents. He knocked on their door, but cowardly no one would answer, even though we both saw someone peeking through the blinds. The constable said that was illegal. Although, in the end, they weren't cited for it.
About 20 minutes later, and after more police arrived, the teenage girl's mother drove up to discover they were house-sitting for the dogs' owners who were out of town. She stumbled over her "defense," accusing us of over exaggerating when she found out it was all caught on video. While showing her the footage, she announced something that shot a fire of anger through my veins. It was, "Well, It's just a cat!" she said. He was OUR cat!! They had zero remorse for what the dogs had done. Both the mom and daughter were laughing about the situation! The girl gave me the finger, and while my dad was in the ambulance, she was clapping like it was all a joke. We were not behaving in any threatening manner to deserve that heartless response.

The sitters were not ticketed for anything because they were not the owners. Plus, they claimed they didn't know how the dogs got out. Who cares how? The point is they were responsible for the dogs at the time, and therefore deserve to be held accountable for their illegal, irresponsible actions. We were advised to take them to court and file under the Dangerous Dog Act, so that's what we did.

"The judge was nice but he didn't read into our case. He didn't even look at the ring doorbell video. I thought I was in the twilight zone!"

The hearing for Boomer was on Valentine's Day, a celebration that will never be the same again. It's supposed to be a time of love and joy, instead it brought us pain and fear. The house-sitters were not present. Just the owners of the dogs, who brought an inconsiderate, cheeky lawyer. On our side, it was the three of us -- my mom, dad and myself -- and we brought our truth. With the judge's request, we discussed things privately to come up with an agreement. Of course, the dogs' owners were apologetic. Preaching it was out of the dogs' character, they're very sweet, trustworthy around kids, have never gotten out before and will not get loose again. They also apologized for the repulsive behavior the house-sitters inflicted, and said they would not be allowed to watch the dogs anymore. Their biggest concern was the dogs being declared dangerous. They would have to invest in some hefty extra fees and follow a lot of strict rules. For example, implanted microchips, having to be walked with a muzzle and a bright collar that says a "Dangerous Dog" on it. They must be on a leash at all times and be kept in an enclosed secure area preventing escape. In addition, they could not take the dogs to a public park.

The owners wanted to come up with a deal in exchange for my family to stop pursuing the case any further. This brings us into the final steps of justice for Boomer. My parents were contemplating moving from their home of 27 years, which was not their first choice. My mom just wants to feel safe and not have to worry when taking their dog Gizmo out. So they wanted to put up a wrought iron gated fence along their property. Their lawyer offered $1,500 the owners would pay towards a fence. I spoke up and said, "NO. That's pointless!" Suddenly, their lawyer was interested to know who I was!

My parents came back with a final offer, which also included paying for Boomer's cremation and the rabies shot my dad had to get. If they did not agree to take our final offer, my parents would move forward with the Dangerous Dog declaration. In conclusion, the dogs' owners took the deal. It wasn't much; Boomer is priceless. They got to bring their dogs home from a mandatory hold, while we went home to no Boom Boom. If you ask me, they got off incredibly lucky.

"I'm so furious that due to their careless actions of not properly containing the dogs, he will forever have that traumatic image in his head of this soul-crushing event."

My heart literally breaks for my dad. He is devastated. Boomer meant so much to him, and they had an incredible bond. He would lounge on his chest, watch TV together and nap. Wherever my dad was, his partner in crime followed. He could always put the biggest smile on my dad's face, especially when he needed it the most while recovering from his cancer treatments. I'm so furious that due to their careless actions of not properly containing the dogs, he will forever have that traumatic image in his head of this soul-crushing event. He will always think, and wish, there was more he could have done to save his best friend. Painfully there just wasn't. The heart wrenching part is that this was easily preventable. Boomer's story may be over now legally, but emotionally it's just beginning. We will miss you, and love you to infinity. To make heaven the perfect resting place for loved ones we adore, God made sure those pearly gates contained a kitty door.

-Megan Gravenstein
---
Despite the dramatic video footage of the attack, the true trauma, panic and helplessness to save Boomer experienced by Megan's parents are only partially witnessed. You hear more of this depth in Linda Gravenstein's voice when she talks about being afraid to go out to her own car after the attack. As Megan states, the legal aspect of Boomer's attack is now over, but the emotional parts are just beginning. "To be mauled to death like that. It's just not right," Ray said about Boomer.
Related articles:
11/19/18: Mother Shares Story After Rescue 'Lab-Mix' Bites Son in the Face During Visitation...
03/18/16: Thank You Letter: Experienced Dog Trainer Shares Attack Story & Professional Opinion