My son "is a victim of a vicious animal, poor judgment and political correctness. As a parent of a dog bite victim, I am left feeling helpless."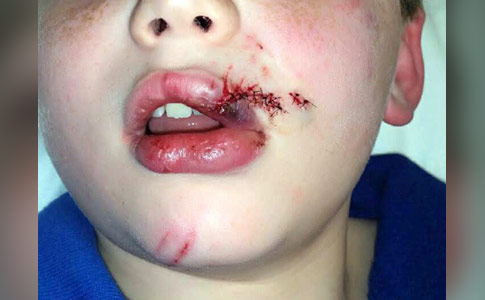 A photo showing her son's facial injuries after multiple layers of sutures were placed.

DogsBite.org - A mother shares her story after her son was bitten in the face by a recently adopted "rescue" dog during a visitation with his father. Over the last decade, many mothers have shared similar accounts with our nonprofit, but only privately, as these cases involve difficult legal issues. We deeply thank this mother for sharing her son's powerful and heartbreaking story with our readers. It is a story of the legal injustices that are designed to "protect everyone but the victims."
---
Dear DogBite.org,

My son was visiting his Father's home in February 2015. His Father had recently replaced his long loved black lab that had passed away with a "rescue" from a no-kill shelter not-for-profit organization. The new dog, I will refer as "M," was described to me as a "lab-mix, mostly lab." Although the male dog did appear to have some features of the lab, the obvious "pit or bully type" characteristics were apparent to me on the single time I observed "M." I was never given any confirmation of "M's" breed other than a Lab-Mix. My son was 10 years old at the time.

"A towel was covering my son's mouth. I will never forget the smell of that towel. Dog breath saturated that towel as well as my son's face."

It was a Sunday afternoon when my son's Father phoned me. He stated that our son had been bitten by "M." When I asked how serious the bite was, he answered, "I mean, he's gonna need some stitches." Fearing the worst, but praying for the best, we met at the Hospital where my son's Father had transported him. I arrived while my son was in the triage department with his Father and a nurse. A towel was covering my son's mouth. I will never forget the smell of that towel. Dog breath saturated that towel as well as my son's face. I embraced my son and then removed the towel. To my horror, his lip was torn partially from his face. The entire section of lip was severed. He had a puncture wound on his cheek, and abrasions from "M's" mouth and teeth scraping my son's face as he bit down. The inside of my son's mouth had tears and ripped gums.

My beautiful child, his cherubic cheeks and baby doll lips, were now mangled and would never be the same. My heart sunk, the terror in my child's eyes overshadowed the heartbreak I was feeling. I asked what happened, but his Father answered swiftly that my son was keeping food away from "M" and that is how this happened. The typical answer of a vicious dog owner, blame the victim at all costs.

Together, we waited for the Doctor to return to my son, who was then sedated and sutured with multiple layers. During this tense wait, I controlled my tears, and questioned his Father as to his intentions now that his newly adopted vicious dog had attacked our child. Mere centimeters could have been the difference in life or death. His Father would not make any decision at that time. The next few weeks were difficult in our home. My son's physical and emotional pain endured for quite some time. Insecurity for his appearance slowly crept in. Although his scar healed beautifully, his face and lip have permanent nerve damage.

Ultimately, his Father refused to even consider rehoming "M." He took a stance claiming that our son somehow must have done something to deserve his injury. My son's Father had a "professional behavior specialist" deem "M" to be harmless and not food aggressive. I refused our son to be near this vicious animal. Despite difficult threats made in my direction, I chose to allow my child to visit ONLY if "M" was locked away and in no way able to have physical contact with my son. This was the arrangement I made with his Father.

"An attorney advised me that if I denied my son's Father's visitation, I could be held in contempt of court."

The sound of a dog barking, any dog, the sight of a dog on television caused panic in my son and inconsolable fear. The health department, who is responsible for filing these types of reports, did not after my son's bite. The animal control department in our county, who is responsible for the quarantine of an animal after an attack such as this, did not after my son's bite. An attorney advised me that if I denied my son's Father's visitation, I could be held in contempt of court.

This is when I began researching dog bites. I was inundated with information that opened my eyes to the epidemic of serious, fatal or near fatal dog bites in this country. I found Dogsbite.org and felt this was an organization that left no room for confusion or misleading propaganda when discussing dog bites. The fact that "M" is still in the home of my child's Father today is shocking. I learned later too, that despite the arrangement his Father promised, my child was burdened with the task of feeding and watering this vicious animal just a short time after he was attacked.

When my son's Father sued for lower child support a year later, my attorney felt this was an opportunity to force him to answer to his poor judgment regarding my son's bite, and the choice to further put our child at risk thereafter. We countersued and claimed that he should be held in contempt of court for negligence. A day of reckoning for my child's unnecessary trauma and continued forced contact with this animal would finally arrive.

A county court Judge would be shocked at my son's Father's conduct and negligence, right? This would be some measure of redemption for my son and I.

The trial came, and to my surprise, the Judge barely let me begin testimony regarding the bite incident -- he refused to listen to any part of it. He stopped me by asking, "And has there been, to your knowledge, any injury from a dog since then?"

"No," I answered.

"All right," the judge said. "Then, let's move on."

As fast as I could blink, it was over. So if a county judge, an appointed official doesn't see this situation as serious, and a Father doesn't see any need for concern, maybe I am overreacting right? Wrong. My poor child has been disfigured for life, was forced to have contact with the vicious dog that harmed him, and left to feel that no protection is warranted for him. Dogsbite.org is a wholly informational, up to date and factual website for anyone searching for accurate statistics, grieving a dog bite, or is curious as to what this legislative hype is all about.

"The trial came, and to my surprise, the Judge barely let me begin testimony regarding the bite incident … As fast as I could blink, it was over."

Although my son has recovered beautifully, and certainly more severe bites overwhelm this website, he is an absolute victim. He is a victim of a vicious animal, poor judgment and political correctness. As a parent of a dog bite victim, I am left feeling helpless. We as a family are in full support of your website and all of the positive it brings to the public at large. Keep up the good work.

This is our story. Please share this story. Post it to your site; post it wherever you can to inform those who need support or a better understanding of the impact of a vicious dog bite. I have tossed the idea of sharing our story for quite some time. I have chosen to share it with Dogsbite.org because I feel even a story with a less than tragic ending is one that many can relate to, when the fatal mauling cases are sometimes too difficult to comprehend. Thank you for your continuing crusade to protect against the many senseless dog maulings, deaths and legal injustices designed to protect everyone but the victims.

-Alabama Mother
---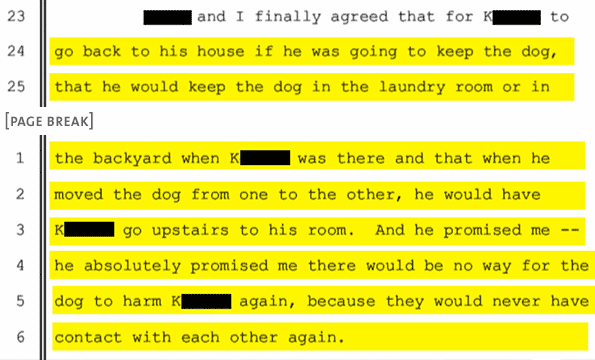 ---
Related articles:
03/31/17: Newly Adopted Pit Bull-Mix Attacks Little Boy's Face Within Hours of Adoption...
03/18/16: Thank You Letter: Experienced Dog Trainer Shares Attack Story & Professional Opinion