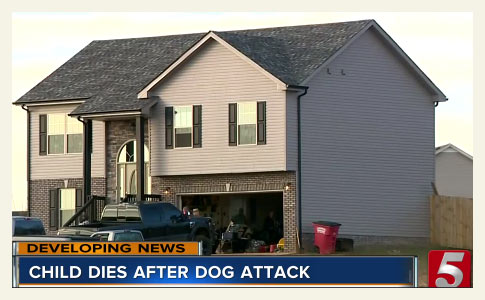 Home where two English mastiffs killed a 5-year old boy in Clarksville.
Mastiffs Kill Boy
Clarksville, TN - A 5-year old boy is dead after being attacked by two family dogs Thursday morning, according to a news release from the Clarksville Police Department. At about 8:20 am, emergency responders were dispatched to a home on Charles Thomas Road. They found the 5-year old boy with "extensive injuries." He was transported to Tennova Medical Center, where he died of his injuries. The two dogs, both English mastiffs, were 6-months old, states the release.
Montgomery County Animal Control took both dogs into custody. Male English mastiffs can grow to over 200 pounds. The last fatal attack involving this specific mastiff type was the death of 7-year old Connor Lourens in 2006. He was visiting a neighbor's home when the owner's 140-pound English mastiff attacked his throat. That dog was about a year old. The combination of all mastiff types, including bullmastiffs, account for 12 deaths since 2005, 3.1% of all dog bite fatalities.
An evening update by NewsChannel 5 states the family "is asking for space at this time." No essential new details were provided, but the news group did capture the boy's home. Clarksville police spokesman Lt. Steve Warren believes the attack happened outside; video footage shows the backyard of the home is fenced off. It remains unknown where the parents or guardians of the little boy were when the animals attacked. Police continue to seek information from the public.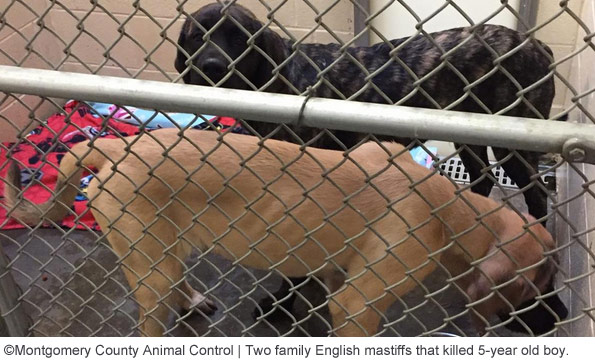 Related articles:
02/13/17: 2017 Dog Bite Fatality: 75-Year Old Queens Woman Mauled to Death by Mastiff...
04/06/14: 2014 Dog Bite Fatality: Bullmastiff Kills Child, Seriously Injures Another in Killeen, Texas
01/03/14: 2013 Dog Bite Fatality: Woman, 75, Killed by Bullmastiff in Arkansas Gated Community
---
Baseline reporting requirements:
Law enforcement departments across the United States should release consistent "baseline" information to the media and the public after each fatal dog mauling,
including these items
.