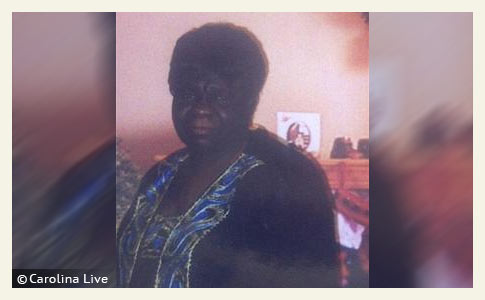 Sirlinda Hayes, 66-years old, was attacked and killed by two rottweilers.
Victims Blamed
UPDATE 02/21/11: In a disturbing update, the victim's nephew, Billy Odom, blamed the attack on Sirlinda by suggesting the rottweilers attacked her because she was holding a hoe. Sirlinda had been using the hoe while she gardened just before the attack. Odom then blamed the next attack on Shawn Samuel -- the dogs' owner and also his cousin -- for not being "friendly" enough while trying to cage the killers. Samuel's leg was amputated due to the injuries he sustained.
"He was distraught by what he saw and what had happened," Odom said in reference to Samuel, who is also his cousin. Odom said Samuel's reaction was the determining factor in understanding why the dogs then attacked Samuel.

"He snapped, you know. He was trying to get them in and he wasn't as friendly as he normally would be in putting them back in the cage."

Dillon County Coroner Donnie Grimsley said the autopsy results show Hayes died as a result of the injuries she sustained. Samuel's leg was amputated as a result of the injuries he sustained. - Alisha Laventure, Live 5 News, February 21, 2011
01/18/11: Breeding Operation Uncovered
FoxNews.com reports that Sirlinda Jayne Hayes, 66-years old, was tending turnips and collard greens just outside her home when the dogs viciously attacked. In addition to killing the two rottweilers, authorities reportedly removed three other rottweilers from the dog owner's home (another deadly breeding operation). Dillon County Capt. Cliff Arnette hopes to talk to the dogs' owner, who still remains hospitalized with serious injuries to learn how the incident unfolded.
      The dogs would not let emergency responders near Hayes or their owner. Deputies finally shot both of the animals, which were carted off by animal control.

Animal control officials removed two other adult dogs and one puppy from the owner's home late Thursday. County officials must decide if they will be put up for adoption or euthanized.

Authorities said they had received no formal complaints about the animals, but a woman who lives nearby says she believes the pair killed her dog earlier this week. - Associated Press, February 18, 2011
02/17/11: Woman Killed by Rottweilers
Dillon, SC - In a developing story, at least one dog attacked two people, killing one. Dillon County Captain Cliff Arnette did not know if one or two loose rottweilers attacked the woman who died. The owner of the animals attempted to save the woman, Sirlinda Jane Hayes, but his own rottweilers attacked him too, sending him to the hospital. Both dogs were shot dead on the scene. Last November, a pet pit bull killed Justin Lane, 25-years old, also of Dillon County.
View the DogsBite.org Google Map:
U.S. Fatal Rottweiler Attacks By State
Related articles:
01/26/11: 2011 Fatality: Pit Bulls Kill 5-Year Old Girl, Severely Injure Grandmother
01/24/11: 2011 Fatality: Young Girl Killed by Grandfather's Japanese Akita
11/18/11: 2010 Fatality: Dillon County Man, 25, Killed by Pet Pit Bull