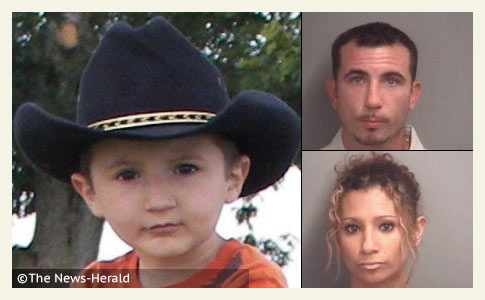 Kyle Holland, 5-years old, was fatally attacked by a wolf-dog hybrid in Lincoln Park.
Criminal Charges Filed
Lincoln Park, MI - Nearly a year ago, we reported on the dog mauling death of 5-year old Kyle Holland who was killed by a dog owned by his mother's boyfriend (See: Activist Seeks Justice for Kyle Holland After Fatal Dog Mauling and 2010 Fatality: Boyfriend's Dogs Suspected in Death of 5-Year Old). Since Kyle's brutal death, the investigation has lurched along at the pace of a snail. Imagine our surprise when it was announced Monday that charges were finally brought.
The death of Kyle is almost unmatched in fatal dog attacks concerning the amount of gross negligence attached to it. His mother claims to have put him to bed an 10:30 pm on the night of July 11. Then she gave him a "glass of chocolate milk" and "turned on a TV so he could watch cartoons." A wolf-dog hybrid, allegedly kept for protection, ran loose in the house that night. The dog killed the boy sometime over the course of the night then proceeded to eat him.1
After finding her dead son the next morning, the mother did not call the police right away. Instead, she helped her boyfriend -- and owner of the wolf-dog hybrid -- get rid of marijuana plants in the home. The dog owner's defense is hardly new territory: "His attorney said the dog was a family pet and was not a wolf-dog hybrid." What readers may not know is that wolf-dog hybrid owners have been beating the, "can't identify my dog breed" drum almost as long as pit bull owners have.2
Summary of Charges
On Monday, Kyle's mother, Debralynn C. Holland, 29-years old, was charged with manslaughter under a "gross negligence theory." The maximum penalty for manslaughter is 15 years. Holland was also charged with second-degree child abuse for leaving Kyle in an unsafe home, and as an accessory after the fact for trying to get rid of marijuana plants and giving false information to police. Those charges carry maximum penalties in prison of four and five years, respectively.
Holland's boyfriend, Earl Dwayne Adkins, 35, was charged with one count of dangerous animal death, which is treated similar to manslaughter. Adkins was also charged with possession with intent to deliver/manufacture marijuana after police discovered over a dozen plants in the basement of the home. Adkins faces 19 years in prison. Holland and Kyle had moved in with Adkins and his two dogs -- one of which was not involved in his death -- 10 days earlier.
Summary of Events
On July 12, 2010, Kyle Holland was found dead by his mother on his bedroom floor at about 9:30 am. She called the police 40 minutes later. The boy had reportedly been dead for several hours prior to police arriving. Authorities seized both dogs owned by Adkins, a wolf-dog hybrid and a Labrador-mix. At that time, Adkins denied that the wolf appearing dog was a hybrid. Several months earlier, Lincoln Park Animal Control had picked up that same dog for being at-large.
When Adkins went to claim his dog, animal control told him that wolf-dog hybrids are prohibited in Michigan.3 Adkins then told officials he would take the dog to West Virginia -- a state that also forbids wolf-dog hybrids. Despite this knowledge, animal control gave the illegal dog back to Adkins after he paid his fines. Police Chief Thomas Karnes later described this informal agreement as the dog being released to the man "on good faith that he would take it out of state."4
A preliminary report from the Wayne County Medical Examiner's Office ruled the child's death a homicide "due to multiple crush wounds due to multiple dog bites." Teeth impressions were taken of both dogs and blood samples were drawn to compare to information gathered during the examination of the boy's body. Fecal matter from the dogs was tested for bone, and a DNA test was ordered for the wolf hybrid dog. Results of the DNA test were expected to take months.
Grass-Roots Campaign
In September 2010, Kyle's Tennessee family members began a grass-roots campaign to raise awareness about the boy's death. Tiffany Dailey, Kyle's cousin, and resident of Marysville, Tennessee created a memorial page, a Facebook page and a website, deservedjustice.com, which hopes to help people with unresolved crime cases. Dailey also called attention to Kyle's disability -- he was born with his legs turned inward and often wore braces to help him walk.
Kyle lived in Lincoln Park with his mother, but spent about six months each year at the home of his grandmother, Judy Finchum of Crossville, Tennessee. Kyle's father, Justin Holland, died in an auto crash when Kyle was 4-months old. Family members said that before the auto crash, Justin had been fighting with Kyle's mother about wanting to move back to Tennessee and bring his son with him. Kyle was all Justin's family had left of their son. Then they lost Kyle in the dog attack.
Lastly, as recently as June 14, 2011, The News-Herald reported that no charges had been filed and that both dogs continued to sit in cages at the Allen Park Animal Shelter nearly a year later. Pete Simakas, a former animal control officer at the shelter, spoke out about the case because current shelter employees could not. He said, "What's right is right and what's wrong is wrong. This poor child's life has been taken and no one cares, apparently no one cares," he said.5
1
A crippled child was left alone with food that would bait a wolf hybrid and the TV was on so that he couldn't be heard. If we had it our way, this would be a Murder One case.
2
This is accurate from the late 1970s forward. We already know that from as early as 1909, there were multiple names for pit bulls and there still are today.
3
The prohibition of wolf hybrids in Michigan is rooted in the painful story of Patti Nickerson Manning and her 5-year old daughter Angie who was mauled to death by a wolf hybrid on March 2, 1989. For years Patti fought hard for statewide legislation prohibiting the breed. In July 2000, Michigan finally adopted the law. Two months later, Pattie was found shot to death, murdered by her second husband.
4
One has to ask,

which

part

of the agreement was based upon good faith? The part about animal control trusting Adkins' predictable deceit? The part about West Virginia not being an option for the animal? Or, the part about allowing a state prohibited dog breed to exit the Lincoln Park Animal Control facility and enter back into a local community? That's not good faith.

That's unaccountability

.
5
Without the combined efforts of The News-Herald and Kyle's Tennessee family, his story may have died long ago. A very bittersweet and heartfelt acknowledgement goes out to both groups from DogsBite.org. As the trial unfolds, Kyle's Tennessee family will have to relive the horror of his death and its aftermath. We ask followers of DogsBite.org to send thoughts of strength and encouragement to them.
Alan Burdziak, "DETROIT: Mother, boyfriend charged in fatal dog mauling," The News-Herald, June 27, 2011 (www.news-herald.com) URL:http://www.thenewsherald.com/articles/2011/06/27/none/doc4e08dc9281a3e615592634.txt?viewmode=fullstory. Accessed: 2014-04-29. (Archived by WebCite® at https://www.webcitation.org/6PCSrSlHQ)
Alan Burdziak, "LINCOLN PARK: Two dogs believed to be responsible for boy's death still sit in cages one year later," June 14, 2011 (www.news-herald.com) URL:http://www.thenewsherald.com/articles/2011/06/14/news/doc4df7b823bfaf8841886134.txt?viewmode=fullstory. Accessed: 2014-04-29. (Archived by WebCite® at https://www.webcitation.org/6PCSlJqAD)
Nate Stemen, "LINCOLN PARK: Loved ones say goodbye to 5-year-old mauled to death," The News-Herald, July 17, 2010 (www.news-herald.com) URL:http://www.thenewsherald.com/articles/2010/07/17/news/doc4c41d84ed48d6704964817.txt?viewmode=fullstory. Accessed: 2014-04-29. (Archived by WebCite® at https://www.webcitation.org/6PCSbf8fj)
Related articles:
04/23/18: Fatal Wolf-Dog Hybrid Attacks - The Archival Record - DogsBite.org
09/25/10: Activist Seeks Justice for Kyle Holland After Fatal Dog Mauling
07/15/10: 2010 Fatality: Boyfriend's Dogs Suspected in Death of 5-Year Old