Dog Bite Victims' Advocates Flying in Across the Country to Attend

DogsBite.org - This Saturday marks the second annual national dog bite victims' advocacy event. At 6:30 pm on the California State Capitol building steps, Kaylie's Candlelight Vigil for Victims of Dangerous Dogs commences. Leading victims' advocates from across the United States will be in attendance. Dennis Baker and his family inspired this year's event after his precious 3-year old granddaughter was mauled in the face by her father's pit bull while visiting his Stockton home.
Event attendees include the families of 10-year old Hunter Kilbourn of Antioch who was terribly mauled by two pit bulls in August while visiting a friend's home, and the family of 38-year old Claudia Gallardo of Stockton who was viciously killed by a man's pit bull in April. Tony and Irene Solesky of Maryland, whose civil case led to the seminal high court ruling declaring "pit bulls inherently dangerous" and the founder of DogsBite.org, Colleen Lynn, are attending as well.

Sacramento, CA October 22, 2013 -- The family of a 3-year old girl mauled by a pit bull last year is hosting a vigil event to remember and honor the victims of dangerous dogs and to raise awareness about the growing frequency of serious and fatal dog attacks. On Saturday, October 26, Kaylie's Candlelight Vigil for Victims of Dangerous Dogs takes place in Sacramento on the West Steps of the State Capitol building. Kaylie's vigil begins at 6:30 pm. Attendance is free.

On July 7, 2012, Kaylie Foster required over 100 stitches across her face after being attacked by a pit bull at her father's home in Stockton. Now 5-years old, doctors say that Kaylie will have to wait until she is a teenager to undergo plastic surgery. Like many other families, Kaylie's family who is sponsoring the vigil event, was unaware of how widespread these attacks are until it happened to a loved one. Kaylie's family hopes that the vigil will help prevent a future mauling.

Since the attack, Kaylie's family has connected with many victims of serious dog maulings across the country and DogsBite.org, a Texas-based nonprofit organization dedicated to reducing serious dog attacks. Victims as far away as Maryland are attending the vigil. California victims, including the family of Hunter Kilbourn who was horribly mauled by two pit bulls on August 11, and the family of Claudia Gallardo who was killed by a pit bull on April 11, are attending as well.
See full press release | Download event flyer
Many victims' advocates will attend the candleight vigil in spirit, unable to travel to Sacramento. There will be many photos and video clips shared on Facebook and Youtube afterward. Be sure to visit the DogsBite.org Facebook page in the days following the vigil. We expect many new faces at this year's dog bite victims' event and many new stories filled with heartbreak, survival lessons and the necessity to stand up and make a difference to prevent just one new life-altering dog mauling.
Readers of this website who cannot attend, please know that making a serious impact in advocacy only requires two acts. The first act is to share with your family and friends the facts of this issue: only a handful of dog breeds inflict the majority of severe and fatal injuries. These victims' lives are forever disrupted. Too often they are left with no civil or criminal recourse either. The second act is to directly assist a dog mauling victim with your knowledge when this person appears in your life.
With that, we leave you with a few of the faces of Kaylie's Candlelight Victims for Dangerous Dogs.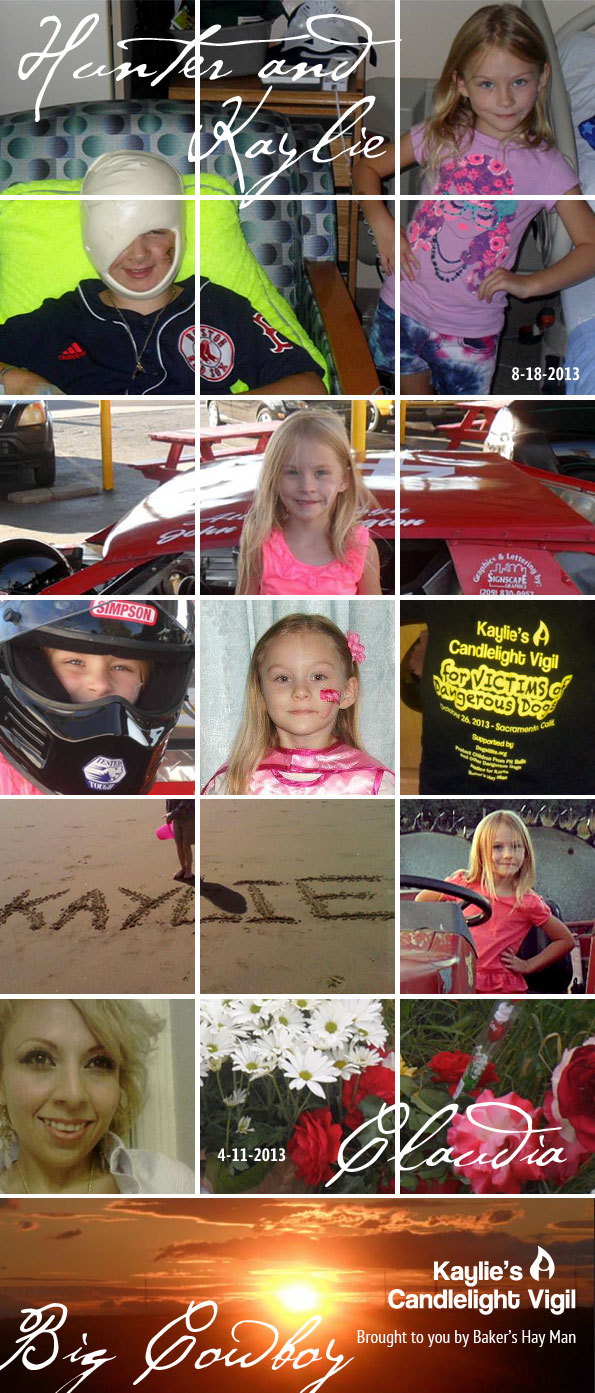 This just in -- event day photo -- 10/26/2013: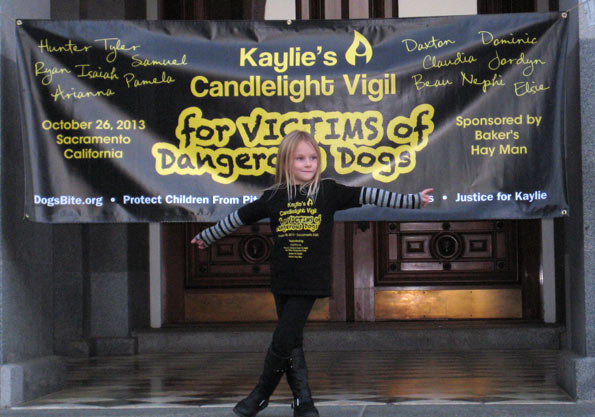 Related articles:
10/22/13: Candlelight Vigil Event for Victims of Dangerous Dogs Draws Attendees from Across...
06/24/13: Family Sponsoring Candlelight Vigil for Victims of Dangerous Dogs Launches...
10/26/12: Trail Blazers - Meet Some of the Faces of the Dog Bite Victims' Advocacy Movement