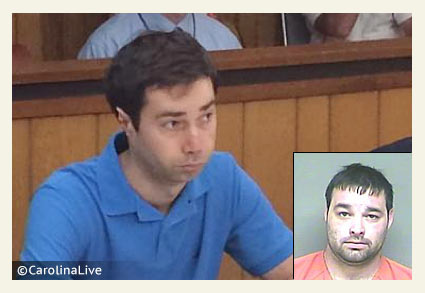 DHEC employee Eric Rogers seated at hearing, dog owner bottom right.
Survivor Eric Rogers
Dillon, SC - On February 3, an employee of the South Carolina Department of Health and Environmental Control was out on a work related call when he was viciously attacked by two pit bulls. At some point during the 20-minute attack, he was able to call 911. When deputies arrived, they shot and killed both dogs still engaged in the attack. His injuries were so severe he was placed into a medically induced coma for a week. He was added to our Fatality Watch List.
On February 25, CarolinaLive.com reported that the dogs' owner, Mitchell Driggers, 31 of 1983 Wilderness Road, turned himself in after being charged with Animal Penalties for Owning Dangerous Animals and Attacking and Injuring a Human. At this time, the victim's name was finally learned, Eric Rogers, 29-years old. Rogers had been called out to Driggers' home to investigate a "dog biting incident" when he was brutally attacked. Rogers was still hospitalized at this time.
"He's been in the hospital three weeks today and I think he'll probably be discharged in a few days," she said. "Of course, he'll still have a ways to go with his recovery. He had bites and lacerations all over his body, some deeper than others, so the recovery is going to take some time and therapy. But he's definitely a miracle. The Lord has been with him and His hand was there the day this happened. That deputy got there quickly and saved his life by shooting those dogs. They weren't going to get off of him." - Angela Rogers, the victim's mother, scnow.com, February 25, 2014
During this several week period, letters began coming into DogsBite through snail mail and email, letters from South Carolina residents who were very concerned about Rogers' medical condition and that information about his horrific attack was so limited. How could this happen to a state employee and there not be more coverage? They asked. At least we could share the February 25 information that he survived his life-threatening injuries and had moved into a recovery stage.
On Tuesday, two months after the attack, Rogers attended a preliminary hearing for Driggers. Still facing multiple reconstructive surgeries and skin grafts, one of his attorneys, James Brogdon, III said, "Eric wanted to be here to show that he is supporting a full prosecution to ensure that these types of things don't happen to anyone else. He doesn't want any of these types of things to happen to anyone else. He doesn't want anyone else to experience what he's had to go through."
The universal prayer for all dog mauling victims is urgent and forceful, "Please God, this cannot ever happen to someone else."
The power of this prayer cannot be measured. It is too immense. Its power elevates many mauling victims into a sphere of the unstoppable to prevent just one future horrific mauling. It rises above the comprehendible human experience and shows the unyielding compassion many of us have in our hearts towards humankind. Though shaken, torn, embattled and scarred, mauling victims from all walks of life rise to this place to spare another person the horror of a vicious dog attack.
DogsBite.org and all of our readers thank you Eric Rogers for your courage and compassion. We pray for your full recovery and that a Dillon County Grand Jury indicts this horrible dog owner.
Related articles:
06/26/13: 2013 Dog Bite Fatality: Chained Pit Bull-Mix Kills 5-Year Old Girl in Effingham
01/21/13: 2013 Dog Bite Fatality: Dog Mauls Woman to Death While Babysitting Toddler
02/15/12: 2006 Dog Bite Fatality: Criminal Trial of Boy Mauled to Death by Pack of Dogs
Photo: CarolinaLive.com