2006 Fatal Dog Attack of 10-Year old John Matthew Davis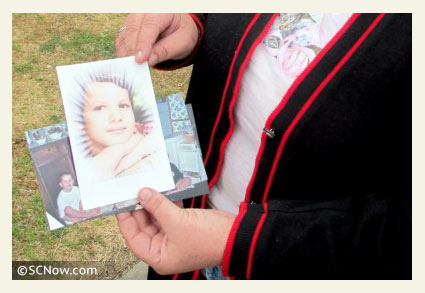 John Matthew Davis, 10-years old, was killed by a pack of dogs in Dillon.
Supreme Court Reinstates Conviction archived
UPDATE 08/20/14: South Carolina's highest court reinstated the conviction of Bentley Collins whose dogs mauled to death a 10-year old boy in 2006. The state Supreme Court on Wednesday reversed an appeals court decision, which had overturned Collins' conviction and sentence for involuntary manslaughter and owning dangerous animals. In November 2006, six of Collins' pit bull-mix dogs brutally attacked and killed John Matthew Davis; his body was found in Collins' yard.
The Court of Appeals ruled in 2012 that the trial judge had erred in allowing prosecutors to show the jury graphic injury photos taken by a pathologist who performed the autopsy. The Supreme Court Justices disagreed in a 4 to 1 decision written by Justice Beatty. The dissenter, Justice Pleicones, even wrote: "In my opinion, the only way we can educate the bench and bar as to that which is and is not beyond the pale is to publish these horrific photographs with our opinion."
Excerpts from state Supreme Court decision:
Justice Beatty: Respondent Bentley Collins was convicted of involuntary manslaughter and three counts of owning a dangerous animal causing injury to a person after a ten-year-old boy was killed and partially eaten by his dogs, most of whom were pitbull mixes. The State appeals from a decision of the Court of Appeals that reversed and remanded the matter for a new trial based solely on the trial court's admission of seven pre-autopsy photos of the victim. State v. Collins, 398 S.C. 197, 727 S.E.2d 751 (Ct. App. 2012). We reverse.

III. LAW/ANALYSIS

On appeal, the State contends the challenged photos, taken before the autopsy was commenced, accurately documented the injuries sustained by the victim in this case and, while graphic, were properly admitted in accordance with the trial court's broad discretion over evidentiary matters. The State argues the Court of Appeals (1) failed to give due deference to the trial court's decision, (2) erred in finding the photos were more prejudicial than probative, (3) erred in finding the photos were not material to the elements of the offenses charged and corroborative of other evidence, and (4) erred in making a purely emotional decision to reverse and remand for a new trial. We agree…
--- snip ---

In his trial testimony, Proctor explained that he did not normally take autopsy photos, but in his years of experience he had "never seen an attack by animals of this type, [so he] actually left the autopsy and went to [his] home and brought [his] camera back and took pictures for [] documentation purposes." (Emphasis added.) Proctor found there was "tremendous traumatic injury to this young man" that was as "significant [a] traumatic injury as [he had] seen."

During cross-examination, defense counsel questioned Proctor's findings extensively by asking him whether he had surveyed the dogs' teeth marks to determine which dogs inflicted specific injuries, whether the boy's jugular artery was "actually severed," and which came first, the "shredding" of the boy's jugular artery or the veins in his arms, etc. Thus, the nature and extent of the boy's physical injuries as described by the pathologist were in contention by the defense…
--- snip ---

Under our highly deferential standard of review, we conclude, contrary to the Court of Appeals, that the trial court did not abuse its wide scope of discretion in admitting the pre-autopsy photos. The Court of Appeals's obvious revulsion for the evidence, while certainly understandable, permeated its legal analysis. The evidence was highly probative, corroborative, and material in establishing the elements of the offenses charged; its probative value outweighed its potential prejudice; and the appellate court should not have invaded the trial court's discretion in admitting this crucial evidence based on its emotional reaction to the subject matter presented…
--- snip ---

These are not ordinary dog bites with which most jurors would ever be familiar. Even the pathologist stated he felt compelled to document the injuries prior to the start of the autopsy because he had never come across a situation this extreme. Since there was no one else present at the time of the event, the photos aided the jury in evaluating the testimony offered by both the State and the defendant, especially as to determining the dangerous propensities of the dogs and whether or not Collins's conduct was criminally reckless...
Read: Decision in full
04/15/14: Supreme Court Hears Case archived
The South Carolina Attorney General's office is appealing the Court of Appeals' decision to overturn the conviction of Bentley Collins in connection to the mauling death of a little boy. In 2006, 10-year old John Matthew Davis was brutally killed by six of Collins' dogs. In 2012, the Court of Appeals ruled that the trial judge erred in allowing gruesome photographs of the boy to be shown to jurors. Collins was convicted in 2007 by a Dillon County jury and sentenced to 5-years in jail.
02/16/12: Conviction Overturned archived
The conviction of Bentley Collins in connection to the mauling death of a 10-year old boy in 2006 was overturned today by the South Carolina Court of Appeals. The Court ruled that Circuit Court Judge Paul Burch erred by allowing the pre-autopsy photos of the boy's partially eaten body shown to jurors. "Because we find the trial court abused its discretion in admitting the photos, we reverse and remand for a new trial," wrote Chief Judge John C. Few in the majority opinion.
01/31/09: Guilty: Sentenced to 5 Years
On Friday, a jury convicted Bentley Collins after about two hours of deliberating. Circuit Court Judge Paul Burch sentenced Collins to five years in prison for the manslaughter charge and three years each for two of the three dangerous animals charges, which will run concurrent to the manslaughter sentence. The third of those charges was suspended to five years' probation, which can be reduced to three years if Collins pays $8,000 in funeral expenses to Matthew's family.
Fourth Circuit Solicitor Kernard Redmond told Burch that Collins should get the maximum penalty for his crime because even after Matthew's death, Collins owned unconfined dogs. Law enforcement officers have been receiving complaints about his animals since August. "The defendant still has pit mixes running around on his property," Redmond said. "It's almost an act of defiance (and) disregard by the client. One would think you could govern your behavior differently."
01/27/09: Fatal Dog Mauling Trial Begins
Testimony began today in the case of a Dillon County man charged in the fatal mauling of a 10-year old boy. John Matthew Davis was found dead by his mother, Caroline Davis, after six dogs attacked him in the driveway of Bentley Collins' home. Fourth Circuit Deputy Solicitor Kernard Redmond said Collins is partially to blame for the boy's death. Bentley faces one count of involuntary manslaughter and multiple charges of keeping unconfined dangerous animals.
Dr. Edward Proctor, who performed the autopsy on Matthew's body, said the boy's eyes, nose and all the soft tissue around his face completely were eaten away. "The jugular was essentially shredded. You could see the artery," he said. Matthew's waist and legs were covered in dirt and grime apparently from the boy being pulled down and dragged, Proctor said. The photographs he showed the jury were so disturbing that one juror became visibly shaken and began to cry.
05/02/08: New Trial Date Set for Dog Owner
Dillon County, SC - A new date has been set in the trial of a man whose dogs authorities say killed a 10-year old boy November 3rd, 2006. According to 4th Circuit Deputy Solicitor Kernard Redmond, who is prosecuting the case, Bentley Collins, 53 will be tried June 16th on a charge of involuntary manslaughter in connection with the death of John Matthew Davis. The boy had been on his way home when he was brutally attacked and killed by a pack of dogs owned by Collins.
Related articles:
10/11/08: Fatal Dog Mauling Trial of Tanner Joshua Monk, 7 Years Old
05/16/08: 2006 Fatality: Second Trial Begins for Pit Bull Owner in Kansas City