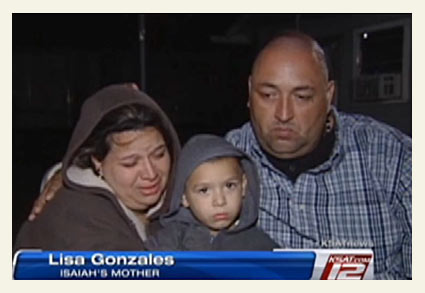 Parents of Isaiah Aguilar: Lisa Gonzales and Richard Aguilar.
History of Killing
UPDATE 02/19/13: Fox 29 reports (in the video) what we had suspected. There were two pit bulls in the neighbor's yard (See: related photo). The news group also reported that the female pit bull that attacked and killed Isaiah Aguilar had recently killed another pit bull. "The female that did this killed the Dad of the dogs," according to Isaiah's mother, Lisa Gonzales. She also said the animal ate most of her own puppies. "That dog attacked its own litter … and my son," Gonzales said.
02/18/13: Pit Bull Kills Young Boy
Sabinal, TX - In a developing story, a 2-year old boy was killed Saturday by a relative's pit bull. Isaiah Aguilar was playing with a balloon outside his home when the wind blew it into a backyard next door, according to police. When he went to retrieve the balloon, he came face-to-face with a female pit bull tied up in the yard. The dog viciously attacked the boy. The boy's sibling said that someone inside the home opened the door during the attack, but did not help the boy.1
By the time the boy's father, Richard Aguilar, reached him he was no longer breathing. A neighbor in the area performed CPR as the boy's family waited for police to arrive. The child was transported to a hospital in nearby Uvalde, but did not survive his injuries. The pit bull is currently being held in quarantine in Uvalde. Isaiah's mother, Lisa Gonzales, told police she was heartbroken that nobody came to help her son. "I just want all this to be a nightmare," she said.
View the DogsBite.org Google Map:
Texas Fatal Pit Bull Maulings
.
---
Join Texas Dog Bite Victims' Advocacy - Join our Texas email list to stay informed
Related articles:
01/20/13: 2013 Dog Bite Fatality: Chained Pit Bull Kills Montgomery County Boy
03/28/12: 2012 Dog Bite Fatality: Victoria Boy, 4, Mauled to Death by Pit Bull
05/21/11: Texas Doctors Produce Study: Mortality, Mauling and Maiming by Vicious Dogs
Photo: KSAT.com