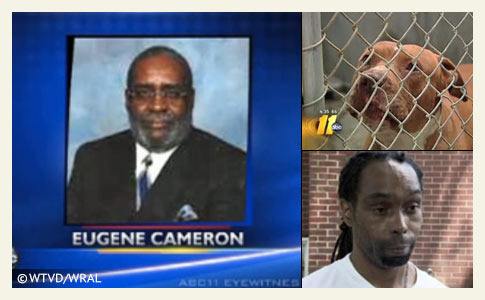 From left, victim Eugene Cameron, DNA linked pit bull and its owner, Antonio Ford.
Dog Owner Charged
UPDATE 08/16/12: Person County deputies arrested Antonio Ford Thursday and charged him with involuntary manslaughter after investigators said his pit bull was responsible for the death of a 65-year old man. In late May, Eugene Cameron was found dead of an apparent dog mauling near Ford's home. In addition to involuntary manslaughter, Ford is charged with obstruction of justice. Ford was given a $2 million bond and is scheduled to make his first court appearance Friday.
08/01/12: DNA Links Pit Bull to Death
Authorities have matched DNA found at the scene of Eugene Cameron's death with a suspected pit bull named DMX. Antonio Ford, who lives next door to the home where Cameron was found naked and dead, owns the pit bull. A California lab conducting specialized tests determined that DNA from the pit bull was found in blood at the scene. The lab is now checking to see if the dog's DNA is on Cameron's ripped up clothing that was found "balled up" beside him.
Not long after Cameron's death, Antonio Ford placed a sign in his front yard declaring his dog's innocence. Ford maintains that his pit bull was caged the night Cameron was killed.
06/06/12: Investigation Continues
The investigation into the death of Eugene Cameron continues. Analysts with the state crime lab and the FBI are testing blood and hair samples and a casting of the dog's teeth will be made to compare it with the wounds found on the victim, according to Sheriff Dewey Jones. If authorities determine the pit bull inflicted the fatal injuries, prosecutors are willing to pursue manslaughter and even second-degree murder charges against the dog's owner, Antonio Ford.1
View Related video
05/28/12: Suspected Pit Bull Seized
Roxboro, NC - In a developing story, Person County animal control officers seized an 8-year old male pit bull suspected in the death of a 65-year old man over the weekend. Deputies found the body of Eugene Cameron under a carport in west Roxboro late Saturday. Family members said he was checking in on the house while his friend was out of town. Witnesses said he was found naked with his clothes "balled up" beside him2 and bloody dog paw prints surrounding him.
According to a warrant, the victim had severe injuries to his right arm that may have caused him to bleed out, and the injuries were consistent with dog bites. Cameron's body was sent to the Office of the Chief Medical Examiner in Chapel Hill for an autopsy. Samples from the pit bull, owned by next-door neighbor Antonio Ford, will be checked to determine if that animal is responsible. Ford denies his pit bull was involved, but does not deny that his dog "fights other dogs."
View Related video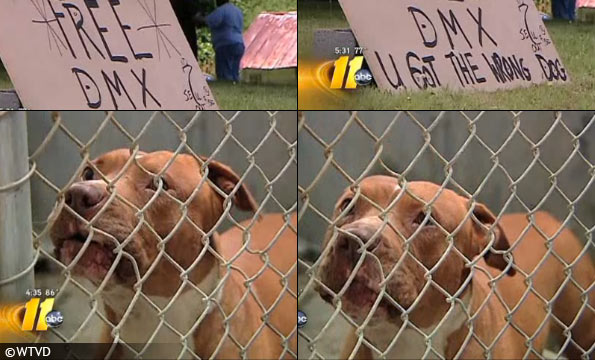 View the DogsBite.org Google Map:
North Carolina Fatal Pit Bull Maulings
.
1
Ironically in 2007, Antonio Ford posted a video to his now abandoned MySpace page titled, DMX tha killa.
2
It has been documented in a number of fatal dog attacks the victim was stripped naked by the dog(s), as recently as today in the death of 2-year old Ja'Marre Tiller. The part about the clothes being "balled up," as opposed to being scattered, was not explained.
Related articles:
State of North Carolina v. Antonio Delontay Ford, Court of Appeals of North Carolina, No. COA15–75, February 16, 2016