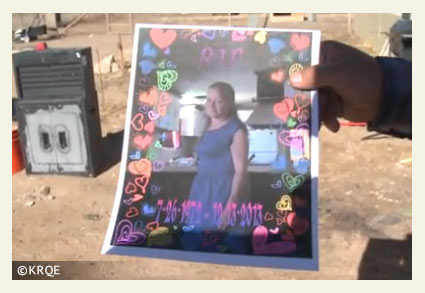 "It was Her Time"
UPDATE 12/16/13: We are issuing a warning for readers about this update. Part one: We do not have sympathy for pit bull breeders. Part two: We do not trust any pit bull owner, no matter the stage of grieving, who says the violent death of a loved one by a pit bull was a "freak accident" and "it was her time to go." Nicholas Hare, the dead victim's boyfriend, is about as reprehensible as they come. Where was Hare when his girlfriend's neck was being ripped out by the pit bull?
Nicholas Hare

This is something that came completely out of left field.

I mean, it was her time...

As horrible and tragic as it was, it was…

It's really hard to lose five family members in one day basically [referring to four pit bulls authorities euthanized due to their aggression and his girlfriend], because they were our children for years and years.
[Concerning the breeding of pit bulls]

We did it together because it's what made our family stronger.
The last "premier" Super Nutter that arose after a fatal pit bull mauling was the husband of Darla Napora, 6-months pregnant with a child in Pacifica, California. Greg Napora was also absent when the family pit bull was ripping Darla's neck out. Napora called his wife and unborn child's violent death a "freak accident" and "It's not the breed's fault," and, in case readers have forgotten, Napora said he would bury his wife and her unborn child with the pit bull that murdered them.
RIP Michal Nelson. It was not your time.


12/15/13: Mauling Victim Identified
The Valencia County Sherifff's office released the deceased woman's name over the weekend. Michal Nelson, 41-years old, was mauled to death by one of her own pit bulls on Friday in Jarales, just south of Belen. Nelson had 12 pit bulls on her property. According to county investigators, Nelson went into one of the pens outside and was "breaking the ice out of a water bowl" when one of her pit bulls attacked her. Nelson's son discovered her body. He shot and killed the dog.
Valencia County Sheriff's officials are now looking into whether or not Nelson was a breeder.
The Albuquerque Journal provides other details, reporting that her son arrived at her Jarales home to find the pit bull on top of her, according to Valencia County Sheriff Louis Burkhard. Sheriff Burkhard added that five pit bulls were removed from Nelson's property because they displayed aggressive characteristics. "There's no way for us to determine what caused the dog to act like it did or attack her," Burkhard said. (Because he has not seen: What prompts a pit bull to attack?)
12/13/13: Woman Killed by Pit Bull
Valencia County, NM - In a developing a story, a Valencia County woman was mauled to death by a pit bull Friday afternoon. The attack occurred at about 5:30 pm at the woman's home off Crawford Road in Jarales, just south of Belen. The Valencia County Sheriff's Department said the woman's son came home and found his mother dead from the attack. The son killed the dog immediately after the attack. The woman owned up to 12 dogs, including the pit bull that killed her.
The Albuquerque Journal reports that the woman was 41-years old. At the time of the attack, she had been "breaking ice in her front yard" when the dog mauled her to death, according to Valencia County Sheriff Louis Burkhard. The woman had around 12 dogs, Burkhard said. None of the animals appeared abused. The Office of the Medical Examiner is on scene. KRQE reports that investigators are reviewing whether she was running a dog shelter or if the animals were pets.
Related articles:
08/11/13: Father of Pregnant Pacifica Woman Killed by Her Pet Pit Bull Writes Letter
12/31/12: 2012 Dog Bite Fatality: Pack of Dogs Kills Boy in Cibola County, New Mexico
09/12/12: 2012 Dog Bite Fatality: 15-Month Old Girl Killed by Family Pit Bull
05/08/12: 2012 Dog Bite Fatality: Pet Pit Bull Kills 74-Year Old Santa Fe Man
Photo: KRQE.com