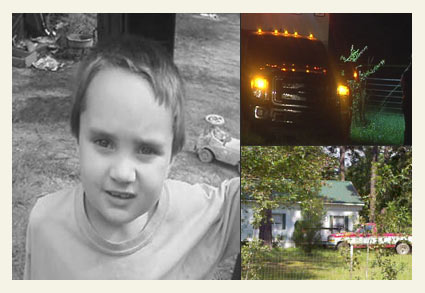 Fatal dog attack victim Bryton Cason, first responders and his home.
Dog Captured
UPDATE 09/08/12: On Friday afternoon, Seminole County Sheriff's officials located the reddish-blond "bulldog" suspected in killing Bryton Cason. Investigators are now determining what to do next, such as DNA testing or an autopsy to confirm whether it's the dog that mauled the 4-year old boy to death. The boy's father, Shayne Cason told WCTV, "It shouldn't have happened to him. Somebody's going to pay for this. Somebody's going to pay somehow," Cason said.
The sheriff says the boy's mother was in the shower and two other adults home at the time did not see him go outside.

Neighbors believe a reddish-blonde bulldog that was abandoned in the neighborhood may be to blame. Yet the sheriff says no one witnessed the attack or heard it.

"That's been the real issue with the whole thing is nobody witnessed it and so we don't know what dog or dogs are responsible for it," Seminole County Sheriff Heath Elliott said.

[--snip--]

The sheriff says they caught that reddish-blonde bulldog at about 4:30 Friday afternoon. He says investigators are now trying to figure out what to do next, whether it's possible to do any DNA testing or an autopsy to try to confirm whether it's the dog that killed Brayton. - WCTV, September 7, 2012
09/07/12: Family Owned Three Dogs
The family of Brayton Cason told Seminole County Sheriff Heath Elliot which neighborhood dog they believe killed the boy. The family described the animal as a yellowish red bulldog. The dog was previously owned by a neighbor, but was abandoned when he moved away. Cason's family owned three dogs. GBI Investigators determined the family's dogs were not responsible. The crime scene investigators from GBI examined all three dogs, according to Sheriff Elliot.
"Described to me as a yellowish red. Looks to be a bulldog, but possibly mixed with some other breed, but he has more of a bulldog look to him," said Elliot.

The little boy was found dead in his front yard Wednesday night, three hours after he was reported missing.

Elliot says the dog the family described was previously owned by one of their neighbors, but was abandoned at the home when the man moved away. "We're having a problem with the dog issue because there were no witnesses to the incident so we don't know which dog particularly we're looking for."

Elliot says the GBI brought in the dogs owned by Brayton's family. Investigators determined their dogs were not responsible. - WBAL, September 7, 2012
09/06/12: Boy Killed by Dog
Donalsonville, GA - In a developing story that brings back the horrific death of a 4-year old Texas boy, who went missing and was later discovered mauled to death by a chained pit bull, Georgia Bureau of Investigation Agent Steve Turner says missing Brayton Cason,1 4-years old, died of blunt force trauma from a dog attack. Cason was first reported missing Wednesday night by his mother. At 8:30 pm, five law enforcement agencies began a door-to-door search in the area.
Cason's body was discovered just before 11:30 pm in the front yard of his own home.
At the time he went missing, Cason was being watched by his great aunt and uncle while his mother took a shower, according to Cason's aunt, Tabitha Smith. During this ten-minute period, he apparently wandered outside and was attacked by the dog. Smith said that knowing the cause of Cason's death does not bring her family any closure. Police officials are still investigating who the dog might belong to. No one witnessed the attack or the type of dog that killed the boy.
1
The child's name is also being reported as Brayton Roland and
Bryton Cason.
Related articles:
08/17/12: 2012 Dog Bite Fatality: Elderly Oklahoma Man Killed by Two Pit Bulls
08/16/12: 2012 Dog Bite Fatality: Person County Authorities Charge Pit Bull Owner
03/28/12: 2012 Dog Bite Fatality: Victoria Boy, 4, Mauled to Death by Pit Bull
01/06/12: Georgia Pit Bull Owner is Convicted After 8-Year Old Girl Suffers Amputation
Photos: Walb.com