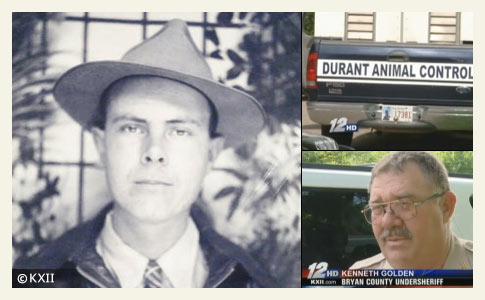 James Hurst, 92-years old, was brutally killed by his neighbor's two pit bulls.
DNA Confirmation
UPDATE 08/17/12: DNA results show that blood found on two pit bulls captured at the mauling scene matched the victim, according to Sheriff's Investigator Nathan Calloway.1 James Hurst died shortly after arriving at the hospital due to his grievous injuries. The two pit bulls had a history of escaping their yard a few houses down from the Hurst home. District Attorney Emily Redman was informed of the DNA results Thursday. The owners of the dogs have since left the jurisdiction.
04/10/12: Killed in His Front yard
Mead, OK - In a developing story, a Bryan County man was mauled to death by two pit bulls in his front yard. James Hurst, 92-years old, was discovered badly mauled and bleeding on his property Monday afternoon. Neighbors say the same dogs had been aggressive in the past. Bryan County Undersheriff Kenneth Golden said Hurst was working in his yard when he was attacked by the dogs. Golden says of all the dog attacks he has seen, he has never witnessed one this bad.
"Both feet, his face, his ears. His lips were gone. He didn't even look like the same person ... They eat him up real bad." - Neighbor Levi Duncan
Hurst also suffered "extensive injuries to his feet" -- both may have been torn off -- and was taken to a Durant hospital where he later died. Neighbor Judy Boone told reporters, "It's terrifying to know that you can't come out on your own front porch or stand in your own yard without being mauled and attacked." Neighbor Ryan Matlock, 11-years old, said that he had an encounter with one of these pit bulls -- "It crawled through a hole in the fence and got a hold of my leg."2
View the DogsBite.org Google Map:
Oklahoma Fatal Pit Bull Maulings
.
1
It is great to see that small jurisdictions, such as Bryan County, OK and Person County, NC, are reaching out to DNA labs to prove culpability in the instances of fatal dog attacks.
2
A subsequent news article indicates that Ryan's bite was not reported.
Related articles:
02/20/12: What Happens When A Victim Does Not Report a Dog Bite?
09/28/11: 2011 Dog Bite Fatality: Ardmore Man Mauled to Death by Chained Pit Bull
06/15/11: 2011 Dog Bite Fatality: 74-Year Old Man Dies After Catastrophic Pit Bull Injury