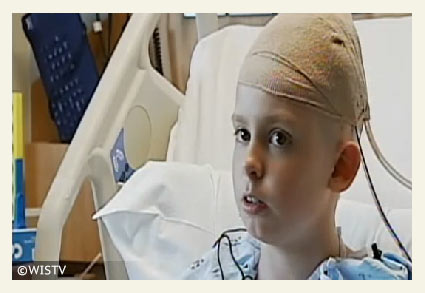 Pit bull scalp attack victim Kenny Allen.
Describes Attack
Rock Hill, SC - Another young victim has been added to the list of pit bull scalp attack injuries cataloged by DogsBite.org. 11-year old Kenny Allen endured a devastating attack last Wednesday when he went to a neighbor's home to borrow a blender. As he entered the yard, the neighbor's pit bull broke free from a "rigged cable" it was attached to and attacked.1 Kenny's right hand and arm were badly bitten and a large section of scalp was torn from the back of his head.
"When [the pit bull] was pulling me, it felt like there were five million hooks and it was pulling my skin off," Kenny said.
Amazingly, the boy managed to fight the pit bull off and run home. His father, Ken Allen Sr., told reporters, "It's one of the most terrifying things a father could ever see. I'm looking you know and he kept running, scared of the dog obviously and when he passed me, I saw the back and I just dropped out, I've never seen something like that before," Allen said. Deputies found a four-inch square of his scalp at the attack scene and gave it to EMS in case it could be reattached.2
On camera Kenny told reporters, "I think [the pit bull] was possessed. I was scared, I felt like it was about to rip my head off." When describing how he got back to his house after the attack, he said he was "touching the trees" to find his way home. When a reporter asked why he was touching the trees, Kenny said, "I couldn't really see because there was a lot of blood in my eyes, and it was hard." Kenny's doctors said he is facing years of reconstructive surgery and skin grafts.
The family's church, Faith Family Christian Center, is raising money to help pay for Kenny's extensive medical bills in a weekend BBQ event. It is possible that the non-profit organization Shriners Hospitals for Children, who provides free medical treatment for children with burn injuries and other healthcare special needs, can help another South Carolina pit bull scalp injury child victim. We urge readers to contact the Shriners at 803-772-0732 and refer them to Kenny's story.
1
York County Animal Control Director Steven Stubor described it as a plastic cable rigged with a clamp and pair of pliers. One of the dog's owners, AJ (Anthony) Smith, who has been raising and breeding pit bulls for 13-years, denied the cable was rigged. The offending pit bull, named Dallas, was euthanized the following morning.
2
After six hours of emergency surgery, doctors told the boy's parents that the torn of piece of scalp would not "take" back to his skin, forcing them into "Plan B," requiring months-to-years of extensive rehabilitation.
Related articles:
02/21/11: Collection of Pit Bull Scalp Attack Victims - DogsBite.org
05/03/10: Pit Bull Scalp Attack Victim, Brianna Watkins, Recuperating