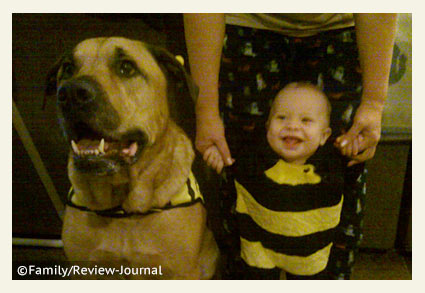 Fatally attacking dog depicted with the victim, Jeremiah Eskew-Shahan.
Saving Killer Dogs?
UPDATE 05/13/12: The Las Vegas Review-Journal published a follow up piece about animal activists who intervene to "save dogs" that have bitten and killed. The article refers to the February death of a 2-day old baby who was killed by his family's adopted Husky, named Nikko.1 On April 27, a Pennsylvania judge allowed Nikko to be sent to an out-of-state "sanctuary" instead of being put down. This is the same day that Onion viciously attacked Jeremiah, notes the article.
Even though a Las Vegas judge frustrated an intervention attempt by the Lexus Project on Friday to save Onion -- offering a similar out-of-state "sanctuary" arrangement -- the group says it will appeal the ruling to the state Supreme Court. Henderson officials have remained resolute throughout the Onion Ordeal calling it a public safety issue. Besides killing Jeremiah, officials said the dog attacked its kennel when a veterinarian tried to examine it at the city shelter.
05/11/12: Euthanization to Proceed
Clark County District Judge Joanna Kishner ruled on Friday that a New York-based group has no legal standing to intervene on behalf of a dog that killed a baby boy and stop Henderson animal control officials from putting the animal down. The scheduled euthanasia of Onion was halted earlier this week by a court challenge filed by the Lexus Project headed by attorney Richard Rosenthal, who claimed, among other things, "There is nothing vicious about the attack."2
04/30/12: Death Ruled Accidental
Having not seen the deceased boy's mother in any news stories, DogsBite.org was deeply concerned about yet another deadly "visiting child" scenario. Indeed, the two adults shared custody of the young boy. The particulars of this arrangement are unknown, but certainly the child was only living part-time with his father. In a devastating3 recent statement by the child's grandmother and owner of the dog, she sent "a message to Jeremiah's mother" in a news story:
"I am so sorry. If I had ever known that this would happen I would have gotten rid of Onion, even though I loved him very much," Keller said.
04/30/12: Insights from Behaviorists
Unenthusiastic, if not alarmed, by the imagery of the gentle giant coupled with an infant provided by the father, DogsBite.org reached out to animal behaviorists Gary Wilkes and Alexandra Semyonova about this fatal dog attack. As Semyonova highlights, this fatality is the result of a serious act of aggression. There are appropriate and inappropriate dog breeds to bring into a household with very young children. This child's parent and many others learn this the hard way.
Gary Wilkes
The disparity in size and potential for damage is so great between a toddler and a large dog that it is plainly dangerous and ultimately a questionable decision. It is no different than having haphazardly stacked crates in your house that could fall and crush the child, uncovered electrical outlets or unfenced swimming pools. It is ironic that they show the child in a car seat designed to make the child's life safer. The dog was obviously the more serious threat.
Gary Wilkes is an internationally acclaimed animal behaviorist, trainer, author, columnist and lecturer. View additional posts by Gary.
Alexandra Semyonova
Mastiff / Rhodesian Ridgeback mix kills one year old boy
Before the usual crowd gets into slandering the domestic dog as a species, let's be very clear about the truth on this: The behavior this Power Dog mix showed is completely and utterly abnormal in the domestic dog. Startled in its sleep, a normal dog might lash out. This might include a grab less inhibited than by full wakefulness. This might cause a more serious wound in an infant than it would in an adult – but that's not the same as a dog taking a child's head in its mouth, crushing the infant's face, shaking to kill, and not allowing its owner to make it release the child [see the video here].
What this incident does show is the result of breeding for both impulsive aggression and exaggerated body size. It shows the result of ignoring real information about the breed or type of dog you bring into your home. Some breeds / types of dogs do simply for real have much higher statistical records of mauling or killing than other breeds or types. Some have a statistical record of being particularly dangerous around infants (besides the pit-bull types, this includes the husky types).
Before the usual crowd starts quoting a certain dog hairdresser that appears often on television, let's be clear about the truth on this too: Dominance or some kind of imaginary 'ranking order' has nothing to do with what happened. Dogs don't live in hierarchies, nor are relations influenced by who gets to sleep higher or share your spot. I often sit reading with three dogs on my lap, sleep with three or four on my bed. It would be sad if we allowed the weapon dog fashion to ruin this pleasure we share with our normal dogs.
What this incident does show is the result of allowing that kind of physical closeness with a dog that has an aggression problem. 'Dogs with aggression problems' means not only dogs that have overtly shown touchiness, but also any dog of a breed or type that has impulsive aggression in its breed history. This means most of all the pit-bull types and the mastiff types, but also the others in which this trait has surfaced (even if it's a rare anomaly in those breeds).
When we talk about rational safety measures while guarding the interactions of dogs and children, we are – in normal cases – talking about preventing at most minor wounds, a child scared out of its wits but otherwise not damaged. We are also – in normal cases – talking about being on guard that a child doesn't inadvertently corner a dog such that the dog does feel like it needs to defend its very life and limb. But even then, a normal dog will use exactly as much aggression as it needs to open up a flight route, not a bit more, upon which it will flee.
It's a great tragedy that we are breeding dogs for impulsive aggression coupled with huge body mass, and at the same time hearing so much propaganda from pit fans, humane societies and various 'experts' that love and a good upbringing will cure these. Neither love, dominance nor (thank you Jean Donaldson!) clicker training will cure the defective genes. They also won't reduce the body mass that makes a dog unstoppable when it – suddenly and impulsively – decides it's hell-bent on killing.
This doesn't mean we don't have to take rational safety measures everywhere children interact with dogs. It does mean that one of those safety measures is to reject the idea of bringing one of these 'Power Breeds' into our homes.
Alexandra Semyonova is an internationally acclaimed animal behaviorist, behavioral biologist, anthropologist and author. View additional posts by Alexandra.
04/29/12: Baby's Father Speaks Out
Holding back tears, the boy's father describes the horrific scene. "He used the dog's fur to pull himself up on his feet because he wanted to walk," he said. "The dog turned around and grabbed his head ... it took me about 20 seconds to run downstairs and I got the dog off of the baby," he said. "The baby's face was torn off." The father added, "Now I don't have a baby and now I don't have a dog." The 120lb mastiff-Rhodesian mix, named Onion, is scheduled to be euthanized.
Red Flag Photos
The boy's family continues to provide disturbing red flag photos to the media to apparently show how gentle the dog was prior to killing the child. It seems the family is clueless to the fact that the images instead show: "What to never do with a baby and a dog." To make this very clear to our readers, we've marked the images as "100% unsafe." The person taking the boy's death the worst is the grandmother, seen in the photograph with the 120lb dog lying on top of her.
04/28/12: Birthday Ends in Tragedy
Henderson, NV - In a developing story, a 1-year old boy died early Saturday morning after being attacked by his family's dog while celebrating his first birthday. The boy was at his grandmother's home when he crawled over to pet the dog. The animal, described as a 120lb mastiff-Rhodesian mix, latched onto the boy's head and began shaking him, according to police. Henderson rescue workers rushed the boy to a local hospital where he was airlifted to UMC's Trauma Unit.
The young boy died from his injuries about 1:45 am. The boy's family, which owned the 6-year old dog since it was a puppy, voluntarily relinquished ownership to animal control officials. According to police, the boy had been around the dog since he was born. There were no signs of neglect and no previous calls reported about the dog in the past. Police continue to investigate why the dog attacked the boy. 8newsnow.com reports that the victim's name is Jeremiah Eskew-Shahan.
1
Nikko's name was changed to Helo just days after being confiscated then inappropriately adopted out to William Uhring. This is exactly what happens when rescue groups "save" dangerous dogs. The dog's name is changed, shipped across county or state lines, and all records of previous biting incidents are erased. There is very little, if any, oversight of these groups.
2
During the contentious hearing, where Clark County District Court Judge Joanna Kishner sided with Henderson city attorneys who argued the attack proved Onion is vicious, there were protestors outside, primarily in favor of "saving" Onion. But one man held a sign stating, "Let's Make Dog Tacos!" Brad Keith, an electrician said, "I think most of the people feel the same as me. That, I mean, if this dog killed a one year old baby, he's a human being. He should be put down." Photo/KTNV.com.
3
As in devastatingly inappropriate.
Related articles: 
03/08/12: 2012 Dog Bite Fatality: Newborn Dies After Severe Dog Bites in McKeesport
11/08/10: Officials Must Stop Ordering Dogs Deemed 'Dangerous' to New Jurisdictions
12/03/08: 2008 Dog Bite Fatality: 2-Year Old Boy Killed in Clark County, Nevada
09/18/08: 2008 Dog Bite Fatality: Pit Bulls Fatally Maul 4-Month Old in Las Vegas
Photos: Fox5 Vegas, KTNV.com