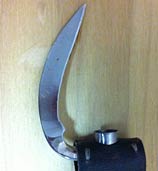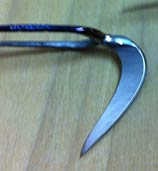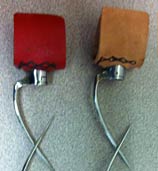 Cockfighting knives: Click a photo to see a larger image.
Man Killed in Cockfight archived
Tulare County, CA - In early February, new sources across the country reported that a 35-year old Lamont man suffered fatal injury during a cockfight. Despite the image that a cockfight might evoke for the average American -- such as two roosters pecking each other to death -- a cockfight is actually far more sadistic and cruel. The birds typically enter into a match with razor-like knives attached to their body. One of these knives ended up killing Jose Luis Ochoa.1
Ochoa's death caught the attention of John Goodwin, director of animal cruelty policy for the Humane Society of the United States.

"It's pretty rare, but I'm surprised it doesn't happen more often considering the knives they put on those birds," he said. "It's not a surprise that somebody got killed." (Jeff Goodman, Bakersfield.com)
Unlike dogfighting, education and concern about cockfighting hasn't captured the American public's interest. Furthermore, few blink after 1,000 gamefowl are euthanized after a bust due to their aggression. We dedicate this post to helping bring attention to the lesser-known plight of roosters used in animal fighting. Most of the birds suffer unspeakable injuries during the fight matches -- assuming they survive at all. Afterward, they are often discarded like trash.
Photographer Jan Sochor of the Czech Republic created a stunning photo essay of cockfighting in Latin America. We promise that his imagery will move you and perhaps be your first glance into the world of cockfighting. (Individual images can be seen on the related tearsheet.) Cockfighting is a worldwide bloodsport. Though illegal in all 50 U.S. states and a felony in 39, the bloodsport rages on, primarily in southwestern and southeastern states.2
Cockfighters and Dogfighters
It's no surprise that cockfighters, dogfighters and pit bull enthusiasts,3 often go hand-in-hand. Both types of animal fighting involve "gamebred" animals willing to "fight to the death," along with high stakes gambling. Some American gamecock owners and admirers include pit bull expert Dianne Jessup,4 fighting dog breeders John Colby and son (See: Colby's Book of the American Pit Bull Terrier, pages 10-11) and professional boxer Roy Jones Jr.5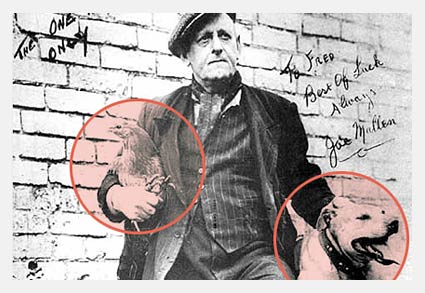 Cockfighter and fighting dog breeder, Joe Mallen, circa 1930s.
Bloodsports and Drug Trafficking
Organized cockfights and dogfights often involve drug trafficking and other felonious activities. In August 2010, Pedro Mendez Ramos, 41, was sentenced to 12.5 years in federal prison. He and 17 others were arrested after "Operation Fowl Play" was carried out by authorities. An avid cockfighter and dogfighter, Ramos utilized these bloodsport events to recruit members to transport and sell illegal drugs for his organization, which was affiliated with the Gulf Cartel.
AUG 9, 2010 -- Lake Charles, LA - The main organizer and supervisor of a lucrative drug trafficking organization responsible for transporting kilogram quantities of cocaine and marijuana from the Brownsville, Texas area, was sentenced on August 5, 2010 to 12.5 years in federal prison, followed by five years supervised release. Pedro Mendez Ramos, 41, of Church Point, La., was sentenced by U. S. District Judge Patricia Minaldi for Continuing a Criminal Enterprise and Money Laundering Conspiracy.

Ramos and seventeen others were indicted on a variety of drug trafficking, money laundering and firearms charges following an Organized Crime Drug Enforcement Task Force (OCDETF) investigation dubbed "Operation Fowl Play" and "Rio Gallo." While under Ramos' direction, this drug trafficking organization was responsible for transporting and distributing cocaine and marijuana from the Brownsville, Texas area to the Church Point, La. area. From Church Point, the drugs would then be distributed to Florida, Tennessee, Mississippi, Georgia, and other parts of Louisiana. Large amounts of drug proceeds would then be transported back to Brownsville, Texas and ultimately, Mexico. Ramos, an avid pit bull and cock fighter, with over three hundred gamecocks and sixty fighting pit bulls of his own, utilized these illegal events as a networking tool in order to recruit members to transport and sell cocaine and marijuana for his organization. (Special Agent Roberto Bryan, DEA)
1
We imagine it was a long or short knife weapon that cost Ochoa his life.
2
In 2010, over 100 cockfighting raids were reported in the media, involving thousands of gamebred fowl.
3
Breed preservationists.
4
Note the language used by Jessup in the co-author's note: "almost every Pit Bull owner feels a secret pride in their

little

dog's prowess and ability to take care of themselves. I, myself, smile a little smile when some large, aggressive, obnoxious dog (generally owned by an equally aggressive, obnoxious owner) lunges and snarls at my

little

Pit Bulls." Take a good look at some of Jessup's

little

pit bulls.
5
Jones even bought a cockfighting-pit in Louisiana when the sport was still legal in the state.
Related articles:
05/12/10: 1909 Fatality: John P. Colby's Fighting Pit Bull Kills Nephew
05/25/09: Professional Athletes and Pit Bulls: Dogfighting, Abuse and Violent Attacks