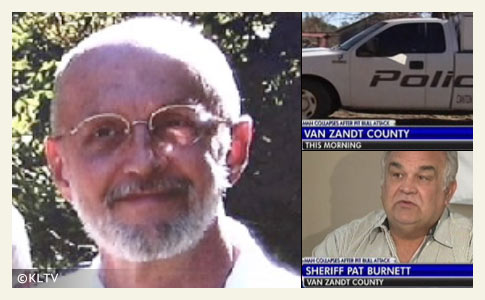 Richard Martratt, 64, suffered a fatal heart attack after intervening in a dog fight.
"Non Bite" Fatality
Van Zandt County, TX - It was reported over the holiday weekend that a 64-year old man died, apparently due to a heart attack, and a 78-year old woman suffered serious head injuries after intervening in a violent dog fight involving two pit bull-type dogs. The dogs escaped their owner's property and attacked Joan Hardin's border collie. Hardin had been outside, along with her dog, unloading the car. Her family had just returned from an out-of-town Thanksgiving Day dinner.
After the dog fight began, Hardin tried to save her dog. She was quickly knocked to the ground and suffered a blow to the head. Richard Martratt, a U.S. Marine veteran, ran outside to defend his mother-in-law from the attacking dogs. Martratt held one dog in a neck grip, pulled out his pocket knife and began stabbing the animal. Martratt then shouted to a relative to bring him his firearm. Martratt fired three shots into the animal, killing the male catahoula bulldog,1 named Taz.2
Shortly thereafter, while in the presence of emergency medical treatment paramedics, Martratt suffered a heart attack and died.
Van Zandt County sheriff's deputies called the incident a "surprise" and KLTV.com called it "bizarre," despite the many instances of victims suffering a heart attack while being attacked by a pit bull.3 The owner of the two dogs, Michael Miller, said that "Richard over reacted, and it killed him. I'm sorry," Miller said. Surprisingly, Miller excluded the infamous Maul Talk excuse, "It was a dog fight." Miller added that Taz was neutered and the pit bull, named "Baby Girl," was spayed.
Pit Bull Dog Aggression
At least three people were killed due to "pit bull dog aggression" since August 2009
4
and countless beloved pets continue to be slaughtered.
5
Genetic pit bull dog aggression is dangerous and deadly. DogsBite.org prays that readers do not ever have to witness this explosive aggression first hand, which required Martratt to stab the dog multiple times and to shoot three bullets into it before the dog stopped its assault. Sheriff Pat Burnett said, "This could have very easily turned into a 78-year old woman being mauled..." Burnett's statement acknowledges the danger pit bulls pose, but it lacks meaningful substance.
Could you, for instance, do what Martratt did? Could your wife or child? This is the question that lawmakers must ask themselves when weighing the adoption of a pit bull law.
"Non Bite" Injury
Aggressive "non bite" injury that results in serious injury and death6 should not be minimized. (See: Hao Yun "Eddie" Lin, Theresa Foss, Eleanor McDonald and Vida Isabel Silver). One can easily see in the KLTV.com video that Martratt's wife is now blaming herself and her husband for not undergoing a stress test, despite the fact that he underwent an EKG a month ago and it came back clean.7 We hope Susan and her family can one day understand the following:
Martratt was not fighting off a normal dog. He was fighting off a pit bull -- a breed that was selectively bred for explosive animal aggression and the tenacity to fight until death.
1
The catahoula bulldog -- a dog rooted in the South and often used to hunt wild hogs -- is a crossbred, and indeed a pit bull type dog. Molosserdogs.com says the catahoula bulldog (a catahoula cur crossbred with the American bulldog) should not to be confused with the catahoula pit bull, but the former "still needs early socialization due to its somewhat dog-aggressive nature." It does not matter whether Miller's dog was crossed with a bulldog or a pit bull. The breed standard of the American bulldog is based upon the pit bull terrier.
2
A pit bull named Taz is also the subject of the notorious Crosby Analysis after the death of Mary Bernal. In that instance, Mary lifted her dachshund from reach of the pit bull after the two dogs started "scrapping." Taz then clamped onto Mary's scalp, tearing off her scalp, causing extreme blood loss leading to death.
3
There have been several recent high profile heart attack occurrences: Vie Lee Walter, 67 (Las Vegas, NV), Rogello Castillo, 83 (Miami, FL) and William Parker, 71 (Memphis, TN). Others include: Mary Garcia, 70, October 2009 (Adams County, CO) and Timothy Neimeyer, 53, October 2009 (Indianapolis, IN).
4
Citizens who recently suffered death due to pit bull dog aggression include: Carter Patrick Ridge Delaney, 20 (Leesburg, VA), Rosie Humphreys, 85 (Flora, IL) and Ethel Horton, 65 (Lee County, SC).
5
See: Craven Desires: Weekly Frankenmauler Round Up Collection
6
DogsBite.org does not include "non bite" injury victims in our fatal dog attack statistics at this time.
7
Martratt may have experienced a Tako-Tsubo Syndrome myocardial infarction. The syndrome appears during extreme stress or exertion, diagnostic tests prior to the event are completely normal.
Related articles:
11/11/10: 2010 Fatality: East Texas Child Killed by a Pet Pit Bull
09/21/10: Rusk County Jury Returns $7 Million Dollar Verdict After Fatal Dog Mauling
07/25/10: 2010 Fatality: Pit Bulls Kill Man, Injure Four Others in Memphis
03/08/10: 2010 Fatality: Pit Bull Kills 65-Year Old Woman in Lee County