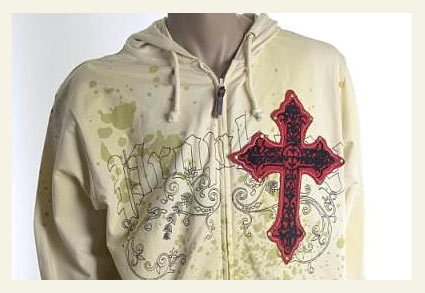 Defective sweatshirts recalled.
Recommended Guidelines
The U.S. Consumer Product Safety Commission issues recall after recall of sweatshirts, cribs, strollers, pacifiers, bracelets, car seats, toys, games and numerous other products prior to the death of a child or person to prevent the future injury or death of a child or person. From January 1, 2010 to February 23, 2010 pit bull type dogs killed six Americans, four of which were children. This is equivalent to one American citizen dead every nine days due to pit bulls in 2010.
The CDC,1 who has broken their promise with the American public to provide "objectively derived" data, along with animal groups, claim that public policy regarding dangerous dogs should not be based upon fatal dog attack statistics, which clearly illustrate the pit bull's horrific safety record. As demonstrated by the U.S. Consumer Product Safety Commission, such policies and legal restrictions are issued daily regarding unsafe products prior to even one human death.
Children's Hooded Sweatshirts with Drawstrings Recalled by Baycreek Due to Strangulation Hazard
Hazard: The sweatshirts have a drawstring through the hood which can pose a strangulation hazard to children. In February 1996 CPSC, issued guidelines (pdf) (which were incorporated in to an industry voluntary standard in 1997) to help prevent children from strangling or getting entangled in the neck and waist drawstrings in upper garments, such as jackets or sweatshirts.
Despite the pit bull problem being 30-years old and pit bulls on track to maul 200 Americans to death by 2014, there is no "objective"2 government body or academic institution devoted to the pit bull and dangerous dog problem. As spoken by family members of surviving and dead victims, these victims suffer injuries that look like a "chainsaw" inflicted them or were left "maimed beyond recognition, with no facial features remaining and other horrific disfigurement."
Pit bulls are a defective dog breed and all 3.5 million should be recalled.
Recent defects include:
Related articles:
02/21/10: 2010 Fatality: 37-Year Old Philadelphia Woman Killed by Mother's Pit Bulls
02/18/10: 2010 Fatality: Terry Child, 5-years old, Killed by Neighbor's Pit Bull
12/16/09: Historic Recall: 50 Million Blinds Recalled Following Child Deaths
12/09/09: 2009 Fatality: 70-Year Old Dies After Violent Maiming by Pit Bulls
08/12/09: 2009 Fatality: Leesburg Man, 20, Killed by His Two Pit Bulls Trying to...
04/15/08: Pit Bull Attacks, Seriously Injures Woman in Charlotte, NC