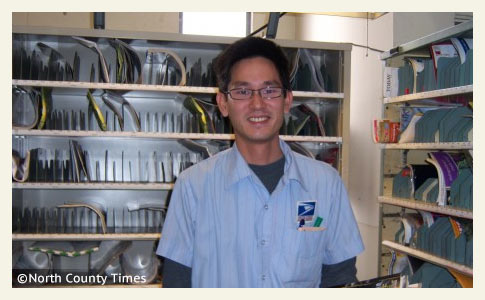 Letter carrier dies after being ambushed by a rottweiler in Oceanside, California.
Fatal Brain Injury
Oceanside, CA - A 33-year old letter carrier died earlier this month after a rottweiler lunged at him along his Oceanside route, causing him to fall and suffer a fatal head injury. Letter carrier Hao Yun "Eddie" Lin encountered the dog while delivering mail on May 25 in the 500 block of Stanley Street, according to postal inspector Slivia Torres. Oceanside police were alerted to the incident at about 4:13 pm that afternoon and found Lin lying in the street with a severe head injury.
According to the victim's wife, Teri Lin, doctors induced a coma to try to control severe brain swelling. But he did not recover. Eddie Lin died from the injuries June 3. A coroner's report shows the cause of death as "blunt head trauma." Lin leaves behind his wife and three children ---- a 10-year-old girl, 4-year-old boy and a 5-month old girl. San Diego Humane Society, who has the animal control contract for Oceanside, said the dog was euthanized at the owner's request.
On Friday, Teri Lin told North County Times she's frustrated that officials still aren't sure exactly what led to her husband's death. She said she knows the dog somehow pushed or jumped on her husband, but she doesn't know how it got out, where it came from, or how her husband reacted -- whether he tried to use Mace, fight or flee. She heard he had a tear on the back of his uniform, and she also heard that the same rottweiler attacked a different letter carrier four years ago.
The postal inspector said that investigators were still trying to "piece together" exactly what happened. Torres said they have talked to witnesses, but have not finished their work. North County Times could not determine if the Oceanside Police Department was conducting its own investigation; telephone messages left with supervisors on Friday were not returned. Teri said her husband was devoted to her family. A funeral is scheduled Thursday at Rose Hill Cemetery.
Noted:
Incidents involving non-dog bite injury1 that led to fatal brain injury in the past year include: letter carrier Hao Yun "Eddie" Lin, Animal Control Officer Theresa Foss, knocked to the ground by a pit bull and Beverly Head, knocked to the ground after being entangled in a leash as a mountain biker riding alongside with his two huskies passed her on a trail. It's interesting that even non bite-related deaths by dogs involve the top killing dog breeds: Pit bulls, rottweilers and huskies.2
1
Deaths involving non-dog bite injury are not included in DogsBite.org statistical fatality data.
2
From January 1, 2005 to March 8, 2010, DogsBite.org recorded 158 U.S. fatal dog attacks. Pit bulls were responsible for 56% (88) of these deaths. Rottweilers, the second leading killer, accounted for 15% (23) and huskies took third position with 6% (9).
Related articles:
10/11/09: "Non Bite" Pit Bull Injury Leads to Death of Plainfield AC Officer
09/09/09: Elderly Woman Suffers Broken Hip and Crushed Wrist After Pit Bull Attack