From left: Bob Koehler's sign and his now dead mother Rosie Humphreys.
Son Demands Change
Flora, IL - Two weeks after 85-year old Rosie Humphreys was mauled to death by a pit bull, her son Bob Koehler erected a sign in his yard reading: "Ban Pit Bulls." Rosie was killed by a loose pit bull while walking her two poodles. The pit bull owned by Brian Pennington struck down Rosie and one of her dogs. Police Chief John Nicholson blamed the attack on the failure of the "D" ring attached to the dog's collar and dismissed Pennington of criminal liability.1
Koehler told reporters, "I'm going to be very vocal about it, I don't care who likes it or who don't." (High-five to Koehler from DogsBite.org!) Koehler's goal is to ban pit bulls in the City of Flora. "I'm going to keep kicking and pushing and digging until we can get something done," he said. Koehler added, "It's not a matter of if they will turn on you, it's a matter of when they will turn on you." Koehler has started a petition to try to lift the current Illinois state anti-BSL law.
Ledy VanKavage, then employed by the American Society for the Prevention of Cruelty to Animals, helped push through the state anti-BSL law in 2003.
In 2005, two years after loose pit bulls killed Anna Cieslewicz and severely injured Mary Murphy-Smith in a Chicago park, "Anna's Law" was enacted by the state of Illinois. The law was intended to prevent future victims of loose violent dog attacks, such as Cieslewicz and Murphy-Smith. Over the course of many revisions, however, Anna's Law became a "pet population" control law primarily aimed at reducing feral cats. VanKavage drafted the misleading law.
VanKavage's pet population law did nothing to protect Rosie and allowed the owner of the loose pit bull to escape criminal charges!
VanKavage, now a lobbyist for Best Friends Animal Society, is also quoted in the Koehler article. The strategy of such groups is to mislead and scare city officials into believing that BSL "doesn't work" and that "it is expensive" despite the fact that ample evidence exists to the contrary (See: Cities with Successful Pit Bull Laws). VanKavage also states the following in the article: "If a dog owner argues that the dog is not a pit bull, the municipality has to pay for DNA Testing."
To test the validity of her statement, DogsBite.org reached out to Assistant City Attorney Don Bauermeister of Council Bluffs, Iowa. Bauermeister said that since the adoption of the Council Bluffs pit bull ban (January 2005), only one instance resulted in a DNA test. "The DNA test was requested and paid for by the Defendant," he said. "The City incurred no costs on the DNA examination. The owners paid for blood draw, mailed it in and awaited the analysis," Bauermeister said.
How Trustworthy Are DNA Tests?
Our understanding is that the Wisdom Panel™ DNA test created by Mars Veterinary is the most accurate test available in the U.S. Yet the corporation's FAQ states the following about pit bulls: "Due to the genetic diversity of this group, we cannot build a DNA profile for the Pit-bull2." (See question: Does Wisdom Panel™ Insights test for "Pit-bull?"). So while VanKavage says, "with DNA, it is a whole new ball game," it seems that accurate pit bull DNA still has a long way to go.3
The Best Friends BSL Calculator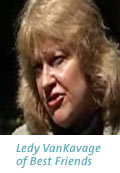 In the Koehler article, VanKavage also states that if Illinois were to ban pit bulls it would cost the state $18 million. How does VanKavage come up with this number? Once again, to frighten U.S. municipalities who may be considering a breed-specific law, her group created an online impact calculator4 that "supposedly" measures the cost of a pit bull ban.5 This is equivalent to a smoker trusting an online "How Long Will You Live?" calculator devised by the tobacco industry.
What is notably left out of the "research" is the cost of not regulating pit bulls. For instance, of the thousands of persons, pets and livestock injured by pit bulls in the state of Illinois each year, what is the cost of their substantial medical bills -- pit bull victims often require upwards of $100,000 and far beyond. Also, what is the state's annual cost of first responders including, police officers, firefighters, paramedics, ambulances and animal control personnel, responding to a pit bull incident?
As pit bulls frequently inflict injuries requiring immediate emergency care, air flight responders such as helicopters are often called upon too. We have recorded these costs at $10,000-18,000 per flight from various victim stories. Finally, pit bulls account for about one-third of shelter occupancy6 across the U.S. If the state of Illinois were to ban pit bulls (under the assumption that zero pit bulls existed in Illinois), this heavy burden on shelters would finally be lifted.
Failure to Acknowledge Victims
DogsBite.org must also point out what is always true when VanKavage and other pit bull advocates appear in the media. There is never an acknowledgment to the number of human and animal victims pit bulls leave disfigured and dead. To do so would imply recognition of the breed's inherent danger. Bob Koehler's dear mother and her pet poodle were savagely killed by a loose pit bull that had never shown violence in the past and was not neglected in anyway.
DogsBite.org grieves for Rosie's family, and we encourage Koehler to Go Get'em!
1
Dog owners should bare the full responsibility of ensuring that their equipment is properly functioning -- aka "strict liability."
2
Apparently, a test bank for the American Pit Bull Terrier has not been developed in the U.S. Therefore there is no "control sample" by which to test. DNA can only be used to determine if one sample matches a known control sample.
3
Chako.org, a pit bull advocacy group, demonstrates in a YouTube video the unreliability of the BioPet DNA test. Experienced pit bull owner (user ColbyDogs) warns, "Don't buy into the whole DNA thing."
4
The calculator falsely assumes that enforcement agencies are responsible for the cost of the DNA tests. As put to us recently in an email, "There is absolutely no way in hell that any government agency has to do anything to "create" evidence for the defendant."
5
The calculator only represents a pit bull ban. Another strategy of pro-pit bull groups is to turn all pit bull regulation conversation into a "pit bull ban." The

ban conversation

is the most polarizing and often halts future meaningful dialog about the different breed-specific options available to a city.
6
The high occupancy rate of pit bulls in Maricopa County shelters, is mirrored by many U.S. open admission shelters.
Related articles:
11/15/09: Cities with Successful Pit Bull Laws; Data Shows Breed-Specific Laws Work
11/04/09: 2009 Fatality: Flora Woman, 85, and Her Dog Killed by Pit Bull
08/27/09: Collection of Best Friends Animal Society Related Posts - DogsBite.org
08/24/09: 2009 U.S. Shelter Data: Pit Bulls Account for 58% of Dogs Euthanized
08/14/09: Mid Year Results: U.S. Pit Bull Attacks 2009
04/22/09: Report: U.S. Dog Bite Fatalities January 2006 to December 2008
03/14/09: 2003 Fatality: Anna Cieslewicz, Killed by Pit Bulls While Jogging
09/14/08: Pit Bull Bans Work: Council Bluffs, Iowa
06/26/08: After Ban in 2005, Council Bluffs Sees Fall In Pit Bull Attacks