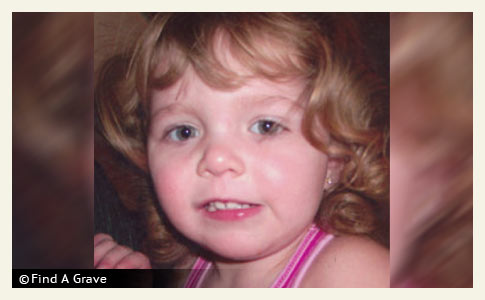 Jasmine Deane, 23-months old, was mauled to death by her family's chained pit bull.
Victim Identified
UPDATE 09/29/09: The toddler killed by a family dog in Orange County has been named. Investigators say 23-month old Jasmine Deane died after being bitten several times by a pit bull on Sunday. No charges have been filed in the case, but the Orange County Sheriff's Department continues to investigate. Mike Hicks, the victim's cousin, told reporters, "Friendly dog, I mean, I don't understand it. Just don't understand it. Words can't describe how it happened," Hicks said.
It happened just o! Mountain Track Road on a short gravel drive known as Beech Tree.
Mike Hicks, the victim's cousin, was visibly upset and fighting back tears when he said, "It's just heart breaking, shocking you know."
The toddler, a 23 month old girl, was found in the back yard after being attacked by the family pit bull. - WTVR, September 29, 2009
09/28/09: Pit Bull with Family for 10-Years
Orange County, VA - A family pit bull attacked and killed a 23-month old girl. Authorities say the dog attacked the child Sunday night about 7:00 p.m. Apparently, the girl wandered out of her family's house while her mom was preoccupied. The family's pit bull, which was chained outside, attacked the girl. Orange County Sheriff Mark Amos says a family member found the girl in the backyard. She was pronounced dead at University of Virginia Medical Center at 9:10 p.m.
A family in Orange County is grieving after their pit bull attacked and killed their toddler, a 23-month-old girl. It happened in the Mountain Track area of Orange County in a house right off Beech Tree Drive.
The young girl had wandered into the backyard 6:40 pm Sunday night, trying to pet the family dog, when the Sheriff says the pit bull violently attacked her. By the time medics arrived, the child was unresponsive.
The Orange County Sheriff says the toddler wandered out of the house, while her mother was busy inside. Minutes later, another family member found the girl in the backyard bleeding next to the family pit bull.
"The dog was chained up. It was a pit bull. It was chained up in the backyard, and the dog had attacked the child," said Sheriff Mark Amos. CBS 19, September 29, 2009

Related ZUPF video
Related articles:
08/18/09: 2009 Fatality: Infant Killed by Pet Pit Bull in Hardy County
04/25/09: 2009 Fatality: Family Pit Bull Kills 11-Month Old Child in Eastpointe
04/01/09: 2009 Fatality: 7-Month Old Boy Killed by Grandmother's Pit Bulls
03/31/09: 2009 Fatality: 2-Year Old Boy Killed by Pit Bull in Luling, TX