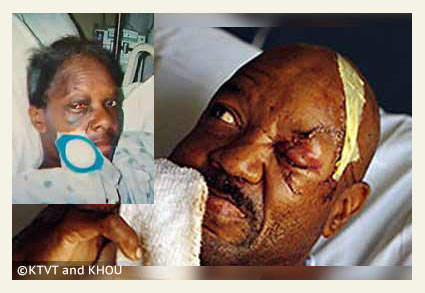 Hellen Fuller and Clarence Webber suffered eye injuries in separate pit bull attacks.
4 Weeks; No Anwers
UPDATE 03/23/09: CBS 11 has pinpointed the cornerstone of the pit bull problem. Four weeks after victims Hellen Fuller and Clarence Webber were brutally attacked by two loose pit bulls, neither have any answers. Both, however, have a lot of pain, questions and medical bills. Neither victim has heard from the dog owner since the attack either. If the victims choose to file civil lawsuits, it may be years from now that they receive any form of medical payment.
In the meanwhile, the victims, their family members and friends will be forced to absorb the extremely costly medical bills.
Breed-specific laws are designed to prevent serious attacks before they occur. Good breed-specific laws also require owners to carry liability insurance, so that if an attack does occur, the victim has civil recourse. Preventing attacks is the ultimate goal of breed-specific laws. Once an attack occurs -- the injuries have been sustained and medical costs have been incurred -- the large wheels of the justice system begin to spin, which may take years to resolve.
03/03/09: Victim Wants Pit Bulls Banned
Clarence Webber still has trouble seeing, but he hopes to make a full recovery. Webber recently told reporters that he wants pit bulls banned from the city. In Dallas, if dogs are deemed dangerous, they can be euthanized or an owner could be forced to purchase extra liability insurance. Webber doesn't believe that's enough. "I wouldn't want it to happen to anyone else. What if it would have been a kid? The dog would've killed the kid," he said.
02/26/09: Victim Helen Fuller Shares Story
Victim Helen Fuller wants people to see what the pit bulls did to her eye, because she's worried about losing her sight. The video clip shows her talking and depicts images of her injuries. Helen now faces an uncertain recovery and cannot work her home health care job. Both Fuller and Webber suffered severe injuries from the attack. Earlier this week, the dogs were signed over to the city and authorities euthanized the dogs. Helen's family is now searching for a lawyer.
02/24/09: 3 Eyes from 3 Victims in 24 hours
Pit bull attack victim Clarence Webber spoke to news reporters after the attack. He said the pit bull "locked its jaw on my face." Webber doesn't know what will happen to his severely injured left eye. In a devastating blow to humankind -- specifically Texas state citizens -- pit bulls may have taken out 3 human eyes from 3 different victims in a matter of hours: Clarence Webber, 59, and Helen Fuller, 50, from the Dallas area and Robert Williams, Junior, 79, from Houston.
02/23/09: Pair of Violent Pit Bull Attacks
Houston, TX - In Houston, a man named Junior lost an eye on Sunday after two pit bulls broke out of a kennel at Maxwell's carwash an attacked him in the front yard of his neighbor's home. A crew working nearby rushed over and began to help him. One worker said, "We saw two dogs attacking one person. It was very, very bad. His eye; it was outside of his head." Neighbor's said the dogs chewed off part of his face. Once again, we see pit bulls breaking restraint and going off owner property to violently attack a human being.
Junior remains in critical care.
A similar scenario occurred In Dallas over the weekend. Two people were seriously injured after two pit bulls -- who had gotten out of their yard -- attacked them outside of Jerry's Supermarket on Bernal Drive. Billie Fuller spent Saturday night at the hospital with his sister Helen Fuller after she and 59-year-old Clarence Webber were attacked and mauled by two pit bulls. Billie says his sister will probably lose her right eye. "If you see my sister's face…and I know her life is going to be changed from this point."
The two dogs had been picked up in December for being loose, but were returned to their owners.

Related ZUPF video
USER COMMENT: A user has left a very important comment. Please note that off-property attacks by dogs are uncommon except for the pit bull breed. An off-property attack is when a dog leaves owner property and bites a person. Major dog bite studies place these attacks at only 25-30%. Said another way, three-quarters of all dog bites occur in the family home (on-property). In the 3-year period of 2006 to 2008, only 18% (16) of the fatal attacks occurred off-property, yet pit bulls were responsible for 81% (13).
"The bottom line is, NO one has a right to own an animal this dangerous. NO ONE. Just because you "promise" to keep it on a chain, or on a leash, or in a kennel, NO one has a right to own an animal that, if it gets loose, will immediately try to kill someone. Its why we ban ownership of lions and tigers....it doesn't matter how secure you claim the cage is; the POTENTIAL for damage, if a tiger gets loose, is too great a risk.

As a society, we regulate ownership of animals all the time; it is illegal in most areas to keep poisonous snakes as "pets", because the risk to citizens is too great if the snake gets loose; we recognize that if someone really wants a pet snake, they can choose one of the many non-venomous ones for a pet. The same should apply to dogs. No one NEEDS a pit bull.

The issue isn't "responsible ownership", e.g., just keep your extremely dangerous dog chained on your property. No animal lovers should fight to protect "responsible owners"....you are essentially fighting to let people keep extremely dangerous dogs, as long as they "promise" to keep them contained; but in the real world, mistakes happen, and dogs get loose. No one should lose their life because a neighbors damn dog got loose."
Related articles:
02/10/09: Brenda Hill, 68, Attacked by Pit Bulls While Taking Out the Trash
08/06/08: Comment: Pit Bulls are 14 Times More Likely to Break Constraint to Attack