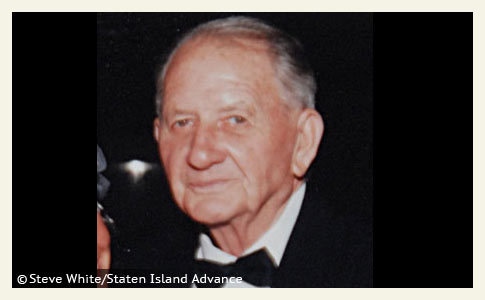 Henry Piotrowsky, 90-years old, died after being brutally mauled by two pit bulls.
Mauling Victim Dies
Staten Island, NY - On July 1st, Henry Piotrowski was brutally attacked by two of his neighbor's pit bulls. Crime scene tape flowed, a LifeFlight helicopter hovered and many first responders gathered at the crime scene. Initially, Henry suffered an amputation to one leg. Within two days, it was reported that he might undergo additional amputations.
By July 13th, Henry was fighting for his life. As a World War II veteran, Henry had likely witnessed injury that most of us could not imagine. What Henry could not imagine, is that in his twilight years, he would be savagely attacked by two pit bulls because he stepped into his own backyard. By August 6th, it was reported that his eyes rarely opened, he needed a tracheotomy tube to breathe and a feeding tube for nourishment.
On August 17th, Henry Piotrowski died, 47 days after the attack.
Currently, the Piotrowski family is suing the City of New York for 7 million dollars. The suit alleges that the city failed to take appropriate and adequate measures to control the vicious dogs, despite numerous complaints from neighbors and 311 and 911 calls about the animals. The family's lawyer, Micheal Gervasi, said, "It seems to us it was a danger that was known to the city," and no measures were taken to abate the danger.
---
08/06/08: Family Files $7 Million Dollar Lawsuit archived
New York, NY - Lawyers for the 90-year-old Staten Island man who was mauled July 1st by two neighborhood pit bulls filed a notice of claim against the city seeking $7 million in damages. Henry Piotrowski was severely injured in the attack in his backyard, which caused the amputation of his left leg, and injury to his face, neck, arms and right leg.
Piotrowski's lawyer, Michael Gervasi of the West Brighton law firm of Russo, Scamardella & D'Amato, filed the paperwork, which is a prelude to a formal lawsuit, alleging the city "failed to take appropriate and adequate measures to control the vicious dogs," despite numerous complaints from other neighbors and 311 and 911 calls about the animals.
"It seems to us it was a danger that was known to the city," and no measures were taken to abate the danger, Gervasi said.
Piotrowski, a widowed World War II veteran, who was a vibrant and independent person before the attack, remains in critical condition in the intensive care unit at Richmond University Medical Center, West Brighton. He is barely conscious, his eyes almost never open, and he will rely on a tracheotomy tube to breathe and a feeding tube for nourishment for the rest of his life.
It was reported on December 12th, 2007 that a a jury in the Bronx paved the way for a pit bull mauling victim to receive millions of dollars against the city of New York. It's unclear how many times and at what million dollar cost the City of New York must be sued before they institute common sense laws that address their undeniable pit bull problem.
---
07/13/08: Politician Supports Pit Bull Ban
A 90-year old Staten Island man, who was savagely attacked by pit bulls two weeks ago while standing in hos own yard, floats in and out of consciousness as he fights for his life at Staten Island University Hospital family members say. Elaine Sutton, Henry Piotrowski's 66-year-old niece said, "They [the pit bulls] were eating him alive. It's not easy to picture."
She said her uncle lost his lower left leg and has a broken right leg. His left arm was nearly chewed off by the dogs. Doctors are still not sure whether that arm can be saved. Sutton said her uncle's plight has sparked an outpouring of support and cards from across the country. The attack, followed by the mauling of a 3-year-old Brooklyn boy, has renewed calls for a pit bull ban.
Councilman Peter Vallone Jr. (D-Queens) said, "I happen to think a ban is humane. This is the most abused breed of dogs." Vallone has been lobbying state legislators to overturn a law that bars municipalities from banning specific breeds of dogs. "Who is Albany to tell us how to protect our citizens against dangerous dogs?" Vallone has yet to gain support of the Albany lawmakers.
He does have support from PETA, one of the country's largest animal rights groups. The American Society for the Prevention of Cruelty to Animals (ASPCA), on the other hand, also does not support Vallone. They believe that people make pit bulls bad, while they simultaneously say that pit bulls will chew through chain link fences to attack other animals among other atrocities.
---
07/03/08: Victim Suffers Amputations
Newspapers are now reporting that Henry Piotrowski has suffered not one, but three amputations due to the pit bull attack. DogsBite.org reminds readers that 90-year old individuals do not heal easily. The risk factor of infection for a person over 50 is highly amplified. If a person is nearly double that age, the factor must take on exponential meaning.
In one of two known medical reports about pit bull injury, doctors in Texas -- the pit bull killing capital in the US -- examined an 83-year old man that endured a "sustained attack" by two pit bulls. A sustained attack is described as an attack that lasts 15 minutes or longer. The term was derived from pit bull injury. Survivors of these attacks suffer massive tissue loss -- body regions completely degloved -- amputation, primary and secondary infections and organ failure.
The report, Pit Bull Attack: Case Report and Literature Review, was published in 1988 and has been used in court evidence to describe the unique differences pit bulls cause due to their deadly "lock and shake" bite trait. The authors write:
"Most breeds do not repeatedly bite their victims, however, a pit bull attack has been compared to a shark attack and often results in multiple bites and extensive soft-tissue loss...Pit bulls tend to inflict more serious bite wounds than do other breeds because they tend to attack the deep muscles, hold on, and shake."
This report was published twenty years ago and the analysis is just as real today. The authors detail the catastrophic wounds and surgical procedures endured by the 83-year old victim, including "meshed split-thickness skin grafts, hyperbaric oxygen therapy, oliguric renal failure (kidney failure)" and the amputation of his left arm. The victim died on the 42nd hospital day.
---
07/02/08 Crime Scene Tape Flows archived
Staten Island, NY - In a developing story, a 90-year-old man was mauled by two pit bulls in a brutal attack in Staten Island's Port Richmond neighborhood. The victim, Henry Piotrowski, was taken to Richmond University Medical Center in West Brighton, and is listed in critical condition. His left leg has been amputated at the knee, and he'll likely lose one of his arms as well.
His niece, Lainey Suttuon said, "We're pretty sure the [left] arm is going to go, too." Saving the left arm would require a 10-to-12-hour operation, and doctors are reluctant to submit her elderly uncle to the ordeal. Also, his right leg is fractured. "The next three days are very critical. He lost a lot of blood," said Ms. Sutton, who drove from Hillsborough, N.J., after hearing about the attack.
James McNair, 28, the dogs' owner, was arrested Tuesday night in connection with the gruesome incident, police said. The animals were put down. Charges against McNair -- a registered sex offender -- are pending. (The 11-year old child in the video lived at the dog owner's home along with a woman that denied owning the dogs and declined to comment.)
The attack occurred just after 11am on July 1st. In describing a sustained attack, neighbor Reginald Bell said that, "The dogs were actually eating him alive." Bell was drawn outside his home after he heard the victim screaming for help. He spotted the dogs on top of Piotrowski in the man's back yard. Bell said. "His legs were eaten to the bone. His arms were eaten to the bone."
Bell said he ran inside his home, called 911, then grabbed a butcher's knife and chased the dogs away from their defenseless victim. The pit bulls had fled by the time police arrived. Cops searched the neighborhood before locating the dogs inside a nearby house. More than an hour after the attack, officers were seen carrying the pit bulls, Popeye and Brutus, out of the home.
Related articles:
09/04/08: 2008 Dog Bite Fatality: Luna McDaniel, 83-Years Old, Dies from Pit Bull Injury