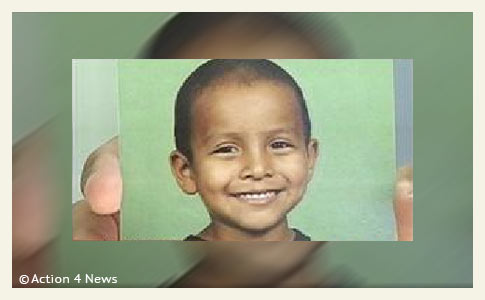 Pablo Lopez, 5-years old, was brutally killed by his uncle's pit bull, named "Greco."
No Criminal Charges archived
UPDATE 06/20/08: No charges will be brought against the owner of the pit bull that savagely mauled and killed a 5-year old boy. The Hidalgo County Sheriff's Office said the found no signs of negligence. The manner of the boy's death was ruled an accident. "The more we investigate, the more we believe it was just a tragic accident," Sheriff Lupe Treviño said. He will finalize the investigation with the recommendation that no warrant be issued nor charges be filed, he said.
Two days earlier, the family pit bull named Greco "flew into a rage" at a dog that was walking by the family's home, reports The Monitor. The raging pit bull apparently redirected its attack onto Pablo as he walked out the back door. Adults in the home had told the boy to go to his room and put away his books, witnesses said, but instead Pablo wandered outside, where Greco quickly tackled him. The dog's owner, Isaac Hernandez, claimed the dog was "real nice" in the past.
Greco tore at the boy's torso and neck, quickly killing him. Deputies arriving at the scene shot and wounded the agitated dog at the gate of the family's fenced home.

The pit bull fled to a makeshift doghouse on the property. Copious blood stained the wooden pallets that comprise the dog's den Thursday.

"He never do this," said Pablo's uncle Isaac Hernandez, the pit bull's owner. "All the time the dog is real nice, but this is the first time and the last time, too." - Sean Gaffney, The Monitor, June 20, 2008
06/19/08: Pit Bull Kills Boy archived
Weslaco, TX - A 5-year old boy was mauled to death by a pit bull, according to Hidalgo County Sheriff Lupe Treviño. The deadly attack occurred about 8 pm at a home on North Beto Garcia Road, near the intersection of Mile 12 1/2 North. Deputies arrived at the scene to find the child's aunt holding the boy's limp body in her arms and the pit bull still in the front yard. The animal fled after a deputy shot and wounded it. Authorities were still trying to subdue the dog late Wednesday.
"No one needs to keep these types of dogs. These dogs turn on you." - Justice of the Peace Treviño
Neighbors told deputies the dog was always chained up. However, one witness told The Monitor the dog was not restrained just before the attack. Neighbors identified the little boy as Pablo Hernandez. He had been living with his aunt and uncle after Child Protective Services place him in their care. The circumstances of that placement are unknown, but police had no record of being called out to the house before. Luis Palomo, who witnessed the attack, describes what happened:
Luis Palomo, 20, said he was about four houses down the street playing football with his friends when the trouble began.

The boy was at home with a babysitter when a pit bull at the house began running around the front yard in an excited manner, getting a second pit bull inside the home riled up.

The babysitter and boy were inside the house with the second dog and were clearly fearful, Palomo said. He went over to help them and managed to distract the dogs temporarily, but the boy wandered out the back door. One of the dogs grabbed him by the torso and dragged him.

Palomo recalled hearing about 20 seconds of screaming, and then nothing. He said the dog locked its jaws around the boy's neck, quickly killing him." - Sean Gaffney, The Monitor, June 18, 2008
Related articles:
05/19/08: 2008 Fatality: Boy Killed by Pit Bulls in Breckenridge, Texas