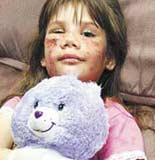 7-Year Old Girl
Lorain, OH - On May 9, 2007, 7-year old Georgia Rice was attacked by a pit bull while playing at a friend's house. She got tangled in the dog's chain that was attached to a tree in the backyard. The pit bull chewed off her finger and ear and left bite wounds all over her face.
Rice was airlifted to MetroHealth Medical Center in Cleveland, where the finger was reattached, her ear was reconstructed and more than 100 stitches were used to close the facial wounds. Her step-father Nathan Anderson said that she'll lose some feeling in the finger, and she has a steel plate under her right cheek from where the "dog broke her face."
"Her whole face is all scarred -- completely," he said.
At the time of the attack, Georgia was playing with her best friend, 7-year-old China Chaney, in the backyard of her home. Anderson said that China is her best friend, and she plays in that yard all the time. He said China's mom was really taking this hard. "She keeps saying that she should have watched her better."
China's sister, 13-year old Shekenna Chaney, was the first to hear Georgia's cries. Shekenna yelled to her mom that the dog was attacking Georgia, prompting Shona Chaney to grab a windshield scraper from the home and run outside. Shona said, "It looked like the dog was on top of her and had her face in his mouth." The mother hit the pit bull with the scraper until it backed off.
China said that the dog, a 7-month-old pit bull named King, was sleeping and chained to a tree close to a tire swing on which Georgia was playing. Georgia fell off the swing, which likely startled the dog. She also believes -- though there appear to be no witnesses to the early portion of the attack -- Georgia may have started running because she was afraid, prompting the dog to attack.
The owner of the dog, Keon Chaney, is China's brother and also lived at the home. He said King had never bitten anyone before and that Georgia must have started the dog. Ultimately, he was fined $150 dollars -- the maximum fine -- for not having the dog registered. The judge found Keon somewhat remorseful, but this was likely because he put the dog down.
Because the dog was restrained on private property, no criminal charges applied.
Related articles:
03/25/08: Georgia Rice Still Healing from Pit Bull Attack Last Year