Dog Owner Faces Involuntary Manslaughter Charge; Other Offenses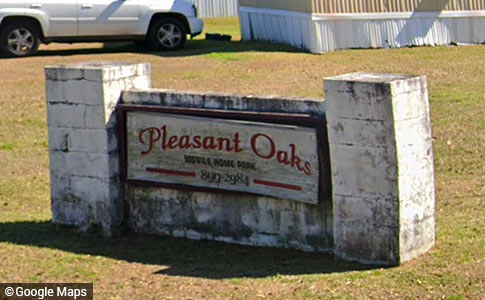 The Moncks Corner mobile home park where David Eller was killed by two pit bulls.
Dog Owners Charged
UPDATE 11/02/23: Berkeley County detectives charged two individuals in connection to the death of 65-year old David Eller in the Pleasant Oak Mobile Home Park off of Old Whitesville Road. Shannan Christine McCrackin, 45, of Moncks Corner, has been charged with involuntary manslaughter and two counts of dangerous animals unconfined on premises. Her partner, Kenneth Howard Swayne, 44, of Moncks Corner, has been charged with two counts of dangerous animals unconfined on premises.
On October 31, Eller was walking in the mobile home park, when two pit bulls bolted from a porch and fatally attacked him in a common area between two mobile homes. The attack was unprovoked, sheriff's officials said. He was pronounced dead at the scene. "Preliminary investigations that were conducted by detectives revealed that Eller was attacked unprovoked by two vicious pit bulls. The pit bulls were not contained properly," Berkeley County Sheriff Duane Lewis stated in a press release.
"This was a vicious attack on an unsuspecting victim, and this should have never occurred," Sheriff Lewis stated. "If the owner of the dogs would have taken the proper responsibility for the safe keeping of the animals, the attack could have been prevented." Involuntary manslaughter ("criminal negligence," defined as "the reckless disregard of the safety of others") is a charge in South Carolina we have seen after multiple fatal dog attacks. If convicted, McCrackin faces up to five years in prison.
---
---
11/01/23: Sheriff's Office Press Conference
Moncks Corner, SC - A man is dead after being attacked by a pair of pit bulls yesterday afternoon. Berkely County sheriff's deputies were dispatched to Ayers Drive in the Pleasant Oak Mobile Home Park in the 1500 block of Old Whitesville Road at approximately 4:50 pm after reports of a dog attack. Berkeley County Sheriff's Capt. Michael Crumley said a witness called 911 to report a man being attacked by two pit bulls. At the time of the attack, the man had been walking in the neighborhood.
"I believe our 911 caller was traveling down Old Whitesville Road and saw the dogs dragging around an object and turned around and then discovered that object was a human being," Crumley said. "She did what she could to try to end the attack but there wasn't much to be done. She did the right thing, stayed in her car, called 911." - WCSC, Berkeley County Sheriff's Capt. Michael Crumley
Both pit bulls were confiscated and are being held at the Berkeley County Animal Center. The victim's name has not yet been released. The coroner's office is working to notify his family. "Fortunately, here in Berkeley County, we don't get these calls too regularly," county coroner Darnell Hartwell said. "A few years ago, we had one similar to this as well, but it's definitely a tragic incident." At the scene, BCSO deputies collected evidence. Investigators interviewed witnesses and the dogs' owner.
Crumley said the attack occurred in a common area. "He was just a passerby in a common area between two mobile homes here. As he passed by, those dogs escaped off the front porch of their residence, and that is where the attack occurred in that common area," Crumley said during the press conference. The attack was "unprovoked," he said. BCSO detectives are reviewing if there were any previous complaints about these dogs. It's unclear if the dogs' owner will face any charges.
Audio dispatch log files from Berkeley County Fire and EMS state the owner is a female. "Caller is on the phone advising there are two pit bulls that are actively attacking a male ... Being advised that the owners are now out with the animals. The male [subject] is very bloody." The dispatcher said the female owner tried to get the dogs off the male subject, who sustained "extensive injuries to face and head." Prior to the arrival of Fire/EMS, responders at the scene said "the dogs have been secured."
On Wednesday, the coroner's office identified the victim as 65-year old David Eller of Moncks Corner. The coroner also attributed the man's death to a pit bull mauling. "We are having him autopsied at the Medical University tomorrow, but at this point we believe that the death is 100% contributed from the fatal attack from the pit bulls," Hartwell said. "Our condolences goes out that family for this tragic incident that occurred on yesterday." Investigators are determining whether any charges will be filed.
View the DogsBite.org Google Map:
South Carolina Fatal Pit Bull Maulings
.
Related articles:
10/26/22: Man Charged After Dog Attack Left Woman with Life-Altering Injuries in Abbeville County
07/18/22: 2022 Dog Bite Fatality: Owner Charged After Man's Death in Chesterfield County
---
Baseline reporting requirements:
Law enforcement departments across the United States should release consistent "baseline" information to the media and the public after each fatal dog mauling,
including these items
.