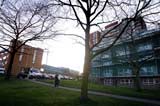 Woman Brutally Savaged By Pit Bull
Hendon, UK - In a terrifying, sustained attack -- at least 20 minutes -- a young woman is recovering from a vicious pit bull attack. US courts have identified "sustained attacks" as specific to the pit bull breed, whereby distinguishing them as a greater threat to public safety, whereby upholding pit bull bans as constitutional.
As if enduring a sustained attack by a pit bull were not violent and horrifying enough, DogsBite.org must also point out that throughout this time, the dog owner stood by and did nothing. When asked about her "inaction" after the attack, the owner became quite aggressive.
Miss Mudhir, who is in her final year studying business management at Middlesex University, was walking to work at about 10am when the dog started to follow her. She tripped and fell to the ground and the dog pounced. Its owner, a 22-year-old woman, was seen screaming among the crowd, but did nothing to control the animal.
"I was calling her to tell her dog to stop," Miss Mudhir said. "She could have called the dog back, but she didn't."
Stunned neighbours watched the dog lock its jaws onto the victim's leg and savage the limb for almost 20 minutes. Miss Mudhir was dragged along the pavement, desperately trying to escape. Abdulatif Ubwa, 23, Miss Mudhir's cousin, eventually fought the dog off with a toaster. He said that when he approached the owner afterwards to ask her why she didn't help, she became quite aggressive.
Police and specialist dog handlers arrived and arrested the owner, before taking the dog away to be destroyed. Miss Mudhir was taken by ambulance to the Royal Free hospital, in Hampstead. She needed extensive surgery and skin grafts to repair severe bite wounds, and faces a long process of rehabilitation.