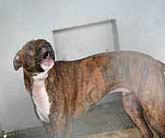 Pit Bulls in Attack Quarantined
UPDATE 2/16/08: Manatee County, FL - Two dogs that attacked a man and killed his pet Maltese in a Tara neighborhood are in the custody of animal control. An 80-pound, pewter-colored pit bull and a 55-pound, brindle-and-white pit bull mix were taken from their owners and brought to the pound late Thursday night.
The dogs will spend at least 10 days in quarantine. If they are declared dangerous, they could be held longer. By state statute, animal control officers have 30 days to conduct an investigation. The owners of the dogs that were involved in the attack could face penalties, including a fine of $200 for each dog running loose and a $500 fine for a dog causing injury. There is no specific or additional fine related to the death of a pet dog.
02/15/08: Pit Bull Kills Neighbor's Dog, Injures Neighbor
A family's dog was killed by a pit bull today. People in the neighborhood say the pit bull had been causing problems recently, a lot of barking and showing signs of aggression. "It happened so fast...you want it to be over," said witness Dana Plecker. She and his wife Sylvia were overcome with emotion after seeing a pit bull kill their neighbor's dog. "It was horrible. The dog bit him in half."
Neighbors say a woman was walking two dogs on leashes: a greyhound and a pit bull mix. A 63-year-old retired man was also walking his dog, a maltese named Jack. The pit bull and the greyhound saw Jack and took off, the woman unable to hold the dogs. "If you can't control the dogs you're walking, get someone who can. Two big dogs are a handful for anyone," says Manatee County's Captain Larry Leinhauser.
The pit bull bit the man on the arm then attacked Jack. The women were able to get Jack away and run him inside, but Jack died in their arms. Witnesses say the pit bull's owner left the 63-year-old man lying in the street bleeding. Manatee County Animal Services say the Pit Bull and Greyhound will be taken into their custody. It is unknown if the owners will face any charges.